See Chicago's landmark architecture, outdoor sculptures and famous skyline by Segway! This family-friendly guided tour is both an exciting and educational way to explore Chicago. Plus, you'll save your feet from a day of walking and instead, quickly glide along the lakefront soaking in views of the spectacular skyline while seeing some of the tallest buildings in the world.
Highlights
Chicago Segway Art & Architectural Tour
Save your feet from a full day of walking and see Chicago's sites by Segway!

Glide along the lakefront soaking in views of the spectacular skyline
Pass by Buckingham Fountain, Lincoln Statue and the Museum Campus
What You Can Expect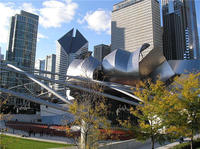 Before your tour begins, you'll have a 15-minute orientation to get familiar with the Segway. Then you're off gliding through beautiful Grant Park where you will pass by Buckingham Fountain, Lincoln Statue and the Museum Campus. Glide around Millennium Park, 24.5-acres featuring the work of world-renowned architects, planners, artists and designers. Continue along Michigan Avenue home of the Chicago Water Tower, the Art Institute of Chicago, and the Magnificent Mile. You'll see structures that exemplify the Chicago "School of Design" by architects including Burnham, Sullivan, Wright, Helmut Jahn, Ludwig Mies van der Rohe and Holabird. Along the way you'll also see the Bean, the Crown fountain, the BP Bridge and Pritzker Pavilion Band Shell.

This 2-hour Segway tour is a fun and unique way to experience the the Windy City's art and architectural sites.
October 2015
Great tour, tourguide and fun for whole family, some of them were apprehensive to try it, but after 30 seconds was a pro......highly reccomend!
May 2015
Benjamin was fun, entertainig, informative and made the 2hrs go by very quickly. Lots of tidbits of info you wouldn't normally come across unless you did a tour like this. Highly recommended!
December 2014
The tour was amazing! We went on the first tour of the day on a Sunday and it was just us and the tour guide. We were able to cover a lot of ground. Great fun, love the Segway .
October 2014
I took the tour last week and it was my first time on a Segway. Our tour-guide and instructor was Paul who presented a nice and relaxed trip for a novice such as myself. The tour was informative, the staff was friendly and the experience is one I would recommend to anyone. Just an added advantage was that the tour started early in the morning, giving plenty of time to visit other sites with your new found knowledge of downtown Chicago.
August 2014
Kim was fantastic!! She was patient and very, very helpful in getting everyone used to their segways. Then she offered us a choice of two directions and told us what we would see either way. We all opted for the more architectural tour since that was what we were all hoping to see. She gave terrific information and answered all questions. She offered to take and took pictures of the tour members at various photo opportunity spots. All in all it was a great two hours that just flew by. I highly recommend this tour as you really get to see a good deal of the memorable building of this fun city.
August 2014
Outstanding tour and leader. Kim (?) was friendly, knowledgeable, fun and personable. We had a great time seeing the city and learning to use a Segway.
July 2012
It was great. We loved everything about it. We felt safe and prepared after the video and practice. Our fearless leader was great. He watched us cross streets and kept a close eye on us. Would do it again.
August 2011
It was great! My guide, Dana, was wonderful. She really knew her stuff. She answered my questions, made me feel confident and provided just the right amount of fun. I recommeded the tour to others and I hope they followed up. It was easy, fun and the BEST way to see the sights.
Advertisement
Advertisement