Chicago dogs, deep-dish pizza, cupcakes and craft beer are all sampled on this 4-hour bike tour through the windy city. You'll cover about 13 miles (21 km), following an informative guide at a moderate pace through the Chicago neighborhoods of Wrigleyville, the Gold Coast, Old Town, Lakeview and Lincoln Park. Stop along the way at a popular downtown bakery, pizza shop, hot dog stand and two breweries for a taste of local flavors.
Highlights
Guided four-hour bike tour, covering 13 miles and four of Chicago's top neighborhoods
Taste Chicago's most well-known foods and drinks -pizza, hot dogs, cupcakes and beer
Ride through the city's most popular neighborhoods, including Wrigleyville and the Gold Coast
Local guide will provide historical and cultural insight about the food and neighborhoods
Price includes samples at two breweries, one bakery, one hot-dog stand and one pizza shop
Recent Photos of This Tour
What You Can Expect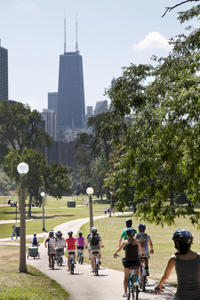 Combine a bike tour of downtown Chicago with the windy city's most popular culinary pleasures on this 4-hour excursion, departing from Lake Shore Drive. Make your way to the bike shop for a safety briefing, then slip on your helmet and hop on your bicycle.
You'll undoubtedly work up an appetite while you pedal along the streets of iconic neighborhoods, such as Wrigleyville, the Gold Coast, Old Town, Lakeview and Lincoln Park. Along the way, stop to enjoy the tastes of Chicago at two breweries, a pizza shop, a hot dog stand and a cupcake bakery.
Gain culinary and cultural insight from your local guide who shares neighborhood history and food traditions. Learn about the origin of Chicago's famed deep-dish pizza, find out what makes craft beer a local specialty, and discover the difference between a Chicago-style and regular hot dog.
This tour covers approximately 13 miles and requires a moderate fitness level.
June 2016
A fabulous way to see the city. It was a nice and relaxing trip approximately 15 miles. Highly recommended.

April 2016
I can't say enough about how much I enjoyed this tour! Between the historical neighborhoods and trivia, authentic Chicago food no sample sizes here and they're vegetarian-friendly, and local beers , it has something for everyone.
Of course, a tour is nothing without its guide, and Jeremy was amazing. I have avoided guided tours up to this point because of my fear of overbearing, cheesy tour guides. Jeremy has proven they can be funny, knowledgeable, and authentic. I hope to do another tour soon.
April 2016
Super awesome experience! Our guide, Jeremy, was an absolute delight and we made him an unoffical BrOT!!! Lot's of occupational therapists on this tour. 13 miles in sunny yet ice cold conditions. We cheersed at every stop with pizza, hotdogs, cupcakes, and brews! One of the most memorable moments from this day was when we were in the last quarter mile and riding along the path next to the lake and a rogue wave appeared! 2 of us got caught smack dab in the middle of that wave, but only one of us ended up with icy feet. What wizardry did you use to evade the water? Icy feet called out. I leaned my bike against the wall and jumped up on the seat! I replied. So just a word of advice walk on the outside of your bike down by the lake and you too can avoid the icy grip of those deep waters!

January 2016
Loved it. Got some really nice pictures of the city.
October 2015
We had so much fun on this tour!
October 2015
My husband and I thoroughly enjoyed our bike tour. The staff Tim and David were excellent and presented the history and information in a fun way! The food was delicious and the bike riding was not strenuous at all. I highly recommend this tour if you are in the Chicago area. If I return - I will be doing it again!
September 2015
This was a fantastic tour. Jeremy was an amazing guide. I would recommend this tour to anyone wanting to see many of Chicago's neighborhoods and taste some great food.
September 2015
The bike tour was the highlight of our two days in Chicago. We had a great and informative tour of Chicago and it's neighborhoods. Jeremy is awesome!! Will definitely do a tour next time we come to Chicago.
September 2015
We had an awesome time with Liz. She made the trip fun and had great knowledge of the area. We highly recommend this trip
September 2015
Jeremy was awesome! A great way to see Chicago and taste it too. The biking was easy and relaxed, the food was delish and the scenery was top notch! Would will! do this again!!!!
Advertisement
Advertisement