Transport yourself back in time to Chicago's roaring twenties at Tommy Gun's Garage, a unique speakeasy dinner show in the Windy City. Say the password at the front door and then step into an era of mob guys and flappers, Broadway tunes by Cole Porter and George Gershwin and lively dances like the Charleston. This gut-busting show, full of song, dance and audience participation, is sure to please.
Highlights
Tommy Gun's Garage

Experience dinner theater in Chicago

Be transported back to the roaring twenties with gangsters and flappers
Non-stop comedy and dangerous fun, singing, dancing, and a LOT of audience participation!

Recent Photos of This Tour
What You Can Expect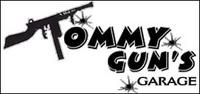 Celebrate the 1920s in Chicago, an era of gangsters, jazz and flappers, during this dinner performance of Tommy Gun's Garage in the Windy City. This lively, fun-filled show, complete with plenty of crowd interaction, is a sure-fire crowd pleaser.
Choose an evening performance time for your show that fits your schedule. Then head to the theater, located through the "El" train tracks, feeling like you've reemerged in the 1920s. The venue is decked out head to toe in period-appropriate decorations, including silent movies, 1920s memorabilia, a replica wall from the infamous St. Valentines Day Massacre, pictures of gangsters and cops and a 1928 Ford Model A.
Start your night watching the show's cast of "Molls" and "Mugs" dance and sing along to famous period performers like Duke Ellington, Fats Waller, Cole Porter and George Gershwin, all accompanied by music from Chicago's own Sinfully Orchestra.
As you watch, tuck into a meal of steak, pasta, chicken or fish (see menu in the Itinerary below). Then follow along with "Gloves" and "Vito" for a comedy show that's sure to delight, complete with lots of song, dance and audience participation.
All of a sudden, your performance will be "raided" by the cops, accompanied by the appropriate sirens and flashing lights. You might even get called up on stage for a hilarious "sobriety test," administered by Officer Murphy, and get "interviewed" by Vito.
Valentine's Day Weekend
Guests you visit Tommy Gun's Garage during Valentine's weekend will enjoy a special historical re-enactment of the infamous 1929 St. Valentine's Day Massacre, a grisly mob killing carried out as part of a larger war between the rival Italian syndicate of Al Capone and the Irish mobsters of Bugs Moran.
Itinerary
Sample menu (subject to change):
Pasta:
Lasagna with Meat or Marinara Sauce

Steak:
Prime Rib

Fish and Pork:
Salmon or Pork Chops

Chicken:

Chicken with Marsala or Lemon Herb Sauce
Dessert
Ice Cream (served at intermission)

(Dinner also includes soup or salad, vegetable, potato, dessert and coffee, tea or soda)
New Year's Eve Show includes champagne toast and dancing

June 2016
Tommy Guns was great from the time we knocked on the door and gave our password until we walked out.
May 2016
Lots of fun! Everyone is friendly, the food was good, and the drinks were priced reasonably.
May 2016
Wonderful experience! Great food, people, and entertainment! Will def. go back someday!
May 2016
We had a siblings weekend, with a stop at Tommy Gun's for the first time. The food was fantastic, the drinks were dynamite, but the entertainment was priceless! Fugetaboutit!
April 2016
Very enjoyable night, full of fun and entertainment. A great experience.
November 2015
Enjoyed the show, the food and service was very good.
Kc2Kctoo United States of ...
November 2015
Highly recommended! Entertaining and friendliest people we have met in Chicago. This is a must see! Already looking forward to going to this show again. Not only was the food and staff fabulous, but the meal was absolutely delicious!

November 2015
TOTALLY RECOMMEND!!!
From the time you enter till the time you leave you're in stitches if laughter! The waiters and waitresses double as show performers and the audience is included the entire time!! The food was good and the service was excellent! We are Australian, and we have not seen a show this good. Well done!!
October 2015
A great interactive night out,dinner was great and show was very entertaining

October 2015
Excellent night, great fun. The meal was okay, because the waitress staff were also the entertainment. There was enough to eat but you go to this night for the entertainment not the food. The Magician was magic!!! For not Brits - excellent.
Advertisement
Advertisement