Enjoy a unique opportunity to swim with dolphins in the wild during an Akaroa Harbour cruise. Strap on your provided wetsuit, flippers and snorkel gear, then slip into the water to swim alongside inquisitive Hector's dolphins. This full-day trip from Christchurch includes a drive through the South Island countryside to Akaroa. You'll admire breathtaking points of interest such as Governor's Bay and Lake Ellesmere en route, enjoy free time to explore Akaroa, then visit a cheese factory for a tasting session in Barry's Bay.
Highlights
9-hour Akaroa dolphin swim experience, from Christchurch
Admire beautiful scenery on route to Akaroa, such as Governor's Bay, Gebbies Pass and Lake Ellesmere
Watch out for seals and penguins from your boat in Akaroa harbour
Jump into the sea and swim with wild Hector's dolphins
Marvel at the volcanic coastal scenery
Enjoy free time to explore the many fine craft shops in town
Visit a local cheese factory to taste fine New Zealand cheeses
Includes round-trip travel from centrally located Christchurch hotels
Recent Photos of This Tour
What You Can Expect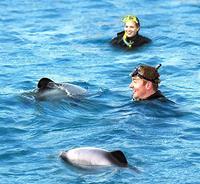 This day trip includes the chance to swim with Hector's dolphins — one of the world's smallest dolphin species — in Akaroa Harbour, a waterway teeming with marine life.
After a morning pickup from your Christchurch hotel, enjoy a comfortable coach drive to the coastal town of Akaroa, passing breathtaking natural landmarks such as Governor's Bay, Gebbies Pass, Lake Ellesmere, Lake Forsyth and Little River.
On arrival, embark on a dolphin cruise over Akaroa Harbour. Keep an eye out for penguins and seals, and search the waters for curious and playful Hector's dolphins — commonly sighted among the waves.
When your captain has located a pod, don your wetsuit, mask, snorkel and flippers then slip into the water. Since these endangered marine mammals are completely wild in their natural habitat, touching them is not permitted, but simply ducking down beneath the waves to marvel at the magnificent dolphins makes for an unforgettable experience.
After the return journey to Akaroa, enjoy free time for lunch (own expense), and explore the craft shops and French colonial buildings in this charming corner of the South Island. Your guide then accompanies you to a Barry's Bay cheese factory for a tasting session of fine New Zealand cheeses.
Your full-day tour concludes with the return drive to Christchurch, with drop-off at your hotel.

December 2014
I purchased this for my daughter, who was vacationing in New Zealand. She said it was AMAZING. There were around 30 dolphins playing with them. They swam and played with them for a long time and had a blast. Highlight of her trip.
I'd also like to commend the tour operator for their flexibility. We had to change the date of the tour 3 times and they were always very accommodating.
January 2013
amazing experience, everyone should do this!
January 2011
Great value for money! Great Team and great time with the Dolphins!!!! Do not hesitate!!!
Scott R Australia
January 2011
It was a highlight to swim with the Hector dolphins. The dolphin swim was the best part of this trip, fairly long day but worth while.
Gustavo B USA
January 2010
Excellent tour! Not only was it great that the driver picked us up from our hostal but he was very informative and knowledgable about the area as we drove to Akaroa. Non-stop chat-box. He stopped to allow us to take nice pictures on the side of the road. The day was perfect for seeing dolphins. We swam in a pod of about 18 dolphins at one time. Wetsuits make floating almost effortless and the cold water tolerable. One of the best part of our whole trip.
Amanda K Canada
January 2010
Swimming with the dolphins was amazing, the driver between Christchurch and Akaroa was very nice and professional. The duration of the trip was perfect.
Leah T Australia
December 2009
Swimming with the dolphins in their natural habitat was amazing! I would rate this the best thing that I have done out of all my traveling over the years.
December 2015
Had an amazing time with the Dolphins and will remember this day for ever.... So stunning and beautiful!!! However please please make sure to call the tour operator if you choose to be picked up from your hotel!... I was told a certain time but had to call them after waiting for an hour for them to arrive! They then told me they wouldn't be able to drop me back off at the end of the day Gratefully the coach did drop me at my hotel I think more information needs to be put on this advert... You are picked up by minivan and dropped into the city center were you transfer to a separate coach company that transport you to Akaroa with amazing stops on the way.... But I will defiantly be contacting the tour operator after their attitude towards their customers .... But the swim made up for it all to be honest!
January 2014
Great time! It took a bit to find some dolphins, but they came around. And getting Hot Chocolate after being in the water was a great touch.
February 2013
I can highly recommend swimming with the Dolphins! They are so beautiful and in the wild, an experience I will never forget. And the pickup, transfer etc also all went smoothly. Do it!
Advertisement
Advertisement