View the highlights of Christchurch on a 3-hour city sightseeing tour that introduces you to the architecture, gardens and waterways of 'The Garden City.' You'll drive past significant landmarks in the city center; meander around ponds and perennial gardens at Mona Vale Gardens; visit the seaside enclave of Sumner; and marvel at the vista over the Canterbury Plains and Southern Alps from the 'Sign of the Takahe.' Choose a morning or afternoon departure, and upgrade to include the International Antarctic Center with an optional Hagglund vehicle ride.
Highlights
Comprehensive sightseeing tour of Christchurch

Wander the beautiful landscape of Mona Vale Gardens

See historic buildings and architecture

Travel through seaside suburb of Sumner

Spectacular views over the Canterbury Plains and Southern Alps

International Antarctic Center (if option selected)

Recent Photos of This Tour
Discover Christchurch Sightseeing Tour with optional International Antarctic Center Admission
What You Can Expect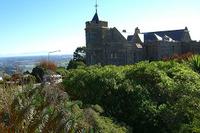 Start your 3-hour tour with hotel pickup in Christchurch, and board the comfortable coach for sightseeing in the central city. Listen to your guide's informative commentary as you cover the central city highlights such as the Museum and Art Centre, the Bridge of Remembrance and the Christchurch Botanic Gardens alongside the Avon River.
Depart the city for nearby Mona Vale, a historic homestead undergoing renovation from the 2011 earthquake. You have time to explore the 13.5-acre (5.5-hectare) landscaped gardens while strolling past lovely trees, ponds and fountains.
Next, travel up to Sign of the Takahe, a historical manor-turned-restaurant tucked away in the Cashmere Hills. From the vista point, look out over Christchurch, the Canterbury Plains and the Southern Alps before returning to the city via Lyttelton Port. Pass through the harbor tunnel to see Sumner Beach and Cave Rock before returning to the CBD where the tour ends with hotel drop-off.
Optional Upgrade 1: International Antarctic Center
Combine your Christchurch sightseeing tour with admission to the International Antarctic Center — only available with the morning departure. Your entry ticket includes the Snow and Ice Experience, which recreates atmospheric conditions of Antarctica with an indoor storm complete with blizzard audio, lightning and arctic winds. Meet a couple dozen blue penguins — the smallest penguins in the world — at the Penguin Encounter.
Optional Upgrade 2: International Antarctic Center and Hagglung ride
If you'd like, opt for an exhilarating Hagglung ride: it's an extreme all-terrain adventure on an amphibious vehicle that traverses through water, across an ice pack and over a crevasse to emulate conditions scientists face while riding across Antarctica.
April 2016
We were very lucky to be the only two people on the tour so had complete attention from the guide, he was brilliant from beginning to end.
March 2015
Paul C Australia
July 2010
Very nice tour through the city and up to the lookout and the harbour. Wouldn't recommend the Antarctic Centre unless you have children with you.
Suzanne Australia
April 2010
I have done this tour before but had not done the Antarctic Center, which was fantastic.
Rajeev R USA
March 2010
Fairly basic tour of Christchurch and nearby areas. It could be better, but it covers most of the key sights.
April 2015
Kenneth A Australia
March 2010
The bus driver did not communicate very well what there was to see in Christchurch other than lots of suburbs and shops. There was no information on tourism, history or information about Christchurch.
John V Netherlands
August 2010
We thought we would stop for longer periods of time at more places.
Ray L Australia
March 2010
The guide was difficult to understand - he had a heavy English accent. His knowledge of Christchurch was very good, if you could understand him. He was polite but did not have any enthusiasm for his job. It is just a job for him. He said that his job is truck driving. Unfortunately, I was not very happy with the tour operator. As we were the only couple to take the optional International Antarctic Center admission, the guide wanted us to make our own way back to our accommodation. We were not happy about this. We were picked up from our accommodation in the first place! When I asked what public transport would take us back to our accommodation, the guide did not know - he just expected to leave us at the Antarctic Centre to make our own way back to our lodgings in a strange country! The guide then contacted who I presumed to be his boss and said he would pick us up in 2 hours and take us back to our accommodation. He did do this. This tour left a sour taste with us.
June 2013
The bus we travelled around in had broken rear suspension and we bounced around very uncomfortably. The bus was dirty and needed some inside fixtures repaired. The driver was friendly but appeared disinterested. Christchurch is still devastated from the 2011 earthquake and there is not much to see as the driver kept pointing out where buildings had once been. Very disappointing tour.
Advertisement
Advertisement