Rejuvenate in the natural thermal pools of Hanmer Springs after a thrilling jet-boat ride through Waiau Gorge. Start your full-day trip from Christchurch with the exciting ride at Thrillseekers Canyon, then visit the resort village of Hanmer Springs, where you'll melt your stress away with a relaxing soak. Have lunch at the on-site cafe and enjoy the convenience of round-trip hotel transport by private vehicle.
Highlights
Day trip to Hanmer Springs from Christchurch

Jet boat ride through Waiau Gorge at Thrillseekers Canyon
Lunch in Hanmer Springs
Bathe in Hanmer Springs thermal pools
Hotel pickup and drop-off from Christchurch
What You Can Expect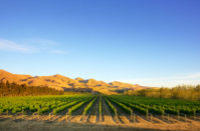 After pickup by private vehicle from your centrally located hotel, relax on the 1.5-hour drive from Christchurch to the tranquil enclave of Hanmer Springs, a picturesque resort village tucked into into a mountain valley.
On arrival, start with an exciting jet-boat ride through Waiau Gorge at the aptly named Thrillseekers Canyon. Burst through narrow gorges and white-water rapids and skim over braided shallows on a high-speed ride with thrilling 360-degree spins.
Then head to Hanmer Springs Thermal Pools and Spa for a provided lunch at the on-site Garden House Cafe. Relax in the volcanic sulphur pools fed by natural thermal springs, and soak your tension away against the massage jets. Dip into various pools offering a range of temperatures. Rich in minerals including chloride, boron, calcium and carbonate, the waters are known to treat a variety of conditions and injuries.
Enjoy views of towering redwoods and have time to explore the village of Hanmer at your leisure before departing for your accommodation, arriving back in Christchurch in the evening.
Returning by private vehicle allows you to fully absorb the effects of the mineral baths without troubling yourself with the inconvenience of arranging transportation.
Janet N Australia
July 2010
Jeff , our relaxed and well-informed guide gave us a thoroughly enjoyable day. The jetboat ride was terrific fun, and the spa a novel experience. Great little package.
Joan K Australia
June 2010
We had a wonderful time touring NZ's South Island. The staff throughout were really helpful and we felt that people really cared that we were enjoying the experience. The South Island has a first rate tourist scene and fabulous natural beauty spots to enjoy.
Nicole C Australia
June 2010
Enjoyed every minute of it. Because of rain the previous days, it looked as if it would be impossible to do the Jet Boat, but the tour guide kept trying, and we were able to do it in the afternoon. It was a great day, everything went smoothly.
Edward Hong Kong
February 2014
Jetboating was fun, but I would have loved to bungi jump - not sure if that was also an option.
August 2011
The driver was really nice and helpful throughout the whole day. Also got to hand shear the sheep's ourselves which was awesome!!!! Only slightly negative thing is: Wished that the Hot Springs were 'real' ones not man made - But they were still fun to see and go in :)

February 2011
We were a bit disappointed that Hanmer Springs was a series of manmade bathing pools in an enclosed complex. I thought we were going there to bathe in open springs with steam shooting out of the ground but alas, no! Bit more commercial and played down than that. Sulpher springs stink but it's all part of the experience.
The Jet Boat ride was wicked and lasted about half an hour - great fun. The wine tasting was simply that - a small sample of about 8 wines, but no tour of the vineyard or visit to the vats. The sheep shearing was interesting and we had a go ourselves, but the sheepdog exhibition was lame, with a dog and 8 sheep running around a field for about 2 mins. Not a bad day out. You get to see plenty of scenery anyway.
Advertisement
Advertisement