Discover magnificent marine wildlife out on the South Pacific Ocean during this 12-hour Kaikoura dolphin swim from Christchurch. Travel through the rolling hills of North Canterbury to the rugged coastline of Kaikoura — the perfect place to view New Zealand's dolphins, seals and birdlife in the wild. With warm wetsuit on, hop aboard your boat and learn from your guide the tricks used to encourage interaction with the graceful and curious dolphins. Dive to the depths below, snorkel over the waves and savor the joy of sharing the dolphins' natural habitat.

Highlights
12-hour dolphin swim day trip to Kaikoura from Christchurch
Travel through scenic North Canterbury to coastal Kaikoura, where the mountains meet the sea
Enjoy free time to explore Kaikoura at your leisure
Head out onto the ocean waves with your guide and keep an eye on the water for Kaikoura's famous Dusky dolphins
Leap into the waves and enjoy an up-close encounter with the dolphins in their natural habitat
Your tour includes all snorkel gear including wet suit, plus hotel pickup and drop-off from centrally located Christchurch hotels
Recent Photos of This Tour
What You Can Expect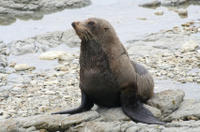 Following a morning pickup from your Christchurch hotel, hop aboard your air-conditioned coach and settle in for the comfortable 2-hour drive north to the coastal town of Kaikoura. The South Pacific Ocean off the Kaikoura coast is home to a spectacular array of vibrant marine life. Sperm whales, Dusky dolphins, seal colonies and flocks of albatross are attracted here all year round by the nutrient-rich waters and plentiful food supply — it's a wildlife-watcher's paradise!
On arrival in Kaikora, enjoy an early lunch (own expense) at the Craypot Café and Bar or take time to explore the attractive town on foot at your leisure. A thriving coastal community, Kaikoura offers a wide selection of shops, bars and other amenities and a buzzing seaside atmosphere.

When it's time to hit the waves for your dolphin swim, follow your guide to the cruise base in town, climb into your warm wetsuit and listen to an informative briefing on the varied marine wildlife that calls Kaikoura home. Afterward, transfer to your bus for the short journey to the harbour, hop aboard your boat and cruise out into the deep ocean.

As your captain talks of the prevailing conditions out on the waves, breathe in the salty sea air and keep an eye out on the horizon for the wild dolphins' tell-tale leaps and splashes. Be sure to ask the team on board about the tried and tested methods used to encourage the dolphins' natural curiosity then, with the engine cut, strap on your mask, snorkel and flippers and jump into the ocean.

Whether you choose to dive down to the depths below or bob about on the surface, swimming with the friendly and curious Dusky dolphins in their natural habitat is truly unforgettable. Marvel at their elegance in the water as they swim energetically around you and enjoy the experience of sharing the waves with these intelligent, graceful and inquisitive creatures.

When your time with the dolphins is up, climb back aboard your boat for the short journey back to land. At approximately 3:30pm, depart Kaikoura for the return journey to your Christchurch hotel where your tour will come to an end.
August 2015
It was just the 3 of us booked onto the tour over the winter season so we were picked up by Des in his car and had our own ersonalised tour experience which was great! He kept us well informed of many sights along the journey from christchurch to kaikoura, unfortunately the dolphin swim was cancelled, however we swapped to go on the albatross tour which was great and viator refunded the difference in cost. Gary the skipper was a great host and even found us some dolphins! As we had time to kill before the tour, Des took us and showed us the seal colony and done other bits in kaikoura. All in all a great experience and would definitely recommend :
March 2015
Great tour, well organised, tour guide was very helpful, Encounters Kaikoura were excellent, dolphins were amazing, would highly recommend!
July 2014
Excellent experience with close to 300 dolphins who were very friendly and playful. The guide and equipment were good. It wasn't nearly as cold as I expected (wet suits kept us warm).
December 2013
June 2011
Totally amazing. Best thing I did in New Zealand and I did a lot! Really really good. Dolphins everywhere, great interactions, beautiful animals. Do it!
Word of warning: at the moment (May/June 2011) Christchurch isnt very busy so this tour may not happen at all, or not on the day you want it to. My 2 dolphin swims got moved around to fit in with numbers so you may need to be flexible.
November 2008
Most amazing experience ever! Very personal, friendly tour connecting with the Dolphin Encounter in Kaikoura, which is a one-of-a-kind experience in the world. You can't miss out on this one!!
August 2008
Amazing, great experience and good staff.
March 2013
The dolphin encounter itself was an amazing experience. We got 5 swims and during the first 2 we had dolphins everywhere, swimming in groups all around us. I loved the fact they are wild and there by their own free will, not encouraged or fed. I would not want to swim with dolphins in a captive, artificial environment. I did get sea sick but to be fair they did put out a sea sickness warning and luckily it was after the swims.
My only complaint was the transfer itself, the driver was awful. I've never met a more grumpy, miserable man in all my life. He insisted on picking us up from the boat so we had to lug all our stuff around with us rather then leave it onsite and didn't get a chance to eat after. We were starving after the 3 hour drive back to Christchurch, especially after the seasickness!!
August 2008
The whole day was a debacle. We didn't end up swimming because of weather but this was known before we got on the bus and wasted an entire day. The refund portion we got back would not cover even the entry to the dolphins. Not impressed.
Advertisement
Advertisement