Spend the day getting close to nature on this Kaikoura Whale Watching tour from Christchurch. Travel by road through the rolling hill country of North Canterbury, enjoying the beauty of its rural pastoral scenes, to Kaikoura where mountains meet sea (approx 3-hours by coach). Kaikoura is world renowned for the variety of marine mammals which can be seen, not least of all the giant sperm whales and the acrobatic Dusky Dolphins.
Highlights
Take a scenic TranzCoastail rail journey from Kaikoura to Christchurch
Join a whale watching tour in Kaikoura and see giant sperm whales, dolphins and seals

Visit a fur seal colony

Enjoy an optional lunch at a local restaurant

Local guide

Plenty of photo opportunities

Hotel pickup and drop off from centrally located Christchurch hotels

What You Can Expect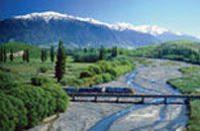 On arrival in Kaikoura you will be transferred to a whale watch tour by boat. On the tour you may view the giant sperm whale and often other whale species, dolphins, seals and the Royal Albatross. Following the tour, lunch has been arranged at the Craypot Cafe and Bar. There will be the opportunity this afternoon to visit a seal colony where fur seals may be viewed at close quarters .
Return to Christchurch by train, the TranzCoastal is one of the world's most scenic train journeys. See wildlife and stunning rugged coastline in the comfort of your train carriage.
March 2015
It was good trip but the wave was too high and I got sea sickness.
I did not enjoy it that much.
If you are planning to go take sea sickness tablet .
We did not manage to see the whale and we get partial refund.
Boat stuff was very good and very helpful.
The boat was nice.
It was great adventur
January 2011
Wonderful day & extremely well managed by the tour company when everything went south. Everyone was accommodated and nothing was lost. I cannot say enough for the tour company personnel and the way they handled everything...especially the driver, Chris. DON'T MISS THIS ONE!!!
March 2010
We only had a short stay in NZ so wanted to see as much as we could. Guide on bus was very informative, the whale watch was good - professional, good safety briefing and equipment and we saw whales and dolphins. The train trip back enabled us to see more of the countryside. Pickups from hotel were good. Best to do 1 way coach and 1 way train.
April 2012
Very interesting and fascinating trip!
November 2008
Itinerary different to that printed so rather a "mystery trip". Coach travel very pleasant with excellent driver. Whale watching boat trip exceeded 5 stars. Would have loved more time at winery.
November 2008
The care by our tour director/bus driver was excellent. We loved our trip to Kaikoura by bus and the morning tea/loo stop. Our meal at Kaikoura was 5 star and we really enjoyed the day. here was only one thing that let the day down a bit. his was nothing to do with the company or TranzScenic railway. The attitude of some of the staff of the "WhaleWatch" crew at Kaikoura left a little to be desired. .I think they just need to improve on their inter-personal and customer service skills. My mother said "good morning" to two of the crew and had absolutely no response and they were a little rude. Other than that, I would definitely recommend Viator to anyone and will use Viator again. Thank you.
November 2008
Train component was cancelled due to track damage, and we didn't see any whales despite substituting airplane for boat. But scenery was wonderful and tour guide was entertaining, despite driving too fast. Also, I thought it was a mistake for him to meet us on main street of Kaikoura instead of picking us up where we had lunch.
May 2012
This was OK. The whale watching itself was amazing and we got to see Kaiko for a long time. The guide was nice but the wait between whale watching and the train back home was long (2.5 hours) without anything to do.
Advertisement
Advertisement