Visit Edoras of 'The Lord of the Rings' fame on this full-day excursion by 4WD vehicle to the peak of New Zealand's Mt Sunday. Get a look at exclusive photos of Edoras under construction and learn from a knowledgeable LOTR guide about its transformation from tranquil countryside to mythical capital city of the Rohan people. Pose with replica props from the popular trilogy, such as Aragorn's sword, Gimli's axe and the flag of Rohan. Includes round-trip hotel transport from Christchurch plus a picnic lunch with sparkling wine.
Highlights
9-hour 'Lord of the Rings' adventure to mystical Edoras, from Christchurch
Enjoy 360 degree views of the mountainous terrain from the summit of Edoras
Hear informative and entertaining commentary from your friendly guide
See exclusive behind-the-scenes photos of Edoras under construction
Handle movie replicas such as King Theoden's sword, Gimli's axe and the flag of Rohan
Sit down to a delicious picnic lunch with Champagne
Includes round-trip travel from your Christchurch hotel
Recent Photos of This Tour
What You Can Expect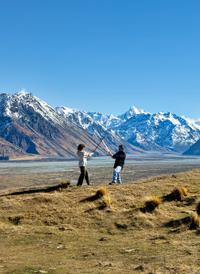 Your The Lord of the Rings day trip to the fictional village of Edoras in New Zealand's Canterbury Region begins with morning pickup from your hotel. Hop into the 4WD vehicle for a drive west to Mt Sunday, better-known to LOTR fans as Edoras — the capital of Rohan and home to Meduseld, the hall of King Theoden.
You'll bump along rocky terrain and traverse narrow streams en route to Edoras. On arrival at the movie site, follow in the footsteps of the noblewoman Eowyn, and stand at the summit for 360-degree views over alpine lakes, mountain peaks and high-country farmland below.
Your guide shares behind-the-scenes photos of Edoras under construction and points out significant geographical features of Middle-earth, including the Misty Mountains, the river Snowbourn and the valley of Harrowdale against the imposing Helms Deep. Learn why this particular site was selected by director Peter Jackson for The Lord of the Rings trilogy.
Enjoy a picnic lunch (see the Itinerary for a sample menu) with a glass of sparkling wine, and pose for photos with replica props such as the flag of Rohan, Gimli's axe, or the sword of Aragorn or King Theoden. Then hop back in your 4WD vehicle for the drive back to your Christchurch hotel, where your Edoras excursion comes to an end.
Itinerary
Sample Menu:
Sandwiches




Piece of cake




Orange juice




Glass of sparkling wine
Please advise any special dietary requirements at time of booking

April 2016
We thoroughly enjoyed our Lord of the Rings tour. Our guide was great, lots of info about NZ, the earthquake, local history and the making of the film. The vehicle was purpose built, lots of big windows, very comfortable. The scenery was stupendous, we had a great time imagining the set of Edoras in that windswept panorama. Mind boggling. Thoroughly recommend the tour.
April 2016
Loved this tour! Gorgeous views of Mt Sunday and the surrounding valley and mountians, great hike up to the area where they filmed Edoras. Our tour guide Simon was informative and friendly, and he helped us take all the photos we wanted. It felt like Middle Earth even without the sets:)
April 2016
Very friendly guide, stunning scenery, perfect day !
April 2016
Absolutely stunning day. Definitely recommend even if you aren't a Lord of the Rings fan.
April 2016
my tour leader is fun, his knowledge about the film is so complete. I like the video clip of Air New Zealand.
the idea to bring Legolas and Aragon's sword to the top of the hill is very good. we also have a plenty time to take picture there.
March 2016
Simon the tour guide was great. Beautiful scenery and a fun tour.
March 2016
This tour was amazing!! Our tour guide Simon I think? was really great and gave us lots of interesting facts and kept us entertained throughout the trip. It was fun to ATV through creeks and rocks to Mount Sunday and it was a nice touch to bring props up to the top so we could take pictures. Mount Sunday was breathtaking even if you aren't a LOTR fan, but if you are a fan this was absolutely worth it.
February 2016
we had a fantastic day. Tour guide Simon was excellent. absolutely stunning scenery -a MUST DO for Lord of the Rings fans. When booking we were a bit concerned about the price but after the tour felt it was money well spent - it was our favorite tour of NZ
February 2016
In a word AMAZING!!! Our guide Simon went out of his way to make it personal and if anyone is considering coming to NZ it would be a crying shame to miss this expetience. The photos can't begin to do it justice you must be thete!!!

January 2016
a superb day out activities even for old ladies like us....we were fortunate to witness a courage of a special friend aided by a wheel chair who joined the tour group...again the tour guide Simon was very helpful and patient.
Advertisement
Advertisement