18 Reviews
Location:

Akaroa, New Zealand

Duration:

3 hours

(approx.)
Make a date with the worlds smallest, rarest and friendliest dolphins only on Akaroa Harbour. There is only one place on the planet where you can swim with Hector Dolphins also known as the New Zealand Dolphin and that is the beautiful sheltered Akaroa Harbour.
Highlights
Swim with the rare and beautiful Hector's dolphins on this once in a lifetime experience
Enjoy a 2-hour cruise by a heated jet powered catamaran
Receive a 30-minute briefing on how to interact with the dolphins before spending 1-hour with these beautiful creatures
Includes wetsuit, mask and snorkel equipment

Small and intimate experience, only 10 swimmers permitted per vessel

What You Can Expect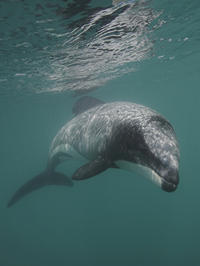 Akoroa Harbour is a sheltered harbor, a flooded crater of an extinct volcano surrounded by awe-inspiring volcanic cliffs. With a group limit of 10 people per vessel the Akaroa swimming with dolphins tour means it will be an even more intimate experience.
The two-hour dolphin tour is very popular due to the limited number of passengers permitted per departure. Book now to avoid disappointment.
You will be guaranteed a safe and memorable dolphin swim.
The tour operator was the first cruise boat company in the world to get the coveted Green Globe 21, an international program to ensure best environmental practices.
Dolphin Sightseeing Guarantee - If you see dolphins but for some reason do not get to swim with them then receive a part refund. NZ$85 refund if no dolphins are found and a NZ$55 refund if dolphins found but you are unable to swim with them. In the last 12 months we saw dolphins on 98% of our cruises and had successful swims on 81%.
All crew are highly trained. This means that you'll get a great briefing on how to interact with the dolphins and what to expect prior to your journey. They'll also give you safety instructions to allow you to enjoy your experience. If you are new to snorkeling and use of a wetsuit your crew will be on hand to help you out.
All equipment is provided including wetsuit, masks and snorkel. You only have to bring a swimming costume and a towel. With hot showers available.
The vessel is a heated, covered, jet powered catamaran. It's safer for you and the dolphins because there are no propellers. It's also heated so after your swim you can warm up quickly in the cabin.
March 2015
Incredible expierience! I love it!
March 2015
We had a great time on the harbour. The dolphins were about. The swimming was fine and the wet suits warm.
March 2015
November 2014
The drive was pretty to the small town of Akaroa. We arrived, and it was an overcast drizzly morning. By the time we got out on the water, the sun came out and the clouds cleared away. We sighted 10-15 dolphins, and were able to get out of the boat twice. The second time, the dolphins were more interested and started swimming through the group. It was fun vocalizing in the water through our snorkels to attract the dolphins. When we got back to the dock, the clouds came back and it started raining hard. We had the perfect window to go out. And the entire staff was very friendly and knowledgeable. I highly recommend the hot water poured into the back of our wetsuit! :-)
March 2014
Very friendly and interesting staff. We would recommend the company to anyone wishing to experience the dolphins.
February 2014
Great if you like - I mean, really like - dolphins. The trip went well, staff were proficient and competent in explaining the natural history of these dolphins. They emphasized that, as wild creatures in their natural environment, guarantees of behaviour could not be made. In the event we had only limited contact with these mammals and, although this met the terms of our booking, they voluntarily provided a partial refund. If you like dolphins this firm presents itself as knowledgeable and of high integrity. I strongly commend and recommend them.
January 2014
I found this tour very interesting. The staff were very friendly. We saw several dolphins close to the boat but unfortunately none of them stayed close by so we couldn't actually swim with the dolphins. We got refunded $50 because of that which was great. On the way back we also got some hot chocolate. I'd go again if I was ever in the area again.
December 2013
Great crew and experience. Met lovely people from all around the world and also met 6 Hector's dolphins! Hot chocolate and a gingernut biscuit on the way back was greatly appreciated. Highly recommend this tour.
April 2013
We had a great time. The sights are amazing and the guides were helpful. The water was a little brisk, but the wetsuits were fine. The dolphins came around, but weren't very interested in sticking around very long with us that day, but we still enjoyed ourselves. We were very happy with the experience, but the guides said it wasn't a full enough of an adventure and gave us a partial refund! Great experience.
December 2012
This was an incredible trip. We got to swim with quite a few dolphins and the guide was very informative. The dolphins were swimming right up to us and then around us. I wasn't scared at all even in the deep water. We were in the water for about 45 mins. You get thick wetsuites so you don't get cold
Advertisement
Advertisement