Take a jet-boat ride on the Waimakariri River, locally known as 'The Waimak,' with round-trip hotel transport from Christchurch. Select whichever duration best suits your schedule: enjoy a 1.5-hour jet-boat ride on the Lower Waimak, a 3-hour ride through Waimakariri Gorge or a 4.5-hour adventure full of thrills and spills — suitable for the whole family.
Highlights
Combine the thrills and excitement of a jet boat ride with the breathtaking scenery of Waimakairir River Gorge on this day trip from Christchurch
Choice of morning or afternoon departure

See the breathtaking views of the rugged snow-capped Southern Alps mountains

Choice of either 3-hour Jet boat ride or 4.5-hour Jet boat on Waimak Gorge

Hotel pickup and drop-off centrally located Christchurch hotels

What You Can Expect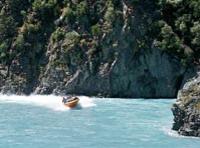 Start your Waimak jet-boat tour with hotel pickup in Christchurch, traveling approx. 25 minutes along rural roads of the Canterbury Plains to the foothills of the Southern Alps. The snow-fed waters of the Waimakariri River enter canyons and gorges where steep rock faces are lined with native forests.
The 1.5-hour jet boat tour of the Lower Waimak is ideal for those with limited time. Upon reaching the braided Waimakariri River, snap on your provided life jacket, listen to a safety briefing, and hop into the powerful jet boat for a high speed ride. Your expert captain skims over shallow river flats and shingle-bottom streams on an ever-changing course with 360-degree spins and hairpin turns.
If you have more time to spend amid this spectacular alpine landscape, upgrade to one of the following options listed below.
Waimak Gorge Jet Boating (3 Hours):
Experience an exhilarating jet-boat ride through rugged Waimakariri Gorge with breathtaking views of the snow-capped peaks of the Southern Alps.
Waimak Gorge Jet Boating Safari (4.5 Hours):
Extend your jet-boat ride all the way to the upper Waimakariri Gorge, with access to remote areas that are otherwise out of reach.
January 2016
The scenery was beautiful and the trip enjoyable! We found the length of the boat trip to be sufficient despite other reviews to the contrary.
Fiona C Australia
February 2011
The weather was a little chilly but the boat ride was a rush - it was the second time we'd had Chris as our driver/guide too, great guy!

February 2011
OUTSTANDING!!! WAY TOO SHORT!!!!!
Doreen V Australia
January 2010
An exhilarating experience! Informative as well as fun. Totally refreshing!
September 2011
Kirsty A United Kingdom
August 2008
The gorge boating was good, but I booked a safari that was meant to be 4.5 hours long and when i got there I only got the gorge boating that was 3 hours long. The actual time in the boat is less than one hour, great scenery, but Viator should detail what you are getting for your money better!!
Mary Huston M USA
August 2008
The river didn't have any rapids, and the picture gave the impression that there were, so that was somewhat misleading. But the staff were very nice and professional.
Advertisement
Advertisement