A night of festivity and romance awaits you onboard the comfortable MS RheinEnergie or MS RheinFantasie! Round off your day at Cologne's famous Christmas Market with a romantic cruise on the River Rhine by candlelight. Relax to the sounds of onboard live music while you feast on a traditional buffet dinner.
Highlights
3-hour Cologne Christmas dinner cruise along the Rhine River

Enjoy a buffet dinner including German specialities

Listen to Christmas music and get into the festive mood

What You Can Expect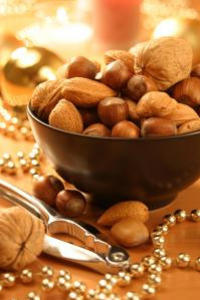 Admire Cologne's beautiful winter city skyline as you slowly meander along the river. Experience the most beautiful stretches of the Rhine with its fairy-tale castles, and soak in the tranquil atmosphere. This is an unforgettable indulgence in one of Germany's prettiest cities!
Itinerary
Sample Menu (subject to change at any time without notice):

Warm Dishes
• Cream soup with mushrooms and herbs
• Tagliatelle in creamy mushroom sauce with tomato cubes and grated parmesan
• Pork shoulder with Christmas spices and Burgundy sauce served with potato-cabbage mix
• Baked corn poulard in hazelnut sauce with red cabbage and potato dumplings
Cold Dishes
• Tomato and mozzarella with rucola salad
• Marinated beef in herb sauce
• Chicken cocktail in light yogurt sauce
• Selection of fish including Norwegian smoked salmon and trout with cream of horseradish and honey-mustard dill sauce
• Rustic selection of roasts, meatballs, raw hams
• Wintery green and raw salads with two dressings
• International cheese board with olives and grapes
• Bread, rolls and butter
Desserts
• German-style baked apple filled with nuts and raisins, served with warm vanilla sauce
• Pancake filled with forest fruits
• Cappuccino-almond mousse
• Plum-cinnamon ice cream
March 2016
great tour wortwhile great value for money
December 2014
The dinner cruise was amazing and e had fun. We were realy pleased whit everything. The only draw back was that thw names of the food was written only in German it would have helped if they were written also in English.
December 2014
This was really excellent and tremendous value for money. The boat was beautifully decorated and the live band were really good so there was a proper party atmosphere. The food was plentiful and of a very high standard (the smoked salmon was superb; so were all the meat dishes) . Service was really attentive and your glass was refilled as soon as it started to empty. The wines were good quality, there was bottled water at every table and the beer was the excellent locally brewed kolsch. The only thing we hadn't expected was to be seated with other people but the organisers had thoughtfully put us with another a British couple (in fact, they turned out to be Welsh, like us). and we really enjoyed their company. We didn't really register the scenery as obviously it was dark and we were involved in the food and the party atmosphere but when we went up on deck we saw great views of the best of Colognr, ie the cathedral. The boat is conveniently moored ten minutes walk from the main station and the cathedral so very easy to get to and from. All in all, loved it and would recommend it to anyone. Oh, and the locals love to dance!!

Gail USA
January 2014
This was a a lovely trip. It was very cold outside, but the boat was very warm and comfortable. The staff was wonderful, the food was very good! We were able to get through the buffet line near the beginning, but when my husband went back for seconds, it was still just as delicious. Several kinds of meat were served, a salad bar, vegetables, soup, and all the wine or beer you could drink. The view was beautiful from the boat, but hard to take good pictures as it was moving. It lasted three hours. There was a live band aboard, but we were on the other side of ship, so the music was nicely in the background. Many people danced, and it was quite a party! There was much laughing and fun had by all!
January 2014
lovely food, very friendly staff and great band/entertainment on board. only improvement would be to have food labels in English language at the food buffet for the non germans on board!
December 2013
Great value for money, well organised and entertaining evening. Highly recommended
December 2011
We were a group of 14 who went to Cologne primarily for the xmas markets but the highlight of the long weekend proved to be the evening dinner cruise. Real value for money, the food, service and entertainment were all outstanding.
WENDY S USA
January 2010
We had a great time, the music was fantastic and the food and service was great as well. We will look forward to next year.
January 2014
we booked this as part of a Christmas break and my wife wanted to travel down the rhine. the booking process was simple and having located the boat it was simple to get on. however having just walked on we couldn't find a seat as all tables were already booked. this was quickly rectified by going to a member of staff but it would have been nice to know in advance. once on board the food and drink were plentiful and the other table guests were good company with very good service from the staff on board and no language problems, despite most people on board being local and enjoying their Christmas parties
December 2013
Good evening. Good food. Live band.
Advertisement
Advertisement