409 Reviews
Location:

Copenhagen, Denmark

Duration:

24,48,72 and 120 hour passes available
Make the most of your time in Denmark's capital and take advantage of free and discounted transport and admission as you explore the numerous museums and attractions the city has to offer.
Highlights
Sightseeing with the Copenhagen Card with free admission to over 75 attractions
Choose from a 24, 48, 72, and 124 hour card
Free use of public transport
Free entry to Copenhagen's top attractions including Tivoli Gardens, Copenhagen Zoo, Den Bla Planet, and Canal Tours
FREE entry to some of Denmark's top attractions such as Louisiana Museum of Modern Art, Frederiksborg Castle, and Kronborg Castle
Special offers at restaurants, shops and car hire
Free map of Copenhagen
Recent Photos of This Tour
What You Can Expect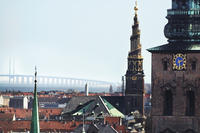 The Copenhagen Card includes:
Free transport by train, bus and Metro, including to and from the airport
Free entry to 74 museums and attractions
Discounts on many attractions, sightseeing tours, restaurants and on car rental
Includes a comprehensive guide
Choose between a 24, 48, 72 or 120 hour Copenhagen Card and for a full listing on free inclusions, please see below itinerary
Itinerary
Free Admission to:
Amagermuseet
Amalienborgmuseet
Arbejdermuseet
ARKEN Museum for Moderne Kunst
Baadfarten
Ballerup Museum
Brede Værk
Canal Tours' Grand Tour of Copenhagen
Casino Copenhagen
Cirkusmuseet
Danmarks Tekniske Museum
Dansk Arkitektur Center
Dansk Jagt- og Skovbrugsmuseum
Dansk Jødisk Museum
Kongelige Repræsentationslokaler
De Kongelige Stalde på Christiansborg Slot
Den Blå Planet
Den Frie Udstillingsbygning
Den Hirschsprungske Samling
Designmuseum Danmark
Det Nationalhistoriske Museum
Dragør Museum
Esrum Kloster og Møllegård
Experimentarium City
Flynderupgård Museet
Fredensborg Falkonergården
Frilandsmuseet
Færgen Frederiksborg
Geologisk Museum (Statens Naturhistoriske Museum)
Gl Holtegaard
H.C. Andersen Eventyrhuset
Helsingør Bymuseum
House of Amber - Copenhagen Amber Museum
J. F. Willumsens Museum
Jægerspris Slot
Karen Blixen Museet
Kongernes Lapidarium
Kronborg Slot
Kunstforeningen Gl Strand
Kunsthal Charlottenborg
Københavns Museum
KØS Museum for kunst i det offentlige rum
Louisiana Museum for Moderne Kunst
M/S Museet for Søfart
Museet for Samtidskunst - ord, billed, lyd
Nationalmuseet
Nationalmuseets Klunkehjem
Netto-bådene
Nordatlantens Brygge
Ny Carlsberg Glyptotek
Ordrupgaard
Post og Tele Museum
Revymuseet
Rosenborg Slot
Roskilde Domkirke
Roskilde Museum
Rudolph Tegners museum og statuepark
Ruinerne under Christiansborg
Rundetaarn
Sagnlandet Lejre
Statens Museum for Kunst
Storm P.-Museet
Tadre Mølle
Teatermuseet i Hofteatret
Thorvaldsens Museum
Tivoli
Tycho Brahe Planetarium
Tøjhusmuseet
Vedbækfundene
Vor Frelsers Kirkes tårn
Zoo
Zoologisk Museum (Statens Naturhistoriske Museum)
Øresundsakvariet
Discounts
Copenhagen Panorama Sightseeing 10%
Copenhagen Tours 20%
Copenhagen Bicycles 20%
Danish Art & Christmas Shop 10%
Europcar/Pitzner Auto 20%
Guinness World Records Museum 25%
Open Top Tours - Hop on Hop off 10%
Ripley's Believe It or Not! Museum 25%
Segway Tourscph 10%
Nordisk Korthandel 10%
Wallmans 25%
Scandlines Helsingør - Helsingborg / ferry 10-25%
The Mystic Exploratiorie 25%
Vandkulturhuset 20%
The Viking Ship Museum in Roskilde 25%
Z-way 20%
Restaurants
Burger Corner 10%
Café Dan Turèll 10%
Café Danner 10%
Café Emma 10%
Frederiks 10%
Restaurant Garum 10%
Restaurant Tapashuset 10%
Café Sari 10%
Café Sommersko 10%
Café Stella 10%
Heidi's Bier Bar 20%*
Hereford Village 10%
Il Pecatto 10%
No. 4 10%
Restaurant Amalfi 15%
XO Burgers and steaks 10%
* Only from Sunday-Thursday
May 2015
May 2015
Definitely saves you a lot of money and offers much to do.
Advertisement
Advertisement