Get the best from Denmark's charm-laden capital for less with the great-value Copenhagen Card. Choose a 24-, 48-, 72- or 120-hour card, and use it like your very own Copenhagen pass: enjoying a plethora of savings and benefits that help you make the very most of this beautiful city. Gain free entry to 74 top Copenhagen attractions, including the legendary Tivoli Gardens and awesome Den Blå Planet aquarium; get valuable discounts on select tours, museum tickets and more; and enjoy free, unlimited use of the city's public transport networks.
Highlights
Discover Copenhagen for less and at your own pace with a city discount card
Gain free admission to 74 top Copenhagen landmarks, tours and activities
Waltz into the legendary Tivoli Gardens, Den Blå Planet aquarium and other must-see attractions for free
Enjoy great discounts on tours, plus save money at museums, restaurants, cafes and more
Get free and unlimited access to Copenhagen's train, bus and Metro networks
Choose from a 24-, 48-, 72- or 120-hour card and create your own sightseeing itinerary
Receive a free city map of Copenhagen
Why Our Insiders Chose This Tour
If you're passionate about wildlife, make a beeline for the Den Blå Planet. The Copenhagen Card entitles you to free entry to this incredible aquarium, essentially giving you free rein to stare at over 20,000 sea creatures!
Recent Photos of This Tour
What You Can Expect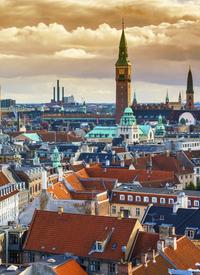 Select a 24-, 48-, 72- or 120-hour Copenhagen Card on booking. Then, pick up your money-saving card and complimentary Copenhagen map at Copenhagen International Airport or a redemption point in the city center.
Valid for the stated numbers of hours from when the time you first use it, this great little card will help you make the most of Denmark's charming capital, with free entry to 74 of Copenhagen's major attractions and complimentary travel on the city's buses, trains and Metro services.
Plus, the card entitles you to a host of other savings on select visitor experiences, restaurant meals, shopping and more.
Gain free admission to the Tivoli Gardens with its wooden coaster and vintage amusements; enjoy complimentary entrance to the remarkable aquarium that is Den Blå Planet; get discounts on sightseeing tours, and save money with cut-price entry to many other activities and landmarks.
Privileges include a free canal sightseeing cruise, entrance to the intriguing Amalienborg Museum to see its recreated royal palace interiors, and complimentary admission to the extravagant Rosenborg Palace, built by King Christian IV in the 1600s.
See the Itinerary for a full list of the deals, discounts and benefits that the card brings.
Itinerary
Free Admission to:
Amagermuseet




Amalienborgmuseet




Arbejdermuseet




ARKEN Museum for Moderne Kunst




Baadfarten




Ballerup Museum




Brede Værk




Canal Tours' Grand Tour of Copenhagen




Casino Copenhagen




Cirkusmuseet




Danmarks Tekniske Museum




Dansk Arkitektur Center




Dansk Jagt- og Skovbrugsmuseum




Dansk Jødisk Museum




Kongelige Repræsentationslokaler




De Kongelige Stalde på Christiansborg Slot




Den Blå Planet




Den Frie Udstillingsbygning




Den Hirschsprungske Samling




Designmuseum Danmark




Det Nationalhistoriske Museum




Dragør Museum




Esrum Kloster og Møllegård




Experimentarium City




Flynderupgård Museet




Fredensborg Falkonergården




Frilandsmuseet




Færgen Frederiksborg




Geologisk Museum (Statens Naturhistoriske Museum)




Gl Holtegaard




H.C. Andersen Eventyrhuset




Helsingør Bymuseum




House of Amber - Copenhagen Amber Museum




J. F. Willumsens Museum




Jægerspris Slot




Karen Blixen Museet




Kongernes Lapidarium




Kronborg Slot




Kunstforeningen Gl Strand




Kunsthal Charlottenborg




Københavns Museum




KØS Museum for kunst i det offentlige rum




Louisiana Museum for Moderne Kunst




M/S Museet for Søfart




Museet for Samtidskunst - ord, billed, lyd




Nationalmuseet




Nationalmuseets Klunkehjem




Netto-bådene




Nordatlantens Brygge




Ny Carlsberg Glyptotek




Ordrupgaard




Post og Tele Museum




Revymuseet




Rosenborg Slot




Roskilde Domkirke




Roskilde Museum




Rudolph Tegners museum og statuepark




Ruinerne under Christiansborg




Rundetaarn




Sagnlandet Lejre




Statens Museum for Kunst




Storm P.-Museet




Tadre Mølle




Teatermuseet i Hofteatret




Thorvaldsens Museum




Tivoli




Tycho Brahe Planetarium




Tøjhusmuseet




Vedbækfundene




Vor Frelsers Kirkes tårn




Zoo




Zoologisk Museum (Statens Naturhistoriske Museum)




Øresundsakvariet
Discounts on the following tours, activities and experiences:
Copenhagen Panorama Sightseeing

10%

off


Copenhagen Tours

20%

off


Copenhagen Bicycles

20%

off


Danish Art & Christmas Shop

10%

off

Europcar/Pitzner Auto

20%

off

Guinness World Records Museum

25%

off


Open Top Tours - Hop-On Hop-Off

10%

off


Ripley's Believe It or Not! Museum

25%

off

Segway Tourscph

10%

off

Nordisk Korthandel

10%

off


Wallmans

25%

off

Scandlines Helsingør - Helsingborg / ferry

10-25%

off

The Mystic Exploratiorie

25%

off

Vandkulturhuset

20%

off


The Viking Ship Museum in Roskilde

25%

off


Z-way

20%

off
Discounts at the following restaurants, cafes, pubs and bars:
Burger Corner

10%

off

Café Dan Turèll

10%

off


Café Danner

10%

off


Café Emma

10%

off
Frederiks

10% off

Restaurant Garum

10%

off


Restaurant Tapashuset

10%

off

Café Sari

10% off

Café Sommersko

10%

off


Café Stella

10%

off


Heidi's Bier Bar

20%

off*


Hereford Village

10%

off

Il Pecatto

10% off

No. 4

10%

off


Restaurant Amalfi

15%

off


XO Burgers and Steaks

10%

off

* Only from Sunday-Thursday
June 2016
We picked up the card from the airport when we arrived in early afternoon, used it to transport to our hotel at city center, then visited Tivoli Garden in the evening. The next morning we took the canal cruise, visited a couple of palaces and museums using the bus system before taking the train and bus to our cruise ship, all covered by the card. It is a simple way to visit and go around the city, especially when the stay is brief.
June 2016
This was probably the best purchase of my whole trip. It made visiting places and going places so easy.

June 2016
Must thing to have during Copenhagen visit. Cover almost all means of transport to all famous and must visit sight in Copenhagen. During our Europe visit this was the best deal we could get for convenience of sight seeing.
June 2016
June 2016
June 2016
Wow this card is helpful! Got me into a lot of great attractions without having to pay a penny. Plus the use of the metro and bus was included which made travel to areas very convenient. Would highly recommend!
June 2016
Totally worth it - I loved all the sites and the included transportation!
June 2016
Great value, which includes all modes of city transport, and entrance fees into most popular attractions.
June 2016
The Card is excellent value for money covering many of the sites, tours and transport.
June 2016
A great deal. I used this card over and over and over again and saved so much money. It was also very easy to find the place to pick up the card it's right in the Copenhagen Central train station. Highly recommend.
Advertisement
Advertisement