Enjoy 1.5 hours of ultimate relaxation at Cordoba's alluring Arabian baths, Hammam Al Ándalus! The tranquil haven exudes understated Arabian opulence at its finest, with features like candle-lit walkways, thermal plunge pools and a steam room. Relax in the baths, sipping on fresh mint tea, and then make your way to the Aroma Corner for a 15-minute massage. Alternatively, upgrade to a 30-minute massage that includes an exfoliating body scrub.
Highlights
1.5-hour spa experience at Cordoba's Hammam Al Ándalus, the city's Arabian baths
Spend time at leisure enjoying the thermal baths and steam room
Sip on mint tea and admire the bath's majestic Arabian decor
Select your own massage oil from a selection of rose, lavender, violet or red amber essences
Relax during a 15-minute massage or upgrade to the 30-minute option that includes an exfoliating body scrub
Recent Photos of This Tour
Arabian Baths Experience at Cordoba's Hammam Al Ándalus
What You Can Expect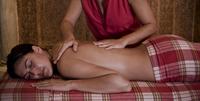 Immersed in nearly 2,000 years of history, Cordoba's Old Town consists of a tangle of Moorish-esque streets surrounding the romantic-looking Mezquita. Tucked away in the heart of the area is Hammam Al Ándalus, a luxurious Arabian bath complex where locals go to relax, escaping from Cordoba's balmy daytime heat.

Follow the locals' lead by stepping inside and enjoying 1.5 hours at leisure. The beautifully designed baths set the tone for ultimate relaxation with resplendent Arabian décor featuring candle-lit walk ways, marble benches and majestic-looking archways. Help yourself to a cup of fresh mint tea and bask in the light filtering through the vaulted ceiling's star-shaped lunettes.

Relax your muscles with a dip in the hot thermal bath, and then stimulate your senses by jumping in the cold one. Bathe in the warm pool and sit back visualizing times-gone-by when the Spanish would stay for hours, discussing everything about their day-to-day lives. Sit in the steam room, breathing in its calming vapors, infused with aromatic essences, and then wander over to the bath's Aroma Corner for a massage.

Choose from oils scented with rose, lavender, violet or red amber, and then submit to total relaxation as your masseuse applies gentle pressure during your 15-minute massage. If you want to enjoy a longer massage with an exfoliating body scrub then why not upgrade? Book the 30-minute massage instead, and simply leave the baths a little earlier before heading to the Aroma Corner. Start with an exfoliating scrub (known as Al Ándalus Ritual) to remove dead skin cells and stimulate blood circulation, and then enjoy a longer massage.

At the end of your session, head to the showers and then leave the baths feeling relaxed and revitalized.
December 2014
I first visited these baths in 2008 and loved it! This time was even better! A must for anyone visiting Cordoba. We did the oil massage and I would recommend the rose oil. However another couple had the full scrub treatment done and that looked fantastic too. A perfect way to relax and unwind.
August 2014
This was a unique and relaxing experience. Highly recommended!
June 2014
Great experience . And they were very accommodating !
June 2014
I booked this as a surprise for my partner on our recent trip to Andalusia. It was absolutely amazing. We both loved the whole experience. The staff were professional but also warm and welcoming. I was nervous about the massage bit but my masseuse put me at ease immediately. Recommend it!
January 2014
Such a unique experience! Very relaxing and rejuvenating. Wandering from pool to pool, I truly felt as if I'd traveled back to ancient Arabian times. Plus the massage was wonderful and the mint tea was delicious. Don't miss this while in Cordoba!
June 2015
Nothing special to me. The place where you get your wash was very hard and uncomfortable. Wearing a bating suit for a massage defeats the purpose to me. Not something I would do again.
Advertisement
Advertisement