Enhance your sightseeing experience of Cordoba on a comprehensive hop-on hop-off City Sightseeing tour of the city. Cruise past premier Cordoba attractions like the magnificent Mezquita, the Calahorra Tower and the Roman Temple of Cordoba, and disembark whenever a landmark captures your attention. After exploring the attraction further, return to your sightseeing route at one of 17 conveniently located stops and continue seeing the city by distinctive double-decker bus. Opt to enjoy a validity period of 1- or 2-days with this convenient and cost-effective tour.
Highlights
City Sightseeing hop-on hop-off bus tour of Cordoba

Create your personalized sightseeing itinerary and explore Cordoba at leisure
See top Cordoba attractions like Mezquita, Augustus' Mausoleum and Calahorra Tower
Hop on and off as many times as you wish at any of the 17 stops

Enjoy entertaining audio commentary on board the bus
Choose from a 1- or 2-day ticket

Recent Photos of This Tour
City Sightseeing Cordoba Hop-On Hop-Off Tour
What You Can Expect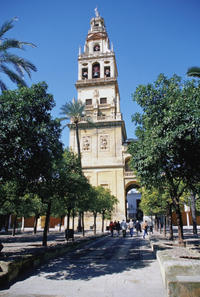 Climb aboard a distinctive double-decker bus at a conveniently located bus stop close to you, and embark on your city Sightseeing adventure. Admire legendary landmarks like Augustus' Mausoleum, the Calahorra Tower and the Alcazar of Cordoba as you cruise around the sun-drenched structures of the ancient city.
Disembark to discover the candy-cane columns and dramatic domes of the Mezquita, a mosque-cathedral that dates back to the 10th century, and stroll around the charming Old Town and Jewish Quarter to delve into Cordoba's rich historical heritage.
Remain on the bus for them entire 80-minute loop if you wish and listen to informative audio commentary as you pass famous attractions. Please see the Itinerary section below for a full list of stops serviced on the tour.
Itinerary
Cordoba Hop-On Hop-Off Tour Stops:
Panoramica del Rio
Jardin Botanico-Xoologico (Cordoba Botanical Gardens)
Ciudad de los Ninos (City for Kids park)
San Basilio (Old Alcazar neighborhood)
Puerta de Almodovar
Mercado Victoria
Gran Capitan
Estecion de Trenes-Autobuses (bus station)
Palacio de la Merced- Diputacion (city hall)
Malmuerta-Santa Marina
Plaza del Corazon de Maria
San Lorenzo Church
Realejo-San Andres (Church of San Andres)
Ayuntamiento-Templo Romano

Arco del Portillo (Arc of the Portillo)
Puente Romano (Roman Bridge of Cordoba)
Banos Califales-Alcazar
March 2016
Excellent customer service and tour guides. This was my first tour bus experience and it was worth every cent and more. Thank you guys. I will be using you again when I return to Cordoba.
November 2015
Great tour of Cordoba..gorgeous city in the old town..
November 2015
We only spent one day in Cordoba, and with the Hop-On Hop-Off tour bus, we pretty much saw all the places that we wanted to see. If you arrive by train, you can take the bus right outside of the train station. It's so convenient, and when it's time for us to leave, we took the bus right back to train station.

October 2015
Best Way to See Cordoba!
My husband and I took the Hop-On Hop-Off Bus Tours in Cordoba. It was the best and fastest way to see Cordoba. We took both tours all 17 stops and it only took 80 minutes and the price was reasonable. We stopped at the Mezquita and paid the entrance fee, Augustus Mausoleum and Calahorra Tower, as well as seeing the Old Town, the Jewish Quarter and the Puente Romano Bridge. It was a warm day so the open bus felt good. The staff were helpful. Best Bang for your Buck!
October 2015
The Hop on Hop off Tour was excellent and the head phones were perfect. Sadly it was a wet day, but this did not spoil my trip to an amazing Cathedral. Mosque and Catholic all in the one building.
September 2015
Excellent routes of the two bus bigger and smaller lines and walking tours! That day it was hot, 40 degrees and yet the tour guide went with us on both walking tours at 1 pm and 5 pm. We were only two so we had private walking tour. The guide knew a lot about the city's history and also questions I asked were answered. I liked that one of the bus stops was directly at the train station, because I came to Cordoba by train.

August 2015
Excellent tour!! I really enjoyed it!
May 2015
Great routes and schedule. Staff was very helpful and kind.
May 2014
Really good value, although it was difficult to use the inner bus due to demand, we were unable to get back on from the Palace of Viana had to walk to the stop where the outer bus route ran, more available would have been good.The drivers were very helpful and informative, pointed out all the Patios open on the route, plus places of importance.The experience in Cordoba was excellent be it very hot, well worth a visit.

January 2014
Excellent service from representatives at stop points. We really enjoyed the two seperate routes and especially the walking tour which was included. All representatives displayed cordial professionalism. We really enjoyed the experience. Harry
Advertisement
Advertisement