Feel the fiery passion of a flamenco performance in Cordoba's Tablao el Cardenal during a spectacular show in the historical center of the city. Head to the former site of an archbishop's palace and take a seat in the ambient venue to watch a talented troupe of dancers perform a range of flamenco styles live on stage. Marvel at the agility and skill of the performers as you watch fast-paced choreography and feisty emotions unravel before your eyes. Sip a complimentary drink while clapping along to the undulating rhythm of the music.
Highlights
2-hour flamenco show at Cordoba's Tablao el Cardenal
Soak up the atmosphere inside a traditional Andalusian flamenco bar near Cordoba Mosque-Cathedral (Mezquita)
Watch five of Cordoba's finest flamenco dancers perform to live guitar music and singing
Clap along in time to the music and admire the choreography on stage
Enjoy a drink during the flamenco performance
Recent Photos of This Tour
What You Can Expect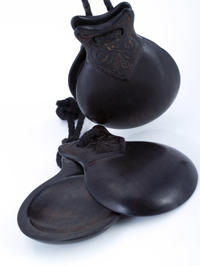 Make your own way to Tablao el Cardenal, a renowned flamenco venue on a site of rich historical heritage, and take a seat on the outdoor patio in front of the stage. If your show takes place in winter, settle into your seat in the indoor auditorium.
Collect your complimentary drink from the well-stocked bar and hear an expectant hush descend over the audience as the dancers take their places on stage. Become mesmerized by the fast-paced steps and raw emotion of the performers and enjoy expert demonstrations of flamenco styles like baile, cante and guitarra. Clap along to the rhythm of live guitar music and enjoy the melodious tones of Spanish singers throughout the performance.
After the show reaches its cathartic conclusion, feel free to enjoy more drinks inside the venue at your own expense.
June 2016
This was a GREAT show. The singer, guitarist and dancers were all, outstanding. Great opportunity.
March 2016
Loved it! The dancers put their heart and soul into their dances! It was amazing! Definitely want to see again!
October 2015
The show was well organised and the Flamenco excellent in a very atmospheric setting. I would recommend it, though I could not see where you would get food or a meal as advertised in their brochure. There are however several excellent garden restaurants nearby.
October 2015
Fabulous dancing, singing and guitar playing. Well worth the entrance fee.
September 2015
I have been to Tablao el Cardenal before and when my we family joined us for the summer we put it on a must do list for them. They were not disappointed ! An excellent evening of traditional entertainment in a lovely setting. Fantastic musicians and passionate dancers. We will go again when we visit Córdoba.
July 2015
Phenomenal show, incredible talent, superb value - an emotional experience, one of the highlights of our trip - do not miss !!
June 2015
An excellent evening. We have seen several Flamenco shows in similar venues and on stage and this was very good. A really enjoyable event.
Marcos E Germany
April 2015
Great Flamenco performance. There are male and female dancers with plenty of nation-wide awards. It is a must-see in Cordoba. Enjoy.
Davedeeo United Kingdom
March 2015
Excellent show which we thoroughly enjoyed. On arrival we were greeted and seated promptly at our table near the front, with a good view. Drinks orders were taken soon after and delivered without any significant delay. The performances were good and varied from an impressive group of performers. The night we were in there was quite a large group from Seville who were enthusiastic and it's normally a good indication that you are getting something well rated when the locals attend in numbers.
December 2014
Courteous staff, superb dancing and a pleasant setting all made for an extremely enjoyable evening.
Advertisement
Advertisement