Explore the Mezquita, Cordoba's stunning cathedral-mosque, on a 2-hour walking tour! The grand dame of the city boasts a history that dates back to the days of AD 600, serving stints as both a Christian church and a mosque. Admire contrasting architecture like Mudejar, Baroque, Renaissance and Byzantine while exploring rooms such as the maksura and the Christian chapels. The tour finishes with a walk to one of Cordoba's pretty patios to sample a glass of local Montilla-Moriles wine.
Highlights
2-hour walking tour of Cordoba Mezquita with an expert local guide
Learn about the Mezquita's fascinating history as both a Christian and Muslim place of worship
Admire Capilla Mayor, a Renaissance cathedral nave that was added at the request of King Charles V
Compare the Christian chapels with elaborately decorated rooms like the mihrab and maksura
Finish with a visit to one of Cordoba's pretty patios to sample a glass of local Montilla-Moriles wine
Recent Photos of This Tour
Cordoba Mezquita Tour with Wine Tasting
What You Can Expect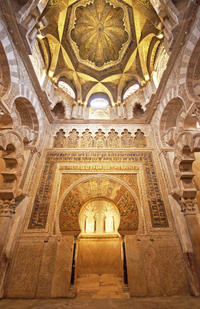 Meet your guide near Cordoba Mezquita, and then head inside its main entranceway – Puerta del Perdon – to discover the site's history with your guide. Tracing its roots to around AD 600, the impressive monument is believed to have started out as the Christian Visigothic Church of St Vincent before converting to a mosque nearly a century later. In the early 13th century, it was reconverted to a Christian Church, and has stayed that way ever since, although Spanish Muslims still petition to worship inside the Mezquita once again.

After entering through Puerta del Perdon – the monument's 14th-century Mudejar gateway – stroll through Patio de los Naranjos, a beautiful and shady courtyard that's adorned with orange trees. Pass beneath the Mezquita's distinctive striped arches, and then stop for a look at a Renaissance cathedral nave called Capilla Mayor. Added at the request of King Charles V (who instantly regretted it), the nave is one of the Mezquita's standout features – a striking Christian monument that takes an ironic pride of place inside one of the world's largest mosques.

Admire the cathedral choir section with its intricately detailed Baroque ceiling, and then amble through the Christian chapels toward the back of the building. See the maksura, a royal enclosure where the Muslim caliphs once prayed, and then gaze in wonder at the mihrab. The 10th-century prayer room drips with ornamentation, with hundreds of gold Byzantine mosaics embellishing its walls.

Having explored the Mezquita with your guide, head outside into the sunny streets of Cordoba, and finish your tour with a leisurely paced walk to one of the city's patios – the beautiful Moorish courtyards that abound. Sample a glass of local Montilla-Moriles wine, savoring its nutty, sherry-like flavor, and then bid your guide goodbye. Your tour finishes in the courtyard.
June 2015
This is such an amazing place to see! It is a must and so helpful to have a tour guide who was so knowledgeable. It was in both English and Spanish but as she did the presentation for the Spanish we were able to walk around and take photos. We had a little trouble finding the meeting point so give yourself enough time ahead. The wine tasting after is worth it because she took us to some interesting points outside the Mezquita also that we would not have realized were there. A day well spent.
June 2015
This tour was incredible. Definitely one of the highlights of our entire trip to Spain. The Mezquita is gorgeous, and our viator tour guide was very knowledgeable and engaging. Thanks for the great time!
August 2014
May 2014
it was awesome, the guide was wonderful, couldn't fault anything, 5 stars/10 out of 10
January 2014
If you want to visit Cordoba's Mezquita, having a guide is a must. This tour revealed so much of the cathedral-mosque's fascinating history and diverse architectural styles. We also had enough time to walk around take photos on our own, which was nice, as the tour didn't feel rushed. A glass of wine at a lovely nearby restaurant was a great way to end the tour!
October 2013
Love this tour. The guide, Paqui, was great.
June 2015
Hmm. We were to have been in an English speaking group but we also had a French couple with us. This meant that half the time, rather than being with us and telling us information, she spent it with the French couple. Now this was fine at times. But when you say your tour guide is doing an English tour, that is all she should be doing. Not spending half the time translating for others. But the place was beautiful. My husband is a Middle East history Professor so we knew a lot of what we were seeing so not having 100 of the guides attention was ok but for the others it was not. Please Viator, don't do this. It takes away from the quality when you are splitting their time in two groups.
Advertisement
Advertisement