Enjoy fun for all the family at Spain's top theme park and aquatic center: PortAventura and Costa Caribe! Simply head inside the parks with an entrance ticket and enjoy the rides at your own pace. Discover roller coasters, accelerator rides and 'Sesame Street' adventures in PortAventura, or head to Costa Caribe to splash around with water jets and free-fall slides.

Choose from a selection of tickets to suit your schedule; spend one day or night at PortAventura or Costa Caribe, spread your ticket validity over two or three days or upgrade to a three-day ticket with access to both parks.
Highlights
Entrance ticket to PortAventura or Costa Aribe
Explore Spain's premier theme park and aquatic center
Visit PortAventura's different zones: Mediterrània, the Far West, China and Polynesia
Enjoy an exhilarating ride on the Shambhala, Europe's tallest roller coaster

Splash around on water slides at Costa Caribe aquatic park
Choose from a selection of tickets to suit your schedule
What You Can Expect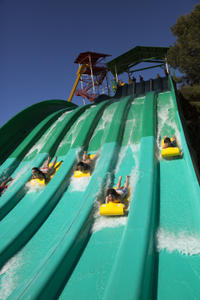 Make your own way to PortAventura and Costa Aribe, two theme parks that sit next to each other on Spain's sunny Costa Dorada. Simply head inside with your entrance ticket and let the fun begin! Your ticket allows you to spend as long as you like inside the attractions.

PortAventura:
Europe's second-largest theme park, PortAventura has something to offer all the family. Split into different zones (each based on towns in different parts of the world) each with roller coasters and rides, the vast adventure park boasts a more sedate area for younger kids, too.

Explore a typical Catalonian coastal town at Mediterrània, see a Wild West shoot-out in the Far West, and discover the park's gravity-defying rides in Mexico. The largest area is China, complete with a Great Wall of China-themed footpath, and if you take a look inside Polynesia, you'll discover the park's quieter rides. Kids will be more than happy at SésamoAventura, an area that's themed around Sesame Street — every child's favorite TV show.

For a white-knuckle ride check out the Shambhala; it's Europe's highest roller coaster with a 256-feet (78-meter) drop! Furius Baco takes the accolade for one of the world's fastest accelerator rides, and there are countless boat rides, water flumes, and white-water raft rides to add to the fun.

Take a break from looping-the-loops while watching one of the daily shows, featuring dancing and acrobatic displays. The park is also home to a wide variety of restaurants to keep you from feeling hungry; feast on Mexican tacos, enjoy Marco Polo's Chinese buffet or chow down on hotdogs while walking around.

Costa Caribe:
Located right beside PortAventura, Costa Caribe is Spain's premier aquatic park, covering a huge area with splash pools, interactive water jets and free-fall water slides. Having undergone a renovation, the park now includes a dedicated children's area with a large pool and a floating pirate ship — stuffed to the seams with Sesame Street characters.

Connected to the child pool is a full-sized adults-only pool, surrounded by Europe's highest free-fall water slide, 6-lane racer slides and, of course, sun loungers for enjoying the park in a more leisurely fashion! Like PortAventura, Costa Caribe has a wide range of eateries, with some five different cafes to choose from.
September 2015
Kids had fun. lots to do. worth the money
July 2014
Excellent venue. We had an eight year old with us though who marginally failed to meet the minimum on the majority of rides. It worked out pretty expensive on ratio of cost/ available rides.
June 2015
We really enjoyed our time in water park.Safe enough for children.
June 2015
Its a nice team park but you have to cue for hour to get 1 ride that last for 3 mins.I don't think its worth going there specially busy summer time.
May 2015
Your guaranteed low prices promotion is a scum. We could have bought these tickets at the train station for the same price which includes the transfer to the park. Also system does not warn you when the Costa Caribe park opens or that the big roller-coaster do not operate when the weather is windy. As this park is located on the sea shore wheather is mostly windy...
Advertisement
Advertisement