19 Reviews
Location:

Madrid, Spain

Duration:

3 days / 2 nights
If you are short on time or just want to see more of Spain, this three day tour from Madrid to Costa del Sol is for you. Visit Seville and Cordoba along the way and see for yourself some of Spain's many UNESCO World Heritage listed sites.
Highlights
Three-day Madrid to Costa del Sol tour via Seville and Ronda
Lunch and guided city tour in Cordoba

Two nights' accommodation and guided city tour in Seville
Free time to explore Seville and Ronda
Professional local guide
What You Can Expect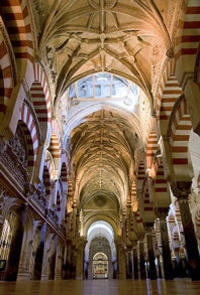 Built on the banks of the Guadalquivir River, Seville displays a rich Arab legacy. Every street and square that makes up the historic quarter of the Andalusian capital bursts with joy and activity. This area has an interesting collection of historic buildings, many of which have been declared UNESCO World Heritage Sites, and also contains colorful districts with great popular flavor, such as Triana and La Macarena.
Situated deep in Andalucia, Cordoba is a mixture of history and modernity. This ancient city, which has been declared a UNESCO World Heritage Site, is a living legacy of the diverse cultures that settled in it throughout history. To take a stroll through the historic quarter of Cordoba is to discover a beautiful network of small streets, alleys, squares and whitewashed courtyards arranged around the Mosque Cathedral, which reflects the importance of the city during medieval times.
Itinerary
Day 1: Madrid - Cordoba - Seville (D)
Morning departure from Madrid along the land of Don Quijote -The Man from La Mancha. Upon reaching Cordoba there is time for lunch (on your own expense) and a city tour visiting the Mosque, Synagogue and Jewish Quarter. Continue to Seville for the evening.
Seville accommodation: Catalonia Santa Justa (3-star) or Melia Lebreros (4-star)

Day 2: Seville (B, D)
After breakfast, enjoy a morning city tour (The Cathedral, Santa Cruz Quarter, Maria Luisa Gardens). The afternoon is at leisure for you to discover exclusive views, specific favors of this city full of light.
Seville accommodation: Catalonia Santa Justa (3-star) or Melia Lebreros (4-star)

Day 3: Ronda - Costa del Sol (B)
After breakfast you will depart to Ronda. Here you have time at leisure to admire this town of Celtic origin and the marvelous view of the valley and mountain range. Tour concludes in Torremolinos at approximately 4:30pm

The hotels detailed above are as a reference only and are subject to change.
June 2015
June 2015
June 2015
This trip was excellent as was the tour guide.
December 2013
We thought the tour ran on time and was excellent value!.Our tour guide, Carlos, was excellent. Hotel we stayed at was great inc the b'fasts and dinners!!! The optional flamenco was also great value and thoroughly enjoyable. We found no fault except would have liked to change seats so as to be able to take photos:-)
August 2011
Fantastic trip and would recommend it . We were travelling through Europe for 7 weeks and found this a great way to travel from Madrid to Marbella. The tour operator was amazing and even went out of her way to have the bus detour to drop us off near our hotel in Marbella. The tour of Ronda was fantastic but could have been at least an hour longer. The walking tour of Cordova's streets was beautiful and the mosque absolutely breathtaking. A well organised and well paced tour and due to the small number on the tour, very personal and relaxing. Thank you.
July 2010
This tour was wonderful. We enjoyed the company of the other travelers and our tour leader was very informative with just the right amount of information. Seville and the Alcazar Palace and Gardens is an amazing must see. This was not stressed enough by the tour guide to fellow travelers. Flamenco Show is also a must see. Ronda is a magnificent charming old town with history dating back thousands of years...a tip for photographers is to walk half way down the left hand side of the gorge for breathtaking photos. Although only a short tour we got a good taste of Spain. The food and accommodation was excellent.
August 2014
Excellent tour. Great guide - Carlos. First day is a long driving day broken by an excellent tour in Cordoba. Great day in Seville and the Ronda tour was good. Food in hotel was fine. Only complaint was that the Santa Justa hotel (3 star) had no twin rooms and so I had to share a bed with my 71 year old mother. Not ideal but the aircon was good and the rest of the hotel was fine.
November 2013
Very well organized tour.
November 2013
Very well organized tour.
August 2012
I was very pleased with my choice of tour in Spain. I only had limited time so the amount we covered in 3 days was great. The tour guide was very knowledgeable and fun, the tour group interacted well, the accommodation was above standard. No complaints from me. Thank you it was a great few days.
Advertisement
Advertisement