Feast your senses on the visual banquet of Morocco on a 4-day tour of the country's most intriguing locations from Costa del Sol. Immerse yourself in the beauty and charm of the captivating country as you visit destinations like Fez, Rabat, Tangier and Meknes. Marvel at rich tableau of palaces, mosques and beautiful gardens; recline on the soft sands of beautiful beaches; cruise across the Strait of Gibraltar on a stylish ferry and luxuriate in 4-star hotel accommodation for three nights on this unforgettable tour.
Highlights
4-day tour of Morocco from Costa del Sol
Visit Fez, Meknes, Rabat and Tangier
Ferry ride across the Strait of Gibraltar
4-star hotel accommodation for three nights
Some meals included
What You Can Expect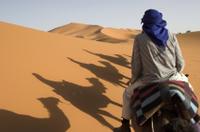 Delve into the Arabic treasures of Morocco on a 4-day tour of the alluring African country. Cruise from the Costa del Sol on a luxurious vessel and admire the stunning coastal scenery as you sail. Begin your cultural odyssey in Fez, the spiritual center of Morocco, and marvel at the varied architectural tableau inspired by contrasting cultures. Capture fantastic photographs of Meknes' and its imperial splendor; enjoy the coastal beauty of Rabat and its surroundings; and experience the vibrancy of Tangier during the tour's final stop.
Your tour includes three nights accommodation in 4-star accommodation; round-trip transportation from Costa del Sol; and selected meals.
Itinerary
Day 1: Costa del Sol - Fez (D)
Depart the Costa del Sol to Algeciras and board the ferry to Morocco. Continue to Fez.
Fez accommodation: Menzeh Zalag (4-star) or Sofia (4-star)

Day 2: Fez (B, D)
Explore Fez, the most ancient of the imperial cities of Morocco. You will see the city's top sights: the Royal Palace, the Christian and Jewish Quarter, and the Medina (Old City), declared by UNESCO as a World Heritage Site. The afternoon is at your leisure to further explore this fascinating city. Dinner and acommodation at hotel. There is an optional dinner with show available.
Fez accommodation: Menzeh Zalag (4-star) or Sofia (4-star)

Day 3: Fez - Meknes - Rabat - Tangier (B, D)
After breakfast, depart to Meknes, where you will have a short panoramic city tour, including the Hedine Square and the great Mansour Gate.
Then travel to Rabat, where you'll enjoy an afternoon city tour of this diplomatic and administrative capital, and visit important sites like the Royal Palace, Mohamed V Mausoleum and the Hassan Tower. Continue to Tangier.
Tangier accommodation: Ramada les Almohades (4-star) or Rif (4-star)

Day 4: Tangier - Costa del Sol (B)
After breakfast you will have some free time to explore Tangier before boarding the ferry back to Spain. Continue on to Costa del Sol, where your tour concludes.

The hotels detailed above are as a reference only and are subject to change.
October 2014
Enjoyed our trip and the guide was outstanding. The guide he chose for us(Eng)
was great in Fez. Very and entertaining and showed us the Medina expertly,.could not have been better.
We told him we were not planning to buy anything but he continued to be a perfect gentleman.
We did get the education we were looking for and even better thanks to his guidance.
June 2014
The hotels were excellent. The car was too small for the four of us plus the guide. The guides were good to adequate. Our tour in Tangiers was cut short, so really a 3 day tour. Fez was the highlight.
Kristen S USA
July 2012
We had such a wonderful trip! The transportation and logistics were well organized and our accommodations were great. Our guides were informative and fun. We really felt as if we had our own private tour for 4 days, as we had a small group. We felt safe and welcomed the entire time- I would highly recommend this tour!
Heather G Australia
January 2010
This is a great trip for anyone looking for a taste of Morocco within a limited time. We had an excellent guide who provided a genuine insight into the country's culture and history. Accommodation and other provisions for our comfort and safety were excellent. It should be noted, though, that we were the only 2 people on the tour and we therefore had one-to-one interaction with the guide and driver all the way through.
August 2015
Our primary guide Shawnee, was very knowledgeable and very concerned about our welfare. However our local guide in Fez must be getting a kick-back becuase he would not allow us to stop at vendors we wanted, and had set places that he would take us. The majority of these places were sales people who would pressure us, which really turned us off. The hotels were clean and nice for Moroccan standards. Our bus driver was excellent! The guide from Spain who brought us to and from the port directed us where to take a bus after returning from Morocco to catch a bus in order to get to Seville. She misled us and didn't know what she was talking about. Beware of taking advice from the locals.
August 2011
The Morocco trip was good with very nice guides. The hotel in Fez could be improved...we didn't have water in the water tank of our toilet and could not use it in that night and the next morning. However, it was resolved after we asked our guide to inform the person in the reception desk.
Nadya E Bulgaria
June 2010
2 nights and days in Fez are too much for this city. I think that was not a good idea to see Rabat and Meknes and an additional 500 km. traveling in one day. In my opinion trip planning was not good enough. We are satisfied from the selection of hotels.

November 2012
Limited English, hotels were not 4 star, bad organisation. I would not recommend
Advertisement
Advertisement