39 Reviews
Location:

Costa del Sol, Spain

Duration:

5 days

(approx.)
Escape Spain for the romance of Morocco on a five-day jaunt from the Costa del Sol! In less than a week, you'll see Morocco's top cities and sights. You'll enjoy fascinating tours of Casablanca, Meknes, Rabat, Marrakech and Fez, and have some free time to discover more on your own. You have your choice of three- or four-star hotel accommodation for all four nights.
Highlights
Five-day trip to Morocco from the Costa del Sol

Visit Casablanca, Marrakech, Meknes, Fez and Rabat
See Casablanca's Royal Palace and Fez's Medina
Walk through bustling markets
Ferry ride across the Strait of Gibraltar

Choice of three-star or four-star hotels

Recent Photos of This Tour
What You Can Expect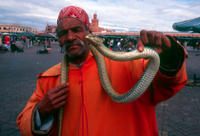 Morocco is so close to the coast of Spain, there's no reason for not taking side trip to explore it. This five-day excursion from the Costa del Sol to five of Morocco's top cities will leave you inspired and enchanted.

Casablanca
Made famous by Humphrey Bogart and Hollywood, Casablanca is Morocco's largest city and economic heart.

Marrakech
Among the most dramatic cities in Morocco, Marrakech is backed by the snow-capped High Atlas mountains.

Meknes
The palaces, mosques, gardens and lakes of Meknes – one of Morocco's most striking imperial cities – are surrounded by a massive fortified wall.

Fez
The spiritual and cultural center of Morocco, Fez is the most ancient of the imperial cities and unrivaled in the splendor and beauty of its monuments and architecture.

Rabat
Surrounded by beautiful beaches, the city has a very special character, with its memorable blend of Islamic and European influences.

At the time of booking you MUST advise the following information for ALL passengers:
• Full name (as it appears on your passport)
• Passport number
Itinerary
Day 1: Costa del Sol - Casablanca (D)
Depart the Costa del Sol to Algeciras or Tarifa to board the ferry to Morocco. Continue to Casablanca.
Casablanca accommodation: Moussafir (3-star) or Ramada (4-star)

Day 2: Casablanca - Marrakech (B, L)
After breakfast, you will have a short panoramic city tour before continuing to Marrakech. After lunch at the hotel, the afternoon is yours to sightsee on your own. There is an optional dinner and show at Chez Ali Fantasia.
Marrakech accommodation: Moussafir (3-star) or Asni (4-star)

Day 3: Marrakech - Meknes - Fez (B, D)
After breakfast, explore more of Marrakech, a city located in an extensive oasis between the Atlas Mountains and the pre-desert area. Visit the Koutoubia Tower (twin tower of the Giralda in Seville), Saadines Tombs, Bay Palace and Dejna El Fna Square, which is packed with fortune tellers, snake tamers, acrobats, dancers and more.

Depart to Meknes for a short panoramic tour of the city, including the Hedine Square and the great Mansour Gate. Continue to Fez for the evening.
Fez accommodation: Sofia (4-star) or Menzeh Zalag (4-star)

Day 4: Fez (B, L)
After breakfast, enjoy a city tour of Fez, the most ancient of the imperial cities of Morocco. Visit the most interesting points of the city: the Royal Palace, the Christian and Jewish Quarter, and the Medina (Old City), declared a UNESCO World Heritage Site. The afternoon is at your leisure to further explore this fascinating city. There is an optional dinner and traditional dance show.
Fez accommodation: Sofia (4-star) or Menzeh Zalag (4-star)

Day 5: Fez - Rabat - Costa del Sol (B)
After breakfast, depart to Rabat, the diplomatic and administrative capital of Morocco. You'll have a short tour of the city's important sights, like the Royal Palace, the Mohamed V Mausoleum and the Hassan Tower, before boarding the ferry to Algeciras. Continue to Costa del Sol, where your tour concludes.

The hotels detailed above are as a reference only and are subject to change.
July 2013
Love every part of this tour amazing view and places and the tour guys were really helpful ill do it again.....
July 2013
It was well done, we thoroughly enjoyed ourselves.
June 2012
Positivies: Excellent trip. Hectic and a lot of travel, but efficient and organized, and the best way to visit a country with limited transportation options. Our tour guide was good and kept up on target. 3* Hotel in Marrakech was like a 4*. Negatives: The optional dinner shows are not worth the money (similar shows can be arranged locally for half the price). Fez morning (cultural) tour was really less about culture and going from store to store trying to hard sell fabrics, carpets, and leather goods at inflated prices.
December 2011
We had a wonderful time and the tour guides were outstanding, the one that pick us up in Spain and the one that took us all over Morocco, Karin. We give them 5 starts. All of the places have something special to see. I would liked an extra day in Marrakech. Also, before the trip it could be helpful more information about what is to see and the whether to be more prepared. But overall we enjoyed very much. It was fantastic Thanks a Million for your great work and the work of your Tour Guides, as I said they are outstanding. Jesus and Elda Garza
August 2008
This was an outstanding trip, with the only deficiency being the Sofia hotel in Fez, which should be replaced . The tour guide was excellent and accommodating, we had local guides in three of the cities, and the food was generally quite good. Definitely a good value and excellent itinerary. The commentary was in depth, the bus was comfortable and cool, the driver and coach attendant were very attentive. We had guides who assisted us in shopping, which I believe is necessary in Morocco. Also, we were given a hotel in Marrakesh which actually exceeded the rating of the trip we were on, at no extra charge. I would take this tour again, if a different hotel is substituted for the Sofia.
March 2015
Good tour well organised and value for money. Hotels were of good standard considering the low season they were well staffed and the meals provided were local produce and very agreeable.Guide spoke English and Spanish local guides were very good as well. Viator outsource to another company to run the tour they were very good. We did not enjoy visiting artisans where there was a sales pitch and possibly a kick back somewhere along the lines. This is usual in this type of tour but a it old hat now. Two of my party were elderly and found the Medina in Fes a little too much walking but that is how the place is built. One of my party needed a Doctor the guide was excellent in looking after this. All in all 1650 Kms maybe just too much for one trip but you are packing in a lot.
April 2013
Overall a good trip. Need to have a guide in morocco who can speak fluent english. Also, casablanca can probably be eliminated from the itinerary because there is hardly anything worth seeing in that city.
February 2013
Our tour guide and driver were very pleasant and our local guides were very informative. We enjoyed the sights that we saw, particularly the medina at Fez and Marakesh. There was a lot of time spent in the bus and I would be inclined to alt the itinerary and leave Casablanca off the tour.
October 2012
There were some definite issues with the bus that interfered with the enjoyment of the tour. Some seats were broken, arm rests were broken, air vents could not turn on or turn off and the cushions were so broken down that you were sitting on a bar. If I had it to do over again, I would select a tour that skipped Casablanca - not much benefit from the overnight there. I would also skip Marrakech as the market is much better in Fez and there was a lot of driving to get the group down to Marrakech and back again. Had a great time in Fez. We went to the extra dinner in Fez and that was good and was fun. We also went to the extra dinner in Marrakech - we did not feel it was a particularly god use of our time - plus it was very cold so you need to take a warm jacket if you go). Would recommend a shorter tour to Fez.
October 2012
Overall the tour was really great although a lot of time spent moving around between sites. I would totally recommend it to everyone but be aware that the english speaking tour guide doesn't mean an english tour. It's a spanish tour with an english translation. Some time I felt like we got the super short version of what he said in spanish. Other than that it was awesome and the local guides were terrific and that's when we got split into spanish and english groups
Advertisement
Advertisement