545 Reviews
Location:

Costa del Sol, Spain

Duration:

13 hours

(approx.)
Uncover the alluring mystery of Morocco on an immersive full-day trip to Tangier from Costa del Sol. Cruise over the Strait of Gibraltar and enjoy incredible ocean views before arriving amid the exotic scents and sights of Tangier. With a knowledgeable guide, stroll around bustling medinas and souks; observe a Berber dance performance; feast upon the explosive flavors of an authentic Moroccan lunch; and purchase bespoke souvenirs at a Tangier bazaar. Enjoy the convenience of round-trip transportation from Costa del Sol.
Highlights
Full-day tour to Tangier, Morocco, from the Costa del Sol
Admite views of the Mediterranean Sea and the Atlantic Ocean on the ferry ride across the Strait of Gibraltar
Enjoy a panoramic tour of Tangier
Walk around the medina and go shopping in Tangier's bazaar
Watch a live Berber dance performance

Have a traditional Moroccan lunch at a local restaurant (included)

Recent Photos of This Tour
Tangier, Morocco Day Trip from Costa del Sol
What You Can Expect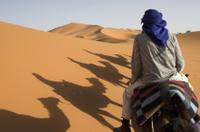 Depart from a centrally located pickup point in Costa del Sol and relax during the scenic drive to the southern tip of Spain by air-conditioned coach. Climb aboard a high-speed ferry and cruise across the Strait of Gibraltar to the alluring deserts of Morocco; on arrival, take a seat in a spacious vehicle for the direct journey to Tangier.
Commence your tour of Tangier with panoramic sightseeing of the city center and then stroll to impressive landmarks like the medina (old quarter), the kasbah (old fortress) and the small souk. Inhale the rich scent of roasting spices, admire the diverse architectural tableau and summon your courage to edge closer to a snake charmer as you explore the vibrant city of Tangier.
Next, head to a traditional bazaar to browse colorful stalls replete with carpets and handicrafts and then pleasure your palate with a traditional Moroccan lunch at a local restaurant. While feasting on cous cous and tagine, watch an entertaining Berber performance for a wonderful cultural experience.
Head next to Cape Spartel to see the Mediterranean Sea and Atlantic Ocean collide, and then learn about traditional tea rituals at a local tea shop while sipping steaming mint tea. See, too, the undulating sand dunes at the Cave of Hercules and opt to ride a camel for an unforgettable experience (own expense).
Return to the ferry port after an enriching day in Tangier and relax during the journey back to the original departure point in Costa del Sol.
Please note: The itinerary and schedule of this trip are subject to change from December to April due to ferry's timetables and the Ramadan holiday.
elizabeth o USA
November 2015
What a great day! Olga was wonderful. We were picked up at our resort and whisked away to another world. Olga made sure our passports and paperwork were in order and that we didn't have to worry about anything. The ferry ride was fun and then Hassan took us by bus to the new sections of Tangier and to ride a camel. We left the bus and entered the casbah. We wound our way through narrow streets and archways, passing vendors of produce, meats, spices, leatherworks gold and silver. Hassan showed us a window into his world. We were taken to a delicious lunch, a rug merchant and herbalist and then wandered back to the bus, crossed the Straits of Gibraltar and returned to the world we know. Highly recommend this tour.
October 2015
Paco was a great guide, and we really enjoyed the entire experience! Great way to get a small taste of Morocco!
August 2015
An excellent tour. We all enjoyed our day in Tangier. Everything ran very smoothly, lunch was great and the guide, Hassan was extremely knowledgeable and helpful. We usually do our day trips independently, but this is one where it is very worthwhile going on an orgsnised tour.....we managed to fit a lot in, in one day and got a real feel for the place, whilst feeling very safe and in good hands, particularly important to usas we had children with us. Thank you.
July 2015
Very good trip to Morocco! The guides were very professional. We were in good hands. If you have an extra day at Costa del Sol, i can recommend this. Only thing that could be a little different is maybe a little more time on my own to shop. We were a family of 5 persons.

July 2015
All in all, we had a great day in Morocco, traveling from Marbella, Spain to the city of Tanjiers by bus and a large, two story, fully-enclosed speed boat. The trip included a very interesting guided bus tour of the new section of the city, including beautiful wide avenues and lovely buildings with great views of the Atlantic and Mediterranean, beautiful gardens and fountains and a quick but inexpensive 1 Euro camel ride. The guide showed us all the different international sections--British, French, Spanish, American, Italian, etc. Each has its own schools and library, as well as a distinct character. Then we had a guided tour of the old city or Casbah, built in the 14th century. Crowded and narrow streets with bustling food markets, along with jewelry, leather, fabric and other local goods. We stopped along the way at a fine Moroccan restaurant with traditional music and food, which was included in the tour. We also had stops at a Moroccan/Berber rug store and an herbal/homeopathic store with presentations at each. Overall, the trip was well worth it, and we had a very pleasant day meeting fellow passengers and getting to know more about this cosmopolitan city and its long history. I would recommend the tour to others with these caveats: 1 the bus makes dozens of stops at hotels picking and dropping off people all along the way, 2 the rug store presentation was not very exciting and we would have preferred more time shopping on our own, and 3 be prepared to be attacked by local vendors all trying to sell the same goods--bracelets, camels, scarves, Moroccan leather purses, etc. Although many travelers skipped the herbal presentation, we actually enjoyed it. The presenter was informative and funny, prices were affordable and we were able to purchase Moroccan oil and other desired products with little or no hard selling. It was also air conditioned, and the Casbah was very hot that day.
June 2015
Excellent tour! We loved everything, from the tour guide, the city,k the lunchand the shopping. We were very happy with this tour,
June 2015
The tour was everything I expected. The guide and bus driver were excellent. Even though the bus broke down and we were delayed, the guide held it together and the bus driver fixed the bus!
August 2014
This tour made it very easy to see the Old City without the hassles of having to make arrangements. You tour with a group of about 50 ppl. They take you through a mandatory rug and health items seminar which last about 10-15 minutes each. No one bought a rug in the group nor was there any pressure to. The lunch was enjoyable as it was in a Moroccan style restaurant and surprisingly the food was edible! Especially the dessert!
August 2014
Well organized tour. It gave us a feeling of Morocco. We were traveling with a 9 year old and the tour gave us the security to bring her and enjoy our time. The meal was delicious (our picky daughter still wishes she could find the same in the USA). Thanks!
August 2014
A very nice day trip! Awesome tour guide Pedro!!!!!! He made all work very well and smoothly!
Advertisement
Advertisement