Take part in a once-in-a-lifetime opportunity to snorkel with green sea turtles in the open waters of Akumal Bay. Hop on a ferry to Playa del Carmen from Cozumel and spend the day visiting the pristine beauty of the Riviera Maya. Open bar, buffet-style lunch and snorkeling equipment is all included!
Highlights
Snorkeling adventure at Akumal Bay, one of Mexico's finest snorkel locations
Swim and snorkel alongside Logger-Head sea turtles
Enjoy an open bar and buffet-style lunch on Akumal's white sandy beach
Colorful exotic marine life
Small group for a more personal experience
Recent Photos of This Tour
Best Akumal Bay Sea Turtle and Snorkel Adventure from Cozumel
What You Can Expect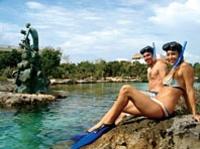 Join the exhilarating snorkel adventure experience at the Riviera Maya's most recommended snorkel sites. Your tour guide will meet you at the Cozumel ferry terminal and accompany you on the 30-minute ferry ride from Cozumel to Playa del Carmen (option to pre-book your ferry ticket is available). Once at Playa Del Carmen, you'll be escorted in a 12-seater van for the 30-minute scenic journey along Riviera Maya to Akumal Bay.

Akumal is a pristine environment which boasts beautifully clear waters no deeper than 6 - 8 feet (1.8 - 2.4 meters). The bay is protected by a barrier reef where Logger Head Sea Turtles enter daily to feed on the sea grass. Once at the beach, you'll enjoy the rare opportunity to explore and snorkel along side these turtles in the open ocean waters.

After your 50-minute snorkeling tour, you're sure to have worked up an appetite so you're invited to spend a few hours enjoying the beautiful beach and indulging in a buffet-style lunch and open bar. There's no better way to experience the Mayan Riviera!

The adventure concludes with a 45-minute journey back to Playa Del Carmen with the option to board the ferry to Cozumel.
Please note: This tour departs from Playa del Carmen. If you are staying in Cozumel, you must choose the Cozumel option and board the ferry (ferry ticket price included) in order to meet the tour at Playa del Carmen.
Note: this tour is not available to Carnival cruise ship passengers
October 2011
Turtles are one of my favorite animals, so when I was faced with deciding what tour to do on my birthday, swimming with the gentle creatures is what I chose to do. Our guides were great at finding them in the waters and we had ample time to watch them in their natural environment.
May 2011
Excellent tour!
The guide was well experienced and nice.
We saw turtles as promise but there were no Yal Ku Lagoon Snorkel as stated.
We would recommend it to anybody.
February 2010
It was fun to take the ferry from Cozumel to Playa Del Carmen. Our tour guide met us there, we then took a van to the Yal Ku Lagoon. We snorkeled at the lagoon, saw fish there even though the visibility was poor. The Sea Turtle Adventure was down from the lagoon, we rode there in the van. Our guide took us out on the beach and out to where there should be turtles. We not only saw three turtles, but they were different kinds of turtles and varied greatly in size. We saw squid, fish and an area of coral reef. It was beautiful and so impressive to be so close to these large turtles. Don't forget your waterproof camera, we have some unforgetable pictures. When we got done, we walked to the buffet building at the resort and had a wonderful selection of food. We highly recommend this tour.
November 2009
A wonderful way to have spent Christmas with my family. To see the sea turtles will be something I will never forget.
Anonymous
November 2009
We did this on my birthday, and I couldn't have thought of a better way to celebrate the day! First we went snorkeling in a lagoon, followed by swimming with the turtles. This was very cool! We swam a fair way, but still close to shore. Our guides were fantastic, leading the way and spotting the turtles for us. Even though you are not allowed to touch them, it was amazing to watch these creatures in their natural habitat. We had a buffet lunch, followed by some free time to relax on the beautiful white sand beach.
Anonymous
November 2009
This was a great trip. Our guides were very informative and explained everything we needed to know about the region, the tour, the animals we were going to see and more. The turtles were the highlight of the trip and the beach was incredible!
Anonymous
November 2009
Awesome day! Loved every minute of it!
Advertisement
Advertisement