Compete for victory in an interactive and energizing half-day sightseeing tour and scavenger hunt in Cozumel. Team up with fellow competitors to solve mysteries and crack clues in this immersive adventure game. Navigate self-guided stops in teams of two to eight, unraveling secrets and as you admire the beauty of varied sightseeing locations. Enjoy a brief snorkeling adventure in the crystal clear waters of the ocean during your exciting discovery of the idyllic island of Cozumel.
Highlights
Amazing Cozumel Race small-group tour and scavenger hunt on Cozumel
Embark on a 4.5-hour competitive and self-guided sightseeing tour
Solve clues on an interactive scavenger hunt

Enjoy a post-race awards ceremony with prizes for top finishers
Complimentary beverages and snacks at the finish line
What You Can Expect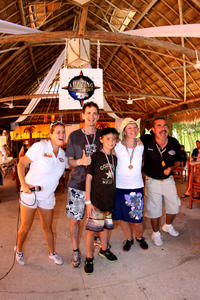 Meet your teammates and host at the start line in Cozumel. Receive your first clue then propel yourself into the sights and spirit of the cultural competition and sightseeing scavenger hunt.
Employ your logic to solve your initial clue and progress to a splendid sightseeing location every time you crack a code or decipher a riddle. Ensure victory over other competitors by solving each clue quickly to make it across the finish line first.
Race against time and absorb the fascinating history and culture of the island, stopping off during your journey for a brief snorkeling trip in the crystal clear waters of the ocean. Refresh mind and body as you break midway through for complimentary snacks and two revitalizing beverages.
Conclude the chivalrous challenge at an ambient local restaurant and immerse yourself in the fun of the post-race awards ceremony. Receive prizes if you emerged supreme and purchase a discounted lunch and drinks (own expense) as you reminisce about the fun you had with other players.
Make your own way back to your Cozumel hotel but receive reimbursement for travel costs to and from the start and finish line.
April 2016
It was a blast -- met great people -- the staff was fantastic -- fun, fun, fun!!!
March 2016
Well organized scavenger hunt. The team was professional and available for assistance. I really think they thought of everything we needed. The race was exciting and we made great memories. I recommend this event!
March 2016
Loved this race so much. Had a party of 4 and we all had a blast racing thru town searching for clues. The Amazing Cozumel Race changed its initial meeting location from Punta Langosta to the church and Viator never notified me of this change. We went to the original meeting place and after waiting one and a half hours, the Amazing Race people came to us and brought us to the church. This mixup caused everyone to have to wait on us.
December 2015
We had an awesome time. Very well planned. The people who facilitate the race are fun! If you love the Amazing Race and you love scavenger hunts, then this is the excursion for you!
December 2015
This is an Amazing Time..You get to have fun and learn and see the town..The hosts are Great and all people involved were top notch..Highly Recommend!!
October 2015
This was something we were very excited to do. My husband and I have been to Cozumel several times and wanted to do something different. It was our Boy/Girl teenagers almost 15 first visit. It was so VERY FUN and worth every penny.
August 2015
BEST Excursion EVER!!!!! -
April 2015
Fantastic Fun for a group of any size. We wished it was longer as we enjoyed it so much!
April 2015
Everything about this tour was great. The crew/guides were hard-working and very friendly. Running through Cozumel was invigorating and exciting. The clues were just hard enough to make it very interesting, but not so difficult that people gave up. If you are interested in winning, make sure every member of your team is in good shape and willing to give it their all. If you are just interested in doing the clues, and seeing the town, it works great for that too, but there is almost four miles of walking that you will need to do.
April 2015
Wonderfully fun and active excursion. Guides were fun and race was challenging. Loved to get to see real Cozumel
Advertisement
Advertisement