Team up with fellow competitors in a fun game of an amazing race on the island of Cozumel. This interactive, clue-based adventure game is part scavenger hunt, part sightseeing tour. Players sign up in teams of two to eight, who together solve a mystery at each self-guided stop. Your small-group tour includes a brief (but optional) plunge into the sea for a fun snorkeling adventure. Perfect for the sole traveler, couples or families, this game is a great way to discover Cozumel!
Highlights
Amazing Cozumel Race small-group tour and scavenger hunt on Cozumel
Embark on a 4.5-hour competitive and self-guided sightseeing tour
Solve clues on an interactive scavenger hunt

Enjoy a post-race awards ceremony with prizes for top finishers
Complimentary beverages and snacks at the finish line
What You Can Expect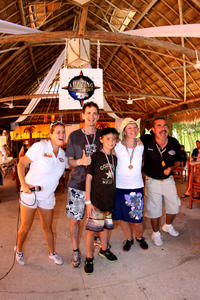 Meet up with your teammates at the hosted starting line on the island of Cozumel where you'll receive your first clue. (Players sign up in teams of two to eight people; solo players are welcome and will be placed on a team.) Then embark on your 4.5-hour self-guided tour that combines the best sightseeing with the spirited competition of a scavenger hunt.
Solve your first clue with the help of your savvy team and you're on your way, with each puzzle leading you to another sightseeing location with a new clue. The team that solves all the clues and crosses the finish line in the least amount of time is crowned the winner.
You'll need your wits, energy and sense of adventure as you race against time and competing teams while experiencing all Cozumel has to offer. Along the way, enjoy a brief plunge in the ocean on an optional snorkeling trip. At the midway point and the finish line, take a break for snacks and two complimentary beverages per participant.
Your amazing race tour includes a post-race awards ceremony at a local restaurant for a light snack and refreshing beverages. Wrap up the afternoon around 3pm with prizes for top finishers while you eat, drink and make merry with other players and exchange stories from the field. A discounted meal is available for purchase during the ceremony (own expense).
October 2015
This was something we were very excited to do. My husband and I have been to Cozumel several times and wanted to do something different. It was our Boy/Girl teenagers almost 15 first visit. It was so VERY FUN and worth every penny.
August 2015
BEST Excursion EVER!!!!! -
April 2015
Fantastic Fun for a group of any size. We wished it was longer as we enjoyed it so much!
April 2015
Everything about this tour was great. The crew/guides were hard-working and very friendly. Running through Cozumel was invigorating and exciting. The clues were just hard enough to make it very interesting, but not so difficult that people gave up. If you are interested in winning, make sure every member of your team is in good shape and willing to give it their all. If you are just interested in doing the clues, and seeing the town, it works great for that too, but there is almost four miles of walking that you will need to do.
April 2015
Wonderfully fun and active excursion. Guides were fun and race was challenging. Loved to get to see real Cozumel
March 2015
This was such a unique tour and activity. It was a great way to see Cozumel. We totally enjoyed our experience and the time spent on Cozumel. The only thing I would change is to start the tour an hour earlier...10:30 instead of 11:30. Our ship had docked and we felt like we waited around awhile to get started. After the tour we would have had time to spend at the beach if the time had been managed better. Loved this tour and will love to do it again with our kids.
December 2014
Our family had a fabulous time on this tour. We highly recommend it . However, everyone in the party should be physically fit and it is not for very small children. The tour was well organized and so much fun. The highlight of our vacation!!
March 2014
Very well organized! We had fun. My only regret is that we were too competitive trying to win that we did not take time to enjoy the city along the way. This was a great way to see more of Cozumel. No swimming is required. We actually took a glass bottom boat out to find the sunken ship.
March 2015
Loads of fun and Eduardo and Alfonso were awesome!
The website says the race is 41/2 hours but it was only 2 hours.( and our team finished in 1 1/2!) Could have been longer....
A very fun activity, a different way to visit Cozumel!
Advertisement
Advertisement