Submerge yourself in the crystal clear waters of the Caribbean in a state-of-the-art submarine on a 2-hour submarine excursion from Cozumel. Dive to depths of 100 feet (30 meters) to discover the marine magnificence of the protected park, Chankanaab. Your journey upon the Atlantis Submarine takes you to the heart of Cozumel's most colorful and captivating coral reef; marvel at troves of tropical fish as your knowledgeable guide provides insightful information on the fauna and flora.
Highlights
Submarine adventure off Cozumel
Chankanaab
Tropical marine life
Rum / fruit punch
Dive certificate
What You Can Expect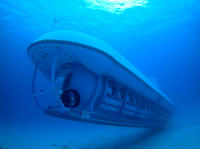 Depart from a central Cozumel location and enjoy a short cruise on a stylish ferry along Cozumel's picturesque west coast. On arriving at your dive site, board your authentic US Coast Guard Certified submarine and dive to the intriguing depths of the ocean to explore Chankanaab, an environmentally protected marine park considered one of the world's prime diving destinations.
Cruise along the ocean bed to discover the diverse and dazzling marine life of the protected park, appreciating the rare opportunity to venture where only experienced scuba divers have gone before. View the underwater wonderland through large circular windows as your informative guide directs your attention to parrotfish, grunts and groupers.
Watch as your captain expertly navigates the submarine through enormous 30 foot (9 meter) coral heads, providing captivating commentary throughout the deep-sea voyage. Capture your underwater moments on camera before your submarine returns to the surface. Then, venture back to the original departure point on the ferry, where you tour concludes.
April 2016
I seldom find that an excursion is worth the cost! However, the submarine ride was worth twice what I paid, although are never would have gone at that price. The only negative is the
Tina M United States of ...
April 2016
This was an awesome experience. Not being a diver myself, this was an excellent way to get an unbelievably close look at life in the coral reef. This is a little pricey, but I highly recommend it. You won't regret it. Just amazing.....
March 2016
The tour was excellent. Our boat went out full with 47/48 passengers plus crew so it was close quarters. The sub made a circuit that lasted about 40 minutes and went down to 100ft.30m and traveled to the edge of the continental shelf Nice selection of critters in view and saw a sunken reef/ ship. Great tour guide and ship crew. Knowledgeable and friendly.
Only hassle was the time zone- boat vs. local time so we almost missed our slot time and the requirement to have a printed voucher despite that is says electronic voucher is accepted.
December 2011
highlight of my trip, fantastic. recommend to everyone, smooth, great service and safe.
Claudia P USA
November 2009
My husband and I are the only non-scuba divers in the family, but we didn't want to miss out on the underwater wonders of Cozumel. We certainly achieved our goal! We even saw the wall better than our scuba diving sons. It was an experience of a lifetime, not to be missed.
October 2008
Absolutely wonderful.
Krista S USA
August 2008
The staff were very knowledgeable about the ocean and sea creatures in this area.
Erich B Mexico
August 2008
Great experience, personal attendance great, personal friendly.
PAMELA T USA
August 2008
It was neat, though not a lot of fish to see.
Lisa G USA
November 2006
This was a fun trip. I felt like I was at an IMAX theater - but it was real. Saw sharks and a barracuda!
Advertisement
Advertisement