Visit Chichen Itza — one of the most important Mayan sites in Mexico — on this full-day trip from Cozumel. With a knowledgeable guide, travel by deluxe van from the Caribbean coast inland to Chichen Itza, where you'll take a 2-hour guided tour of its World Heritage-listed temples and other structures, including its most famous pyramid, El Castillo. Then enjoy free time at the adjacent Mayaland Hotel, where the swimming pools and lush gardens are at your disposal. A 5-course gourmet lunch with beer and wine is included.
Highlights
Day trip to Chichen Itza from Cozumel
Take a 2-hour walking tour of the UNESCO World Heritage site with a professional guide
Learn about the Maya people and their history on the Yucatan Peninsula

See Chichen Itza's most important structures, including El Castillo and the Temple of the Warriors
Enjoy use of Mayaland Hotel's beautiful facilities, including the swimming pools and gardens
Relax over a 5-course lunch with wine, beer or a refreshing soft drink
Round-trip ferry between Cozumel and Playa del Carmen and transport to Chichen Itza by deluxe van included
What You Can Expect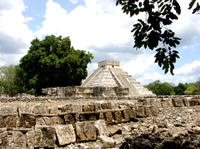 Your day trip to Chichen Itza begins at the Cozumel ferry dock; board the ferry to Playa del Carmen, where you'll meet your tour guide and hop inside the plush Mercedes-Benz van for the 155-mile (250-km) drive inland to Chichen Itza.

After the 2.5-hour drive, enter the archaeological site through the private entrance from Mayaland Hotel, a resort built in 1923 on the grounds of Chichen Itza, allowing you to skip the regular line and begin your 2-hour tour straight away. With your guide, explore Chichen Itza's UNESCO World Heritage-listed pyramids and other structures, including El Castillo (aka the Temple of Kukulkan), a 79-foot (24-meter) pyramid that sits majestically in the center of the ancient city and was named one of the New Seven Wonders of the World.

Your tour also takes in the Temple of the Warriors, the Ball Court, the Observatory and the Nunnery, as well as several smaller temples that dot the site. As you walk, listen to your guide's commentary about the historical significance of Chichen Itza, which dates back to the 6th century, historians believe, and hear stories about the Maya civilization, who inhabited the Yucatan Peninsula from 2,000 BC until the arrival of the Spanish conquerors in the 16th century.

When your tour ends, follow your guide back to Mayaland, where you are free to enjoy its facilities at your leisure until it's time to head back to Cozumel. Relax by the pool and go for a swim, stroll through 100 acres (40 hectares) of tropical gardens, and enjoy a relaxing 5-course lunch at any of Mayaland's three restaurants, which serve authentic Yucatan cuisine and international dishes. Your meal comes with soft drinks, bottled water, wine and beer, and is accompanied by traditional music and dancing performed by the Mayaland regional ballet.

If you wish, you may re-enter Chichen Itza to admire the temples again on your own (you don't have to pay to enter again), or just continue to relax on the hotel grounds. In the late afternoon, begin the drive back to Playa del Carmen, enjoying beverages (including beer!) on board the van. Then return by ferry to Cozumel, where your fun and fascinating day trip comes to an end.
T
United States of America
June 2015
This was a very educational and fun excursion. The tour guide was awesome. He shared information in both English and Spanish. The all you can eat and drink buffet was awesome! Swimming at the sink hole was definitively a unique experience. Be sure to bring your beach things. The ride was a bit long 2.5 hours each way, but well worth it. Truly a must do excursion.
March 2015
The entire tour was nicely arranged, from taking the ferry to Playa Carmen and back. The driver was waiting for us at the dock and drove us to Chichen Itza. He was very nice and helpful. Our tour guide at Chichen Itza did a fantastic job of explaining the history - very enjoyable. Our lunch was lovely. Great food and service. All in all a great tour!
March 2015
Excellent, well-informed and patient guide. Good bus and safe driver.
February 2015
Nice small group that felt comfortable (12 ppl ). We got off the Ferry and we met by a person who drove us to meeting area/tour group. The ride was safe and my husband and I were happy that we didn't have to drive. The tour guide was knowledgeable. Lunch was excellent.
July 2014
This is just an awesome place to see. The tour company did a wonderful job. Our guide was fantastic and lunch was delicious. One word of advice, take the umbrella they offer you to use when you get there. It can be insanely hot and there is not a lot of shade when walking around the ruins. You will be amazed how much that helps.
Advertisement
Advertisement