Explore the best of land and sea on an adventurous 4-hour jungle and snorkel combo tour from Cozumel. From the town of El Cedral, cover 8.5 miles (14km) of off road tracks on a powerful ATV and visit mysterious Mayan ruins with a knowledgeable guide. Investigate ancient caves and subterranean cenotes in the dense jungle before enjoying a refreshing and relaxing beach break on private Playa Uvas.
Highlights
ATV jungle riding in Cozumel
Snorkeling and kayaking adventure
Playa Uvas beach break
Ancient Mayan ruin
Refreshments
What You Can Expect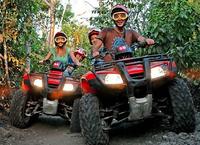 Meet your driver in downtown Cozumel and begin your adrenaline-fuelled adventure to EL Cedral. After an informative safety talk, climb aboard your ATV, solo or with a companion, and begin your journey into the lush vegetation of the jungle. Visit atmospheric Mayan ruins and concealed caves as your guide provides enrapturing explanations of the area's history and geology. Submerge yourself in a subterranean cenote for a refreshing dip before motoring back to the town of El Cedral.
Climb aboard your comfortable, air-conditioned minivan for the short journey to Playas Uvas Beach Club. During your free time upon the soft sands, revel in the lavish facilities of the private club; snorkel offshore to discover underwater wonderlands and purchase lunch at the local restaurant (own expense). Conclude your day with a relaxing ride back to downtown Cozumel.
You must be minimum 16 years of age and have a valid drivers license to operate the ATVs however children under 16 years are permitted to ride with a certified driver.
Please note: A single ATV is for one person only and a double ATV is for two people. Please do not select 1 adult on a double ATV.
April 2016
August 2014
I had an excellent time. The people were friendly and the experience I'll never forget.
August 2011
WOW...beyond words..just do it!!!!
Donald D USA
July 2010
Great experience. Fun ATV ride through jungles. Plenty of mud! Fun, nice, knowledgeable guides. Great stops along the ride. Amazing snorkeling waters with tons of amazing fish. Great combination!
Francine L USA
February 2010
This was great fun for our whole family! The guides were great!
Francine L USA
February 2010
Couldn't have had more fun! The group was just my family and two others and the guides were very informative and made the experience great!
Francine L USA
February 2010
This trip was a blast and well worth the great price we paid!
December 2014
Loved the ATV guide! The only thing is we didnt know we would need to spend with the taxi from the cruiseship terminal to the meeting point. This information was available only after ticket was purchased!
September 2011
May 2011
It was a wild and very dusty ride. We thouroughly enjoyed it. There is a small wild animal sanctuary also. I was disappointed that I couldn't take pictures of the animals with my own camera. There was a phototographer that took pictures and then you were expected to buy them. We didn't. Then we were taxied to a beach bar. The snorkeling wasn't good. Not worth walking over a lot of rocks to get out into the water. Lunch was own your own. We were told we could stay as long a we wanted, but after an hour (as we were finishing lunch), we were told to get ready to leave as the taxi was waiting.
Advertisement
Advertisement