Guarantee a smooth and stress-free vacation from the moment you touch down in Cozumel with a shared, round-trip transfer service. Avoid the aggravation of long taxi lines and crowded public transport, and travel directly from Cozumel International Airport to your accommodation. Your return journey will be equally efficient, with direct transportation from your hotel to the airport for your departure flight.
What You Can Expect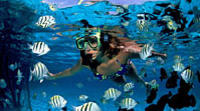 Simply collect your luggage then greet your courteous driver in the arrivals lounge to begin your journey direct to your hotel. Relax and enjoy the comfort and convenience of your air-conditioned vehicle as you begin your Cozumel vacation in style.

Your return journey to the airport is sure to be just as easy and efficient. Meet your driver at your hotel and travel directly to the airport in time for your departure flight.

Please ensure you provide full details of your confirmed flight and accommodation address when booking your transfer. Once purchased, your round-trip transfer will be instantly confirmed and you'll receive a voucher to present to your driver upon arrival.
Click on the 'View Additional Info' link to ensure your hotel is in one of the zones serviced by the transfer.
March 2016
They were so efficient and right on schedule! Will definitely use them again.
January 2016
Very friendly and helpful.
June 2015
Easy, low stress transfer to and from our hotel. Peace of mind knowing that we already had our transportation handled, especially given all of the people on the plane asking for advice from others as we were landing. Walked outside of the airport, found the Olympus guide and was immediately loaded into a van. We were lucky that we were the first group dropped off at the hotel. Return trip was just taking a taxi to the airport, then finding the agent at the airport so that he could pay the driver.
May 2015
Great service....would recommend them highly!
March 2015
helped getting out of airport faster and away from time share people
March 2015
Very efficient and easy to book
December 2014
Airport and hotel pick ups were timely and courteous!
November 2014
We safely got to our hotel from the airport, and then to the airport from the hotel in an efficient manner. Thanks!
October 2014
Viator staff was easy to locate at the airport and very considerate of my wheelchair needs (due to broken foot). Return visit was equally easy to arrange.
September 2014
Advertisement
Advertisement