Immerse yourself in the rich culture of Mexico on a full-day combo tour of Cozumel's popular and picturesque Discover Mexico Park. Sample the sweet spirit of tequila; create delicious chocolate during an interactive workshop; admire the arts and crafts of the region; and try your hand a making a classic margarita. Learn about Mexico's captivating culture from a knowledgeable guide, see replicas of Mexico's most significant structures as and enjoy a complimentary lunch of tantalizing tacos on this cultural excursion.
Highlights
Jose Cuervo tequila tasting, chocolate workshop and Cozumel park combo tour
Enjoy a tasting of 3 tequilas and become a certified tequila connoisseur
See miniature replicas of Mexico's famous buildings at Discover Mexico Park
Make your own bar of chocolate in a hands-on workshop led by an expert artisan

Learn how to make a margarita cocktail and enjoy a taco lunch buffet
One-way transport to downtown Cozumel or cruise port included
Why Our Insiders Chose This Tour
Perfect for the whole family: Discover Mexico and a chocolate workshop for the kids, plus tequila tasting for the parents!
What You Can Expect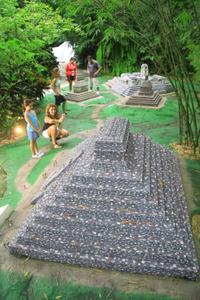 Greet your guide at the entrance of the Discover Mexico Park and sip a complimentary margarita to get into the spirit of things. Listen to an interesting overview of the country's colorful history in the audiovisual room then visit the Museum of Popular Arts to marvel at paintings and crafts.
Begin your culinary enlightenment in the immersive chocolate workshop; gain insight into the origin of chocolate and sample different varieties of the sweet treat before you begin to make your own delightful dessert. Grind and measure your ingredients as an expert artisan guides you to a perfect product, ensuring the concoction you take home will be as delicious as those made by the experts.
Next, mix a margarita using classic ingredients then wander through the tropical tableau of the park's landscaped gardens. Recognize famous features as you admire miniature pre-Hispanic temples, colonial churches and iconic buildings that comprise the country's fascinating culture and history.
Then, prepare your taste buds for a tantalizing tequila tasting session in a stylish, air-conditioned space. An expert tequilier offers an enthralling explanation of the subtle aromas and flavors of the spirit, allowing you to pleasure your palate with three different types of Casa Jose Cuervo tequila.
Learn how to combine tequila with zesty juices and sparkling sodas to make a cosmopolitan cocktail before being presented with your Tequila Connoisseur Certificate.
Conclude your day in a culinary way with a fulfilling and flavoursome taco buffet lunch. Watch in anticipation as the tortillas are deftly made and placed onto a hot iron pan to cook. Savour the explosive flavour of classic Mexican ingredients as you sip cold beer or refreshing soft drinks.
Return to your comfortable vehicle and relax during the journey to downtown Cozumel, where the tour concludes.
March 2016
There were 7 of us. This tour was fantastic!!!! Never realized there was that much to learn about tequila. Making the chocolate was fun. Found out chocolate and tequila go together very well!!! the taco bar food was incredible. Salivating just remembering. Martin was an incredible tour guide. We 7 ladies enjoyed it so much that the guys are going on this cruise in May and they will be taking this excursion. Told them to ask for Martin. Have to take a taxi to get there, but they provide the transportation back to the ship.
March 2016
It was a lot of fun. We got to learn about historic Mexican art, architecture, and traditions. We loved getting to make our own bars of chocolates and trying all the different chocolates samples that they had for us. We enjoyed the scale replicas and the pole ceremony that we got to watch. The tequila tasting was incredibly enjoyable and informative. All in all this was a great non-beach way to spend a day in Cozumel
March 2016
March 2016
Tour was very informative overall.
We came in on a cruise with NCL and decided to book though here instead of paying more for less via the cruise line offered excursions.
The downside is with transportation. Our ship docked at the port in downtown Cozumel and we thought we could walk to Discover Mexico but after 20 minutes we jumped in a cab which was only a 10 fee for about 2 miles.
February 2016
Carlos was our guide. He was outstanding. This tour was a great balance of history and culture combined with the fun of tequila tasting and great Mexican food and margaritas. I highly recommend it.
The tour is conducted at the Discover Mexico facility which is very near the Playa Maya port walking distance. It is located further from the port located downtown where our cruise ship was docked. The cab ride following the tour was included but the cab ride from downtown to the facility was 10 US dollars.
February 2016
February 2016
This was one of the best high lights of our trip to Cozumel. Thanks to Memo for making this the most memorable experiences we have experienced. The chocolate was awesome. Learning about tequila was just fascinating. If you get a chance to do this on your trip to Cozumel, please do. you will not be disappointed.
February 2016
I did this tour with 2 of my girlfriends, and we had a wonderful time. Memo was an awesome and knowledgable guide. I would highly recommend this tour.
December 2015
Great tour with a small group of people, 6. Our guide did a excellent job of explaining everything as we proceeded through the tour. It was a fun and learning experience.
December 2015
We absolutely loved this tour. I'm really glad that we booked a guided tour for Discover Mexico, instead of just paying for admission. We had a personal tour guide for our family who expedited everything. Making the chocolate was a lot of fun, and the complimentary margarita might be the best margarita I've ever had. Everything was very informative and interesting.
Advertisement
Advertisement