Spend a day at Cozumel's Chankanaab National Park visiting a Maya village, perusing botanical gardens, interacting with dolphins and more. Your park access includes a 45-minute Dolphin Encounter program, in which people of all ages come face-to-face with these friendly and intelligent creatures. From a shallow water platform you may share a dolphin hug, shake a flipper or even score a kiss, then watch as they dance, sing and perform tricks. Later, enjoy a guided snorkel tour among colorful coral and tropical fish and savor a complimentary light lunch.
Highlights
Dolphin Encounter package on Cozumel Island
Interact with dolphins while standing on a shallow platform in the water at Dolphin Discovery

Get up close for a dolphin kiss, hug and handshake, and watch dolphins play games, dance and sing
Embark on a snorkel tour around a coral reef in the Caribbean Sea
Explore the jungle paths, Mayan village and botanical gardens with all-day access at Chankanaab National Park
Enjoy a light lunch (burger, quesadilla or hot dog with one soda or beer)
What You Can Expect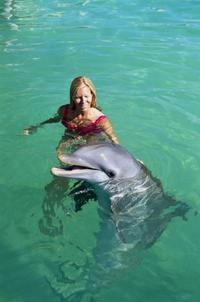 Gain all-day access to Chankanaab National Park, a beachfront reserve where Cozumel's natural wonders are right at your fingertips! Head to Dolphin Discovery for your Dolphin Encounter, a family-friendly interactive program that brings you face to face with these fun and intelligent creatures.
Great for kids, this 45-minute Dolphin Encounter allows guests of all ages to stand comfortably on a platform in waist-deep water, and watch the dolphins play and perform amazing tricks. Professional animal trainers supervise as you enjoy the memorable experience of dancing with a dolphin and hearing it 'sing.'
The dolphins at Chankanaab National Park will delight and entertain you while you learn about them from their trainers. During this interactive program, you'll even have the opportunity to hug and kiss a dolphin, and the dolphin will respond with a friendly kiss on the cheek!
Afterward, discover a magical underwater world in the Caribbean Sea with a guided snorkel tour over coral reefs teeming with colorful fish (equipment available to rent, or bring your own). Enjoy your choice of burger, hot dog or quesadilla for a light lunch (with one complimentary soda or beer) before exploring the rest of the park, including tropical botanical gardens, an inland lagoon, a Mayan village and interactive natural history museum.
August 2015
Wonderful experience that my wife has always wanted to do. Thanks for the great day!
Advertisement
Advertisement