Get up close and underwater with dolphins at Dolphin Discovery on Cozumel! Choose from two dolphin programs plus a sea lion show and snorkeling in the Caribbean, with all-day access to Chankanaab National Park. Snorkel with dolphins and enjoy a belly ride on a Dolphin Swim Adventure. Or, choose the Dolphin Royal Swim and experience the thrill of a 'dorsal tow' plus a 'foot push' as dolphins raise you above the water's surface by your feet. Each family-friendly program includes a hug, a handshake and a dolphin kiss!
Highlights
45-minute Dolphin Swim Adventure or Dolphin Royal Swim on Cozumel
Snorkel with dolphins as they twirl underwater, and experience a thrilling belly ride (if Swim Adventure option selected)
Hold onto the fins of two dolphins for a 'dorsal tow' and enjoy a 'foot push' as you glide above the water (if Royal Swim option selected)
Enjoy a playful dolphin hug and kiss under the guidance of a dolphin trainer
Feed and pet sea lions at a sea lion show and marvel at these mammals
Snorkel with parrotfish in pristine waters of the Caribbean Sea
Discover a Mayan city, botanical gardens and saltwater lagoon with all-day access to Chankanaab National Park
What You Can Expect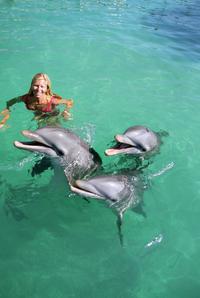 Enjoy all-day access to Chankanaab National Park on gorgeous Cozumel Island and head to the Dolphin Discovery facility for your Dolphin Swim Adventure or Dolphin Royal Swim – your choice! Each amazing dolphin package allows you to swim and interact for 45 minutes within the safety of a dolphinarium (see options below).
Under the guidance of a professional dolphin trainer, you'll touch, play and swim with dolphins while establishing a unique bond with these friendly, fascinating mammals. Enter the warm water and enjoy a dolphin kiss, hug and hello as an entertaining dolphin waves its fin, chatters and smiles. These dolphins will capture your heart while you watch their delightful aquatic antics, playing and performing dolphin tricks.
After your remarkable dolphin interaction, be entertained at a sea lion show where you can feed and pet these entertaining marine mammals. Then, dip into the Caribbean Sea to find parrotfish in a coral reef (equipment available to rent, or bring your own). You won't want to miss everything else on offer at Chankanaab National Park -- including a botanical garden, a saltwater lagoon, Mayan replicas at an archaeological park, plenty of shopping opportunities and beautiful beaches of soft white sand.
Option 1: Dolphin Swim Adventure
Put on a snorkel and mask for outstanding underwater views of the dolphins as they speed and spiral through the water, demonstrating their incredible agility. Then, experience the thrill of a belly ride as you hold onto a dolphin while your new mammal friend swims on its back through the water. You'll take away memories to last a lifetime!
Option 2: Dolphin Royal Swim
The Dolphin Royal Swim includes a dorsal tow, allowing you to glide along on a great ride while you hold onto two dolphins' dorsal fins. During the foot push, the dolphins will raise you up from the bottom of your feet as you cruise above the water's surface. You'll feel like you're flying through the Caribbean as they push you along at top speed! Afterward, enjoy some free time playing with your new dolphin friends in the water.
November 2015
Fantastic! My daughters really enjoyed the interaction with the Dolphins and the trainer was very knowledgable and funny.
August 2015
Absolutely amazing! Small groups which allowed for a more personal experience. My 10 year old son just loved this. We live in Florida on the beach so we see dolphins and manatees frequently and even with this this trip was 5 star for sure. When we got there they asked us if we wanted to swim with manatees for 30 each. We did, that was incredible too. The trainers and group size make this a fabulous excursion. The only downside is the picture herding into the building afterwards. Pictures are 40 a piece or you can buy CD's with all pics. WORK with them on pricing with the CD's. I spent more on the pics than the excursion, but the excursion was so reasonable I felt good with the overall money put out for the day. Will do this again!
August 2015
What can I say... Its a chance in a lifetime to swim with the dolphins.
June 2015
April 2015
The tour was amazing!! Super organized, very courteous, knowledgable and friendly. I would recommend it to anyone!!! Awesome!
March 2015
The royal dolphin swim was fabulous! I booked for my family and everyone agreed that it was a great experience. The facility was clean and well run. The dolphins all appeared happy and well cared for. The time spent with the dolphins was unparalleled. Informative, fun and thrilling.
March 2015
Great experience, the royal swim was as it was described except the extra treat of the manatees. The trainers were great and were helpful with some in our group that needed a little extra help.
March 2014
Great Dolphin experience, poor cold rainy weather. We have been trying to get access to our photographs for purchase with no success. Can you put us in touch with the tour company.
January 2015
Advertisement
Advertisement