11 Reviews
Location:

Cozumel, Mexico

Duration:

5 hours 30 minutes

(approx.)
Make the most of your time in Cozumel and jump on a Jeep-and-snorkel combination tour! You'll drive through town and around the island, visit an ancient Mayan ruin, then head to the beach to relax and snorkel in Cozumel's tropical waters.
Highlights
Jeep and snorkel tour in Cozumel

Visit the Punta Sur State Refuge, El Caracol and the Columbia Lagoon

Guided snorkeling tour amongst a wide variety of tropical fish and turtles

Scenic drive through towns and rural countryside

Mexican lunch at a beach resort

What You Can Expect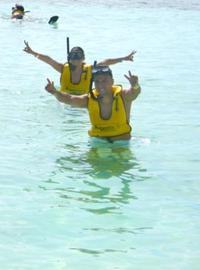 After boarding your Jeep Wrangler or Jeep Patriot (maximum 4 guests per Jeep), take off on an exciting drive around town for insights into local life. The scenic route provides breathtaking views of tropical Cozumel, and throughout your drive you can keep in contact with your tour guide via a state-of-the-art radio system installed in every Jeep.

A long sandy road leads to the Punta Sur State Refuge ecological reserve. Here you'll visit El Caracol, an ancient Mayan ruin once used as a weather alarm. Built between 1200 and 1400 A.D., El Caracol was used by the Mayans to indicate the approach of a hurricane or storm. At Columbia Lagoon, watch saltwater crocodiles basking in the sun in their natural environment. Then, explore the observation tower which overlooks the lagoon before heading over to the beach to enjoy the year-round crystal-clear waters.

The bay is protected from sea currents, and its calm, shallow waters make it the ideal place for snorkeling. You might see turtles, lobsters and tropical fish on your guided snorkeling tour. While you snorkel, your guide will always be nearby to help you out and answer any questions you may have. If you want to give snorkeling a miss, feel free to simply relax under the shade of your beach umbrella.

Jumping back into the Jeeps, you'll head over to the Navigation Museum inside the Punta Celarain lighthouse, with the option to climb to the top. Then, drive over to a beach resort to enjoy a delicious Mexican lunch of fajitas, rice, beans, chips, real tortillas and Mexican salsa. Beach chairs, a freshwater swimming pool, showers and towels are included in the price.
November 2015
It was a great time! I loved getting to drive. Miguel was a great tour guide and the sites were very beautiful. Would definitely do this trip again.
July 2012
it was very good. David was knowledgeable and nice to be with. Fortunately we went during the slow season (week of june 18th) and there were few people on our trek, which made it even better.
May 2012
We had a fabulous time on our jeep and snorkel tour. Lorenzo was our guide and did a great job giving us the tour. He is very knowledgeable and accomodating. We would recommend this tour to everyone.
September 2011
Fantastic trip ! Our guide's name was Lorenzo and was awesome. Very knowledgeable about the surroundings and was very helpful with the snorkelling. Snorkelling amazing, saw great fish. I highly recommend it. Was worth every dollar.
August 2011
Our group of 8 were in two jeeps lead by a third jeep with Hernan, our guide. The drive around the island was great with excellent stops for pictures, the lighthouse and ruins. Hernan and Hose took us out snorkeling and even with 1 women and 1 child who were not used to the ocean or snorkeling, the guides were patient, very helpful and encouraging with them and the rest of our group. They are highly recommended by everyone in our group and we would go on this tour again and again. 5 Stars to AllPro Tours for this great tour!!!
April 2011
WELL, I WAS NOT INFORMED OF THE DIFFERNCE IN TIME FROM THE CRUISELINE, AND SAT IN A FOREIGN COUNTRY, IN A PARKING LOT ALONE FOR ABOUT 45 MINUTES. THAT WAS VERY UNCOMFORTABLE!!! BESIDES THAT, THE EXCURSION WAS FANTASTIC!!!!!!!!!!!! RIDING IN THE JEEP, SEEING SITES, AND ALL THE STOPS WERE WONDERFUL. THE TOUR GUIDE WAS AWESOME, THE LIGHTHOUSE, WELL ALL OF IT WAS JUST PERFECT. OF COURSE SNORKELING WAS THE TOPS!!! THE TOUR GUIDE, WAS VERY PATIENT WITH MY CHILDREN IN THE WATER AND MADE THE WHOLE EXPERIENCE FOR THEM!! I WOULD DEFINETELY RECOMMMEND THIS... ITS WORTH THE MONEY. JUST MAKE SURE YOUR AWARE OF THE DIFFERENCE IN TIME!!!!!
July 2015
The Jeep Tour was outstanding. Enjoyed driving a jeep around Cozumel. The lunch was great! Enjoyed seeing an alligator and the 'swamps' and then walking up a lighthouse. The snorkeling was like an afterthought: needed to swim out to the reefs and swim back not much to see however great exercise. Also, the jeeps were old, and some had no seat belts. Otherwise a great adventure!
June 2013
David and Miguel were wonderful tour guides, and the snorkeling was great. Less cheesy than the cruise line tours. David also makes a fine margarita, and the lunch at El Cid was quite tasty.
April 2013
Our tour was great! We had lots of fun and lunch was fantastic. Gorge and David our tour guides were awesome. Thanks
February 2011
The business was a little tricky to find, but we were eventually pointed in the right direction by a competitor. We were scheduled for 10:30 am and arrived an hour early. Come to find out the guide had left about 10 minutes prior to our arrival. The guide told another couple on the tour that we were late for the tour and the reason for the hold-up. They were quick to get us on the road and led us to the rest of the group.
The guide (Aldo) was knowledgeable, but there was not a "state of the art radio system" in the jeep that kept us in contact with him. The freedom of driving your own vehicle made this experience fun. The locations we visited were very clean and enjoyable. The resort where we ate was very nice, but I believe we were a little rushed.
Overall, we were satisfied with what we got for the price. The staff is willing to modify the tour to get you back on the road as needed.
Advertisement
Advertisement