Immerse yourself in the seaside splendor of Cozumel with a luxurious lobster dinner on a 2.5-hour cruise. Board the historic vessel of the Old Spanish Galleon and sail the iridescent waters of the Caribbean ocean while indulging in lavish lobster, sizzling steak or tender chicken. Sip tangy margaritas as your ship cruises along the coast and prepare for a night of partying with music and games.
Highlights
Enjoy a relaxing dinner cruise off the coast of Cozumel
Indulge in a delicious lobster, steak or chicken dinner
Perfect atmosphere aboard the Old Spanish Galleon
Participate in various games and dances after your cruise
What You Can Expect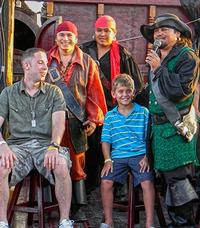 Depart from Cozumel's Main Pier to begin your sunset sail and gastronomic experience. Transport yourself back to the era of the pirates as you board the ambient Old Spanish Galleon, admiring its traditional features and impressive sails.
Set sail over the turquoise waters of the ocean as your attentive hosts serve your choice of gourmet dinner; sample the fresh flavors of luxurious lobster; sink your teeth into a sizzling steak; or enjoy a perfectly cooked chicken breast. As you cruise, sip on ice-cold beer, fruity cocktails or refreshing soft drinks and enjoy the spectacular seaside scenery.
After your meal, immerse yourself in the vibrant and vivacious atmosphere of a party. Enjoy entertaining music, immersive games, fabulous prizes and lively dancing to complete your romantic evening. Return to your original departure point at the pier when your tour concludes.
January 2016
It was a lot of fun. Would have like a thicker steak.
December 2014
It was fun and the food was really good . Staff was fun and the service was really good
March 2014
What can I say just awesome. Everyone should try it.Lots of fun.
March 2014
This was FANATASTIC!!!! This is on a pirate ship and the crew is dressed up as pirates. They put on a show, and it was incredibly fun and entertaining! I have done LOTS AND LOTS of excursions on cruises, and this was the most fun and entertainment I have had in a very long time. It is not a romantic lobster/sunset dinner though, which is what I originally thought it was.
January 2013
Laughed from the time we got on the ship until we got off. They put on an awsome
show. The food was great and we met a lot of very interesting people. Would highly
recommed it, we will attend the next time we are there. Loved it, thanks.
Lenny R USA
March 2009
The food was excellent, the boat was awesome, the pirates were awesome. The whole experience is something to remember. Great times!
October 2008
The crew were a kick; they knew how to have fun and were wonderful hosts.
Ephraim R USA
August 2008
The pirate ship is fantastic. There is a lot of interaction and live entertainment. You will not regret it!
Advertisement
Advertisement