Explore the land and sea of the idyllic island of Cozumel on a 5-hour self-drive buggy tour. Drive your personal, state-of-the-art buggy to the cultural and historical highlights of El Cedral, seeing atmospheric Mayan ruins and colonial churches. Visit the home of a traditional Mayan family then enjoy a delicious Mexican lunch. Luxuriate in the lavish facilities of Hotel Cozumel and Resort, plunging into the refreshing waters of the island's largest freshwater swimming pool.
Highlights
Half-day self-drive buggy tour of Cozumel with snorkeling
Drive a state-of-the-art, four-passenger buggy around the island of Cozumel
Go snorkeling with an expert guide
Learn about contemporary Mayan culture and see the Mayan ruins in El Cedral
Enjoy an authentic Mayan snack prepared in the home of a local family
Dine on a Mexican lunch, with swimming at Hotel Cozumel and Resort
Four ice-cold refreshments plus full snorkel gear included
Recent Photos of This Tour
Cozumel Self-Drive Buggy Tour: Snorkeling, Mayan Heritage and Mexican Lunch
What You Can Expect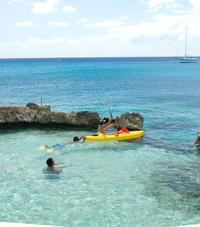 Greet your guide at the stylish Hotel Cozumel and Resort to begin your adventurous excursion. Climb aboard your technologically advanced buggy with up to three additional passengers, marveling at the impressive modernity of the machine. Observe a safety demonstration before setting out to explore the island; follow your guide as you soar past the spectacular scenery of the Cozumel coast. Stop at the secluded and sandy beach of El Pescador to enjoy a serene stroll, refreshing swim or energetic game of volleyball.
Continue your journey towards El Cedral, a historic town in which traditional Matyan culture is still maintained. Admire the quaint and colonial town church before visiting an ancient Mayan ruin and the house of the town's first 19th century inhabitant.
Next, immerse yourself in the authentic culture of the region by visiting a local Mayan family's house. While you eat a delicious snack, learn about the lifestyle, festivities and culinary customs of the indigenous families that reside in the village.
Jump back onto your buggy and drive to the spectacular seaside resort of Hotel Cozumel. Take a revitalizing dip in the crystal clear water of the Caribbean Sea before indulging in a flavorsome and fulfilling lunch; feast on Mexican specialties like fresh fish tacos, spicy fajitas and tangy salsa, sipping ice-cold soft drinks and purified water as you eat.
Spend the rest of your trip reclining on inviting beach lounge chairs and sinking your toes into the silky soft sands of the beach. Plunge into the invigorating waters of the pool to enjoy the island's largest freshwater swimming pool then freshen up in the fabulous changing facilities. Lockers, towels and refreshments are available at your own expense.
June 2016
Great adventure for the family. Our guides, Ronny and Jose, took great care of us. They were very attentive and provided us with the best experience. I highly recommend this tour. It is the best value for your money.
June 2016
This tour was spectacular! One of the best tours i have ever done in my life. The tour is well planned, and worth it 100%. My family and I had so much fun driving the buggies, visiting the mayan town and everything included. I highgly recommend this tour for anybody going to cozumel
May 2016
Our guides were excellent. The best quality vehicle I have rented in Cozumel. The snorkel was fun. Enjoyed the cultural experience of the Tequila tour, dioramas, art work etc. I have been to Cozumel 5 times and always rented a vehicle and drove around the island on my own. This was much more relaxing because everything was planned for us and all we had to do is follow the leader. Highly recommended.

April 2016
Omar and Jose were terrific. They were very concerned about our safety which was very important. We got to stop at at beaches and did shopping we would have missed on our trip if we hadn't of taken this tour. The buggies were a blast: you need to know how to drive standard! Thank you for making our honeymoon so memorable.
Joseph P United States of ...
April 2016
Omar and Jose were fantastic tour guides got to see Omar's Island as he put it.
Thanks Omar and Jose my daughter Katie won't forget her 21st birthday trip.

Jose Pineiro
April 2016
we had the best time driving these buggy. thank you for Omar and Jose to take care of Jon when he wasn't feeling good. great people to have on the tour. They are funny and greateous to help me in any way. I would recommend them anytime to anyone.
April 2016
We were a group of 5 on a carnival cruise to Cozumel. Only one of us drive standard. Ronny and Raphael were the best! We had a blast driving the buggies. The beach was beautiful and great for photos. We enjoyed the ruins and shopping. The snorkeling was adequate. The lunch was yummy.

April 2016
Wonderful tour and fantastic guides!!! Ronny and Hernan were fantastic! Highly recommend to anyone traveling to Cozumel!
April 2016
Loved this excursion. Lot's of fun and saw parts of the island you would not see otherwise. Hernan and his crew were terrific, professional and easy to understand. Only a 5 minute taxi ride from our cruise ship to the resort. Very well planned day, would definitely recommend to anyone. A
April 2016
Our tour was awesome, thank you to Omar and Jose aka tio our tour guides were very attentive and helpful we were not able to give them a better tip because no one would exchange 100.00 bill, but will catch them on next tour thank you.
Advertisement
Advertisement