Drive your own buggy on an amazing Cozumel excursion, including guided snorkeling in the Caribbean Sea and a visit to the Mayan town of El Cedral. Follow your guide on a scenic caravan drive to the Mayan ruins and church of El Cedral before enjoying a traditional snack prepared in the home of a Mayan family. Then, feast on a Mexican lunch at Hotel Cozumel and Resort, where you'll have use of Cozumel's largest swimming pool. This tour includes Cozumel's top attractions and is perfect for novice to advanced participants!
Highlights
Half-day self-drive buggy tour of Cozumel with snorkeling
Drive a state-of-the-art, four-passenger buggy around the island of Cozumel
Go snorkeling with an expert guide
Learn about contemporary Mayan culture and see the Mayan ruins in El Cedral
Enjoy an authentic Mayan snack prepared in the home of a local family
Dine on a Mexican lunch, with swimming at Hotel Cozumel and Resort
Four ice-cold refreshments plus full snorkel gear included
What You Can Expect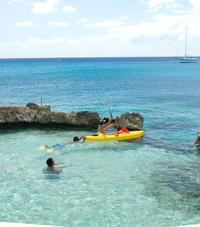 Meet your friendly guide at Hotel Cozumel and Resort, and hop aboard your brand new buggy with up to three fellow passengers; these last-generation buggies are state-of the art and the only one of their kind on the island! Follow your guide on a caravan-style drive along a scenic road along Cozumel's eastern coastline. Admire the breathtaking views and stop at El Pescador, a secluded and beautiful white sand beach. Take a walk, play volleyball, swim in the pristine waters or simply soak up the sun.

Next, continue your tour toward El Cedral, Cozumel's first town, founded in the 1840s. Here, visit an ancient Mayan ruin, the church of El Cedral and the original house of Don Casimiro Cardenas – one of the town's first inhabitants.

Afterward, head to the home of a local Mayan family for a delicious snack prepared with local ingredients in the traditional way. Learn about the lifestyle of the families who reside in the village, including their cultural traditions and festivities. Then, hop back on your buggy for a and drive back to the resort.

Upon return to Hotel Cozumel and Resort, head to a spectacular seaside location to enjoy a 45-minute guided snorkeling tour. As you explore the crystal-clear turquoise waters of the Caribbean, discover Cozumel's colorful marine life and the wonders of this underwater paradise. Then, dine on a mouthwatering Mexican lunch including assorted traditional dishes like chicken and beef fajitas, tortillas, fish tacos and Mexican salsa. Choose from a variety of ice-cold soft drinks and seasonal fruit beverages to accompany your feast.
Enjoy all of the resort facilities, including beach lounge chairs, showers and changing rooms, and the largest freshwater pool on the island. (Lockers, towels and a bar are also available at your own expense.)
December 2013
We had a great time. It rained and kind of ruined our snorkeling but that was not the tours fault.
June 2013
The trip was great our guides were amazing and always made it a great time. The food at the end was very disappointing but other than that i wouldn't have asked for more...Make sure that your tour guides get everything; they made the trip all it was!
May 2013
Tour was very well done. Our guides, Mr. Miyagi and Daniel were fantastic. Driving around the island and seeing all of the ocean views was awesome. The local handmade tortilla with sauce was definitely a highlight, especially getting to learn a little bit about the Mayan culture. Would recommend for anyone looking to tour the entire island.
May 2013
Great excursion! Tour guides were knowledgable and funny. The cars were cool and fun to drive. Was a great way to see the island. The little tiki hut stops along the way had great drinks and beautiful views. The use of hotel facilities was a treat too!
September 2013
The buggies were fun to drive, however, when I think of a beach dune buggy drive I think of driving on a sandy beach and there was none of that. The beach we stopped at was beautiful and full of sealife - you just had to look for it. The Mayan ruin was disappointing and yet appropriate for the area. The snack was tasty and seemed authentic. The weather turned stormy - a torrential downpour - so we did not snorkel. And yet, after we were soaked to the skin, the sun came out, things dried out, and we were able to swim in a beautiful swimming pool. All in all, it was very memorable.
April 2015
Did not really see much of the island. Not much to the Mayan Heritage viewing and lunch was not very good. Was in Cozumel for 15 days and the lunch food did not compare to other places.
Advertisement
Advertisement