Explore the vast underwater offerings off Cozumel island with a snorkeling and glass bottom boat adventure tour. Depart from Cozumel to discover its surrounding reef-filled waters, swimming alongside colorful tropical fish and sea turtles. You can also take in the exquisite coral formations and marine life solely from onboard.
Highlights
Snorkel and glass bottom boat adventure off the coast of Cozumel
Snorkel amongst colorful fish and amazing reefs
Admire the underwater beauty from the glass bottom boat
What You Can Expect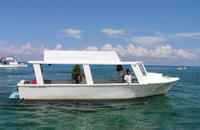 Cozumel, located 44 miles (71km) south of Cancun, is a tear-drop-shaped coral island ringed by crystalline waters. It is Mexico's only Caribbean island and over 100 world-class dive sites have been identified within only 3 miles (5km) of its shore, a dozen of which are shallow enough for snorkeling.
Discover the underwater beauty of Cozumel and admire a wide array of multicolored fish, amazing reefs and clear waters.
Submerge yourself underwater using snorkel gear, or keep your hair dry and visit the reef through the glass bottom boat!
Kasey C USA
August 2008
The tour was great. It was beautiful and colorful, and definitely something we would love to do again.
Ceceline B USA
June 2014
This was very nice and I would fully reccommend to anyone - dry or wet.
My issue though is I thought I was going to be picked up from the hotel for this tour instead the tour guide told me to take a taxi which I thought was prepaid until I got to my location and the person at the other end said I had to pay the fare myself even though he wrote "prepaid" on the voucher. So I had to pay the taxi fare to and fro. I noticed the tour company did not have their own vehicles. Last year when I travelled there they did so I do not know what the issue is this year.
Advertisement
Advertisement