10 Reviews
Location:

Cozumel, Mexico

Duration:

2 hours

(approx.)
Learn how to scuba dive in this introductory diving course. Dive in crystal clear waters off the Cozumel shore and experience the underwater world from a fish-view perspective! Experience an underwater adventure of a lifetime! No experience necessary!
Highlights
Diving adventure off Cozumel
Colorful coral and marine life
Dives up to 30 feet
Professional instructor and equipment
No experience necessary
What You Can Expect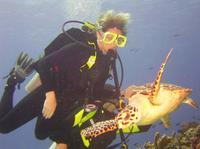 Enjoy the opportunity to explore the underwater world by taking this simple but safe and fun diving course. Your day begins with a 40 minute class and 20 minutes of practice in shallow waters. Once you feel comfortable doing three simple skills, you'll be ready for the first open water dive!

Descending below the surface to a maximum depth of 30 feet (9 meters), you'll spend up to 1 hour exploring the colorful coral and vibrant marine life. This dive is designed for those with limited or no dive experience who wish to give it a go in the idyllic setting of Cozumel.
January 2014
This was the first time my wife and I had ever went scuba diving. Our instructor was very good at explaining
everything to us. We felt very safe going into the water. I would recommend this tour to anyone interested
in learning how to scuba dive.
Kevin S.
July 2013
This was real great fun..thanks a lot for the great time
June 2012
Really had a wonderful time. Luis ( our trainer ) had very good scuba skills. He taught us very well. We saw huge variety of fishes. We had a waterproof camera - Luis took our photos and videos for free. Will definitely recommend.
March 2012
Excellent experience. our instructor, Jorge, spent a large amount and patience trying to prepare my wife for our dive. After my experience I plan to continue to get my PADI certificate.
August 2011
Great experience! Luis and his team did a great job.
May 2011
We had a great time. Luis was a great instructor. He made us comfortable throughout the lesson and the diving was simply beautiful.
May 2010
Professional and highly recomended. Brilliant place.
January 2010
My wife and I had the greatest time ever. The instructor that we had was very good. He really made my wife feel content. I'll say this, we will be back next year to dive.
January 2010
This was so much fun. I was a beginner so I was pretty nervous but the instructor was so helpful and really new his stuff. We started out with a quick lesson on the most important things about diving and then we did training in shallow water. But once we did that and started diving I was hooked. It was so awesome to be all the way at the bottom of the ocean! However one word of caution. The instructor never warned of anything to look out for and so I ended up getting stung by a fire coral, not so much fun.
April 2015
The instructor was very impatient and insensitive to first time scuba divers. My niece and I were nervous because we had never done this type of activity before. He was very rude. He didn't speak to us again after we got out of the water accept to say wait until he brings the van around to pick us up for a drop off. He dropped us off at our hotel and didn't say a word...no thank you...no have a great day...NOTHING! He then sped off. There were two other Mexican ladies that he spoke to during the duration of the trip. I believe we annoyed him because we were nervous, but after a little while, I got my nerve, went under the water and had a fabulous experience. I wouldn't recommend this guy as an instructor for first time scuba divers. I was very disappointed.
Advertisement
Advertisement