Get wet and go wild at the fun and fabulous Playa Mia Grand Beach and Water Park in Cozumel. Relax on the white sands of the sea front or enjoy the wild slides of the unique theme park with your unlimited day pass. Swim in the crystal clear waters of the Caribbean Sea before satisfying your thirst for adrenaline in the water park, where more than 20 amazing attractions reside. Complete this wonderful experience by upgrading your pass to include a mouthwatering buffet and open bar.
Highlights
Entry to Cozumel's Playa Mia Grand Beach and Water Park
Gain full-day admission to more than 20 water park attractions, including an underwater Mayan city
Make a splash at Buccaneer's Bay, Oasis Island, the Floating Park and the Twin Twister waterslides
Swim in the Caribbean Sea or sunbathe on a lounge chair at the sandy beach
Enjoy non-motorized water toys like kayaks, paddleboats and Hobie cats (small sailing catamarans)
Upgrade your ticket to include an international buffet or buffet with bar drinks
Fun-filled day for the whole family!
Recent Photos of This Tour
Playa Mia Grand Beach and Water Park Day Pass
What You Can Expect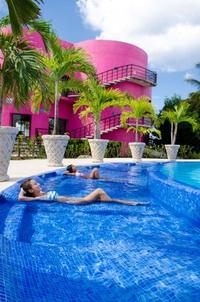 Located on the serene southern tip of the island, Playa Mia Grand Beach and Water Park is just a 15-minute ride from downtown Cozumel. Spend the entire day among golden sands and exciting attractions, enjoying a range of incredible activities dependent on which ticket option you choose to purchase.

Explore and enjoy every one of the water park's alluring attractions during your unlimited time at Playa Mia Grand Beach. Kids are sure to make a splash in the fun-filled lagoon pool, complete with water cannons and animal slides. Soothe body and soul in the serene Oasis Island pool and enjoy the comforting jets in the hydro-massage tub. The Twin Twister waterslides are sure to satisfy an appetite for adrenaline with 200-foot-long (60-meter-long) twists and turns.

Discover total tranquility at the blissful beach park, where the crystal clear waters of the Caribbean sparkle in the sun. Soak up the sunshine on the white sands of the beach before heading back to your hotel at your own pace.

Option 1: Entrance Ticket
Your day pass includes access to hammocks, games, kids' club, playground, beach volleyball, kayaks, sunbed, paddleboats, a shopping area and more. (Refreshments, massages, snorkel equipment and motorized water toys are not included.)

Option 2: Entrance Ticket with Buffet
Your day pass includes all of the above, in addition to a delicious buffet, which features local dishes such as roasted chicken, slow-cooked suckling pig, macaroni cheese and spicy fajitas, as well as ice cream and flavored water.
Option 3: Entrance Ticket with Buffet and Open Bar

Your day pass includes all of the above in addition to unlimited drinks from the open bar. Sit back with a beer, wine, coffee, cocktail or soft drink.
June 2016
We had a blast! Since we were coming from a cruise line, it was REALLY nice to be able to get a head start. We were out on the beach (and on the water activities) for quite awhile before the biggest cruise groups arrived there - considering it got crowded later, we were thankful for the extra time!

June 2016
We had a great time using the beach and pool facilities! It was my son's first time on the beach and he loved it. Everyone was accommodating. My only gripe is that the food buffet is not really all that appetizing. But I didn't expect much as I am familiar with these all-inclusive beach resort buffets. The drinks were just ok as well. All in all we had a good time and everything was as I expected. I would visit again.

June 2016
April 2016
It was well worth it Beach Food Friendly staff!!
November 2015
We always enjoy Playa Mia. The food and drinks are always good and the service is prompt. We went parasailing this trip and it was great. My wife went kayacking.
DJRUBIO23 United States of ...
October 2015
DJRUBIO23 United States of ...
October 2015
Very friendly service by all staff members. Quick process once we arrived at meeting point. The waterpark/food/beverages/activities where awesome!!! Everything was great!!!
August 2015
Great day at the beach. Food was really good. My kids enjoyed the inflatable obstacle course in the water as well as the organized games played on the beach.

July 2015
We fully enjoyed this trip, the service to and from the port was fast. The food that was served was decent, I did't expect much so it was better than expected. The drinks from the open bar were very basic but they did the job. The beach looked great, however I didn't like that the coral was so close that you couldn't walk out far without stepping on it but that's Mother Nature's doing. The water activity floats were fun and challenging. We had to swim out to them and the have energy to actually get up and play on them. We did have fun once we were out there but there wasn't enough there to make you want to stay too long. The water was nice and it's always fun swimming with the fish. I also liked the little water park. It's not much but it's an added bonus. We got on the water slide about 5 times. We hung out in the pool and took pictures with the Parrot and the Iguana. Overall we had a great time. There were a few things we could have complained about but when you're on vacation you should really just enjoy as much as you can and overlook the minor things. I also want to add that I was happy that the restrooms were very clean, this isn't always the case when you are out at new locations but it's very important to me.
April 2015
There were plenty of things to keep us occupied and relaxing enough for us to do nothing. Food and drinks were plentiful.
Advertisement
Advertisement