28 Reviews
Location:

Cozumel, Mexico

Duration:

Varies
The fun never ends at Playa Mia Grand Beach and Water Park in Cozumel! With your day pass, spend as much time as you like at this one-of-a-kind theme park and seashore. Relax on the beach, swim in the Caribbean Sea and let loose at more than 20 exciting attractions in the water park. Your entrance ticket includes access to lounge chairs, hammocks, organized games, non-motorized water toys and much more! Choose an upgrade to include an international buffet or buffet with open bar.
Highlights
Entry to Cozumel's Playa Mia Grand Beach and Water Park
Gain full-day admission to more than 20 water park attractions, including an underwater Mayan city
Make a splash at Buccaneer's Bay, Oasis Island, the Floating Park and the Twin Twister waterslides
Swim in the Caribbean Sea or sunbathe on a lounge chair at the sandy beach
Enjoy non-motorized water toys like kayaks, paddleboats and Hobie cats (small sailing catamarans)
Upgrade your ticket to include an international buffet or buffet with bar drinks
Fun-filled day for the whole family!
What You Can Expect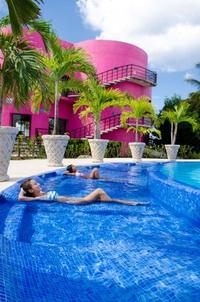 Playa Mia Grand Beach and Water Park is located on the south part of the island, just a 15-minute ride down the coastal road from downtown Cozumel. Make your way to the park whenever you'd like—it's open from 9am to 6pm—and stay all day if you'd like. Have a blast with family and friends, using your day pass to enjoy a range of exciting activities for all ages. With several day pass options (see descriptions below), you'll find everything you need for a fun-filled, carefree day!
Explore the water park, which boasts more than 20 attractions. Let the kids go wild at Buccaneer's Bay or swim in a lagoon pool full of fun activities, including a pirate ship, water cannons, water sprays and animal slides. Jump into the Oasis Island pool and hydro-massage tub or make a splash on the 200-foot-long (60-meter-long) Twin Twister waterslides.
Enjoy the best of the Caribbean at the famous beach park, an ideal place to swim in the crystal-clear waters of the sea, sunbathe on the white-sand beach and have a blast in the Floating Park—an amazing floating circuit packed with adrenaline-filled fun! Whenever you're ready, make your way back to your hotel, enjoying the day at your own pace and on your own time.
Option 1: Day Pass
Your entrance ticket includes access to lounge chairs, hammocks, underwater Mayan city, organized games, kids' club, playground, kayaks, paddleboats, Hobie cats, beach volleyball, a large shopping area and more. (Food, drinks, massage, snorkel gear rental and motorized water toys are available for an additional fee.)
Option 2: Day Pass with Buffet
Your entrance ticket includes all of the above plus a self-service international buffet with green and Caesar salads, fresh fruit, BBQ chicken, Veracruz-style fish fillet, roasted suckling pig, meatloaf, beef fajitas, hot dogs, Mexican rice, chilaquiles in mole sauce, chili beans, refried beans, bread, mashed potatoes, zucchini au gratin, tortilla chips, salsas, mac and cheese, French fries, flavored water, Jell-O, cookies and soft-serve ice cream. (Note: Menu is subject to change without prior notice.)
Option 3: Day Pass with Buffet and Open Bar
Your entrance ticket includes all of the above plus a national open bar: house wine, draft beer, tequila, mezcal, brandy, rum, vodka, margaritas, piña coladas, rum punch, daiquiris, juice, soft drinks, coffee and bottled water. (Note: Shots are not available.)

Please note: if you have chosen an option that includes transportation, please enter your hotel or cruise ship details in the "Special Requirements" box on the checkout page.

August 2015
Great day at the beach. Food was really good. My kids enjoyed the inflatable obstacle course in the water as well as the organized games played on the beach.
July 2015
We fully enjoyed this trip, the service to and from the port was fast. The food that was served was decent, I did't expect much so it was better than expected. The drinks from the open bar were very basic but they did the job. The beach looked great, however I didn't like that the coral was so close that you couldn't walk out far without stepping on it but that's Mother Nature's doing. The water activity floats were fun and challenging. We had to swim out to them and the have energy to actually get up and play on them. We did have fun once we were out there but there wasn't enough there to make you want to stay too long. The water was nice and it's always fun swimming with the fish. I also liked the little water park. It's not much but it's an added bonus. We got on the water slide about 5 times. We hung out in the pool and took pictures with the Parrot and the Iguana. Overall we had a great time. There were a few things we could have complained about but when you're on vacation you should really just enjoy as much as you can and overlook the minor things. I also want to add that I was happy that the restrooms were very clean, this isn't always the case when you are out at new locations but it's very important to me.
April 2015
There were plenty of things to keep us occupied and relaxing enough for us to do nothing. Food and drinks were plentiful.
April 2015
March 2015
Great relaxing place for family fun.
December 2014
October 2014
The place is beautiful, the office is at the perfect location across the street rom the cruise port. The staff was so pleasant at both the office and the resort. Although I gave it five stars I must mention that the food was HORRIBLE! I DON'T recommend purchasing the food as part of the package. The slides and obstacle course were the MOST fun.
September 2014
We had a FANTASTIC day at Playa Mia. My son and Grand-son LOVED the water toys and the baby and 3 year old loved the baby water park. Food was good - drinks were great and plentiful. Everything about the day was truly AWESOME. This was not offered by the Carnival ship we were on. So glad we found it through Viator. We TOTALLY recommend this trip - well worth the money.
June 2014
We had a great time! Our 2 year old loved the kid pool and the 7 year old enjoyed the beach. They took pictures with the macaws and saw iguanas. We were there on a Saturday and it was not very busy at all. It was nice and clean, the buffet was basic. Angel was awesome at keeping our drinks full!
May 2014
This was an amazing excursion for the whole family.
Never heard the word bored!!!!
Our waiter (Angel) was first class all the way. Never let
us want for anything. The water park was perfect for the grandkids.
We highly recommend this excursion.
Berny
Advertisement
Advertisement