Experience the marine majesty of Chankanaab National Marine Park on a 4-hour snorkel and beach tour from Cozumel. Explore the crystal clear waters of the ocean for tropical fish and colorful coral and recline on the silken sands of private beach Playa Uvas, the entrance fee to which is included in the tour. Enjoy a delicious lunch and complimentary drinks from an open beach bar during this spectacular seaside sojourn.
Highlights
Pass to Playa Uvas private beach
Snorkeling adventures
Tropical fish and coral formations
Lunch and full open bar
Recent Photos of This Tour
Playa Uvas Private Beach Pass
What You Can Expect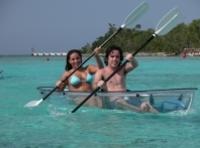 Meet your multilingual guide at the luxurious private beach of Playa Uvas, within the Chankanaab National Marine Park. Admire the luminous white sands and turquoise ocean before you embark upon a 45-minute snorkeling tour of the world's second biggest reef system.
Don your snorkeling gear and follow your guide through Cozumel's kaleidoscopic coral reefs; marvel at the vibrancy of the marine life as you see iridescent exotic fish from every angle. Dry off and venture to the lavish luxury of Playa Uva private beach. Only a limited number of people are permitted on the playa everyday, so a tranquil time is guaranteed.
Re-energize with lunch at Playa Uva, choosing from a selection of local and international specialties. Refresh with drinks from the open bar, sipping on either cold beers, crisp wines, fruity cocktails or soft drinks. Spend the rest of your day relaxing on the beach until you make your own way back to your hotel.
June 2012
We had a great time at Playa Uvas and felt that the price that we paid was well worth it. The snorkeling was amazing and the food and drinks outstanding. The staff at Playa Uvas was very friendly and ready to help with anything that we needed. I would definitely recommend this excursion!
April 2012
this was the best had an open bar cool breeze. And the food these guys make was better than anything i tasted on our cruise ship by far. I would recommend this to any one who just wants to relax and smell the cool ocean air and let life pass by :)

JennyC United States of ...
October 2011
We spent a chill day at the beach. Just a great day on a private beach in paradise!
March 2011
We had a delightful time. Snorkeling was delightful, just a nice time. Lee
February 2010
My husband and I had a great time at Playa Uvas. The staff was awesome as was the food and the snorkeling. The only complaint is that we weren't able to stay longer, like forever!
Jo Graff Canada
January 2010
The staff are lovely people. The only complaint, is the long walk to were you go snorkeling.
Anonymous
January 2010
Heading over to Cozumel for the day was a great way to get away from the crowded resorts of Cancun. We almost had the beach to ourselves, and enjoyed a great lunch with margaritas! Unfortunately, it was an overcast day, so we didn't get to kayak or snorkel (although others were), but it was an amazing day regardless.

Phyllis H USA
March 2015
My husband and I both got sick on our cruise, so we were unable to go on this excursion.
Advertisement
Advertisement