Celebrate island life, beginning with a ride aboard a 65-foot-long catamaran and continuing with an all-out Cozumel beach party. Board your sightseeing boat for a snorkeling excursion to two different reefs, where you'll swim alongside schools of tropical fish and among colorful corals. Then jump back onboard for cocktails as you cruise back to land. Once here, mingle with other party goers over ice-cold beers and margaritas, engage in a game of beach volleyball, enjoy tasty cheeseburgers or take a kayak out for a spin. It's the ultimate island experience.
Highlights
Snorkeling adventure and beach party
Tropical reefs, diverse marine life and coral formations
Palancar reef
Beer, margaritas and refreshments
What You Can Expect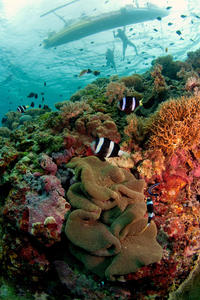 Your adventure begins as you board a 65 foot (19 meters) custom-built catamarans. Feel the excitement as you cruise to Cozumel's coral reef.
You will be taken to two reefs, including internationally acclaimed Palancar. Snorkeling on your guided reef tour you see tropical fish, coral formations and other sea-life, less than 30 feet (9 meters) below the ocean's surface. Ice cold beer, zesty margaritas, soft drinks and water are served after snorkeling.
The head to a Cozumel beach for an incredible party! Complimentary use of the following attractions and beach equipment:
'Cheeseburger in Paradise' on the beach
'Aqua Jump' Trampoline on the sea
Ocean 'Iceberg'
Watermat
Kayaks, floats, hammocks, beach volleyball, beach umbrellas and beach chair use
Iced cold beer and zesty margaritas
After the beach, the drinks keep flowing as you ride the waves with another party onboard on the way back!
February 2016
These guys are great. They were in the water with us snorkelling and when we were on the bouncing inflatables at our beach site. They made sure we were safe. Good way to spend the day. Highly recommended.
April 2015
We loved everything about our tour! We definitely plan to book through you guys again anywhere we go! Thank you so much we had a blast and was a great experience!
Candice
Kevin S USA
February 2010
We were picked up on the pier at our resort, instructed on how to wear the snorkeling gear and taken to the first reef. The water was somewhat rough but once you looked into the water, the reef was full of beautiful sea life. The crew was helpful and ready to assist you even in the water. There was a photographer onboard who even went in the water to take photos of you snorkeling. That was a special memento. Then the beach party was a welcome rest from the water, the food was good and the kids played on the inflatable water toys. Then we boarded the catamaran and they dropped us off back at our resort's pier. We'd take this tour again!
Jessica G USA
December 2009
It was a great time. The beach was great, wish we could have stayed longer. The water was so blue and pretty.
Claudia P USA
November 2009
The trip was a lot of fun, and we greatly enjoyed the snorkeling, the music, and the food. However, the tour was delayed in leaving, so we ended up eating at about 430 pm and we got back to the ferry landing about 40 minutes late and missed the boat we needed to take back to Playa del Carmen. We had to wait two hours until the next ferry, which also happened to be last one out for the day. You may want to consider earlier tour times for this activity.
May 2011
I was really disappointed with the snorkeling. Palancar reef does not have the numerous fish I was expecting. We went out on a smaller boat later in the week where there were many more fish. The "Hamburger in Paradise" was good though.
James O Canada
February 2010
Tour was OK, saw some see turtles, but the coral was so far below the surface we couldn't see many fish. I also found it quite crowded in the water, you couldn't swim without kicking someone or being kicked. The beach we went to for the beach party was beautiful. Pure white sand, plenty of water activities--kayaks, water trampoline, aqua glide. In San Miguel, you can get this type of trip for less and it comes with a full Mexican buffet not just a hamburger and tiny salad bar. The guides, however, were very helpful and friendly.
July 2015
The snorkelling whas kinda of like being herded like cows you all had to stay in one big pack and i ended up kicking people and getting kicked.
The beach party was okay, but mainly for kids.
I would have preferred a real sailboat that uses sail power they had sails but only used them for show - the motor was used all the time
I will try another, perhaps smaller, cruise next time.
The booze was good.
March 2016
Having gone on other tours like this, I was looking forward to it. To my surprise, the crew was very unfriendly. They did not socialize or interact at all with the guests. The snorkeling sites were very restrictive and not conducive really to snorkeling as the waters were too deep. The redeeming quality was the cookout on the beach and the beach party with all of the different water toys. Following this trip, 3 out of the 4 of us who went got travelors diarrha. The only one who didn't was the one of us who drank beer and not the refreshments with ice. This pretty much ruined the rest of our stay in Cozumel. I do not recommend this trip.
Advertisement
Advertisement