Visit the mysterious ruins of Tulum and enjoy the view as you explore this abandoned walled city that towers above the deep turquoise of the Caribbean. Then visit Xel-Ha, a beautiful natural aquarium, home to a large variety of colorful tropical fish. Here, you can learn to snorkel or simply sit in one of the beach chairs and soak up the sun!
Highlights
Sightseeing tour to Tulum and Xel-Ha from Cozumel, Mexico
Learn about the history of Tulum and enjoy breathtaking views
Snorkel at Xel-Ha and see a large variety of tropical fish
What You Can Expect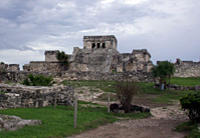 Tulum, the Walled City, is mounted high on the edge of a cliff. The abandoned city towers above the deep turquoise of the Caribbean and a beautiful white sandy beach. The city within the walls was only inhabited by the nobles, high priests and esteemed citizens such as astronomers, whereas the lower classes lived in simple wood and thatch huts beyond. The buildings in the city were originally covered with brilliant paintings and carvings stark white, deep red or vibrant blue, but only faint remnants of these now remain.
A guided visit of the site takes about 45 minutes. You'll then have some time at leisure to take photos of the picturesque views.
Then continue to Xel-Ha (pronounced shell-ha). Here, visitors can learn to snorkel and enjoy observing the fish at an arms length or simply sit in one of the beach chairs and soak up the sun! Xel-Ha is 15 minutes north of Tulum, ideally located to combine the day with a visit to the ruins. There are several restaurants in the park giving the option of arranging a group lunch in one of them or guests can be at leisure.
August 2008
A must see! I loved it, and will definitely go back.
July 2014
The bus and tour guide are fantastic. The views from Tulum are breathtaking, it's a beautiful place to visit. Xel-ha is also nice, however, we went in July and it was really, really crowded. The restaurants/bars are great. Everyone raved about the snorkeling. We were a little disappointed with the snorkeling, between the number of people and the fact that you have fresh water running through the salt water from an underground river, it makes for cloudy water. The fish you do see, especially on the outskirts of the lagoon area, are huge, so that was neat. It was ok, but I would have rather gone back to our hotel in Cozumel where the water was crystal clear and a larger variety of fish.
Advertisement
Advertisement