Unravel the Mayan mysteries of Tulum and explore the aquatic wonders of Xel-Ha Park on an enriching and exciting full-day excursion from Cozumel. Discover the sacred structures of the abandoned walled city of Tulum with an experienced guide, marveling at the dramatic coastal scenery that surrounds the ruins. Then, plunge into the refreshing lagoons of Xel-Ha to experience magnificent marine life and blissful beaches. Snorkel, swim or simply sink into the soft sands of the beach during your unique adventure.
Highlights
Sightseeing tour to Tulum and Xel-Ha from Cozumel, Mexico
Learn about the history of Tulum and enjoy breathtaking views
Snorkel at Xel-Ha and see a large variety of tropical fish
What You Can Expect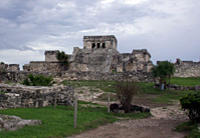 Depart from the Main Pier in Cozumel and enjoy a serene sail to mainland Mexico. Climb aboard a comfortable, air-conditioned minivan and relax during the journey to Tulum. Feel your jaw drop as you approach the dramatic sight of the ruins and marvel at the jagged cliffs that tumble into the crashing waves of the Caribbean Sea.

Greet your guide and commence your 45-minute exploration of significant sites within Tulum. Learn about how the city was only inhabited by nobles, high priests and esteemed citizens, and visualize the bright and beautiful former decorations of the buildings. Enjoy some relaxed leisure time in which you can wander the archeological site independently; ensure you capture the spectacular contrast of the bright beach and deep turquoise ocean on camera.
Then, return to the minivan and continue to Xel-Ha, a natural aquatic park on the Riviera Maya. Learn to snorkel and observe colorful troves of tropical fish; stroll atmospheric jungle trails in search of diverse wildlife; or simply sit on the beach and admire the stunning coastal panorama. Feel the sun soothe your skin before grabbing lunch from a selection of local and international restaurants, then return to the minivan to venture back to the island of Cozumel.
Ephraim R USA
August 2008
A must see! I loved it, and will definitely go back.

July 2014
The bus and tour guide are fantastic. The views from Tulum are breathtaking, it's a beautiful place to visit. Xel-ha is also nice, however, we went in July and it was really, really crowded. The restaurants/bars are great. Everyone raved about the snorkeling. We were a little disappointed with the snorkeling, between the number of people and the fact that you have fresh water running through the salt water from an underground river, it makes for cloudy water. The fish you do see, especially on the outskirts of the lagoon area, are huge, so that was neat. It was ok, but I would have rather gone back to our hotel in Cozumel where the water was crystal clear and a larger variety of fish.
Advertisement
Advertisement