Take the route less traveled to Machu Picchu on a multi-day trek from Cusco. Travel by bus to Mollepat and then embark on foot along Salkantay, a quiet alternative to the often-crowded Inca Trail. Four the next four day you'll hike in the shadow of snow-capped mountains and pass among tropical jungle, stopping at ancient archaeological sites en route. At night bed down in tents beneath the stars. Once reaching Llucmabamba hop the train to Aguas Calientes. The next day the Lost City of the Incas is yours to explore.
Highlights
5-day Salkantay Trek and Machu Picchu, round-trip from Cusco
Hike the Salkantay trail for four days with an expert guide
Sleep under snow-capped Salkantay Mountain at Huayracpampa Lake
Pass lush waterfalls en route to Santa Teresa in the Colcapampa District
Climb from the town of Llucmabamba to Llactapata for views of Machu Picchu, and ride the rails to Aguas Calientes
Small-group tour limited to 9 people ensures a personalized experience
Recent Photos of This Tour
5-Day Salkantay Trek and Machu Picchu Tour from Cusco
What You Can Expect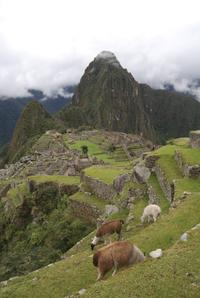 Experience the Salkantay Trek over 4 days and 3 nights from Cusco with a hiking guide. It is recommended to spend at least 2-3 days acclimatizing to the higher altitude of your trek before departing Cusco. Plan to trek 5 to 8 miles (8 to 12 km) per day, assisted by pack mules, in an intimate group of 9 people or fewer. Off-trail transportation takes place in a comfortable vehicle, bus or train (vistadome or expedition option). Hotel accommodation in Aguas Calientes is at your own expense.

See Itinerary section below for full details.
Itinerary
Day 1: Cusco – Soroy Cocha Lake (L, D)Departing from your selected hotel in Cusco at 5:30am with your guide, travel by bus to Mollepata, a picturesque mountain town located at an altitude of 6,900 feet (2,100 meters) on the slopes of the upper Apurimac River. En route, stop at the archaeological sites of Quillarumiyoc and Tarawasi, an Inca temple.
From Mollepata, which can be quite warm, get ready for an ascent to higher elevation and a colder climate at the mountain pass. Continue by bus to Soraypampa, where you will check your luggage, pack the mules and begin your trek. Start with a 5-hour climb to the campsite next to Huayracpampa Lake, ascending from 12,800 feet (3,900 meters) to 13,950 feet (4,250 meters) above sea level.
During the 5-mile (9-km) hike, your guide will note the typical Andean flora and fauna under the impressive, snow-capped Salkantay Mountain. Located on the eastern end of the spectacular Vilcanota range between the Urubamba and Apurimac rivers, Salkantay hovers above at an elevation of 20,570 feet (6,270 meters)!
When you reach the lake, just below Salkantay Glacier, your guide will set up camp – including double-floor personal tents, a kitchen tent and dining tent with tables and benches – where you can enjoy dinner and spectacular Andean views with your small group.
Overnight: camp at Soroy Cocha Lake

Day 2: Soroy Cocha Lake – Colcapampa (B, L, D)After breakfast, begin your day with a one-hour climb to Huayracpampa Pass, situated at an elevation of 14,630 feet (4,460 meters). After a brief break for magnificent photos, begin a long descent toward Santa Teresa, with a lunch stop in Qelqemachay.
During this lengthy descent, your guide will point out the changes in vegetation as you hike from high mountain areas to densely forested tropical jungle. Your 8-hour day trek covers a total of seven miles (12 km) and concludes at a camp in the Colcapampa District, close to the thermal baths in Santa Teresa.
Overnight: camp at Colcapampa
Day 3: Colcapampa – Llucmabamba (B, L, D)Enjoy breakfast with your group before hitting the trail for a 7.5-hour hike to Llucmabamba. Admire the beauty of this section of your trek, where lush vegetation supports a variety of orchids and other tropical flowers. View impressive waterfalls that plunge approximately 260 feet (80 meters) into the wondrous, dense landscape. By the time you reach your destination at 7,900 feet (2,400 meters) after hiking eight miles (14 km), you'll be ready to relax at camp!
Overnight: camp at Llucmabamba
Day 4: Llucmabamba – Aguas Calientes (B, L)Continue through lush sub-tropical forest after breakfast, en route to the village of Llucmabamba, where an original Inca trail still remains to this day. After a gradual uphill climb to Llactapata, located at 8,850 feet (2,700 meters), enjoy a stunning view of the backside of Machu Picchu, a UNESCO World Heritage Site nestled within neighboring peaks draped in greenery.
In the afternoon, after a 7-hour hike covering seven miles (12 km), take the hydroelectric train to Aguas Calientes – situated in a cloud forest at the foot of Machu Picchu – for an overnight stay in a comfortable hotel (own expense).
Overnight: hotel in Aguas Calientes
Day 5: Aguas Calientes – Machu Picchu – Cusco
Rise early and take the first bus at 6am from Aguas Calientes to the spectacular ruins of Machu Picchu, a 40-minute ride along a winding road. When you arrive at the breathtaking site, your guide will take your small group on an extensive walking tour through the vast ruins situated 7,950 feet (2,430 meters) above sea level, and originally thought to be an estate for the Incan Emperor, Pachacuti.
Take in the jaw-dropping sights as you descend into the famous ruins, built in the mid-15th century, abandoned during the Spanish conquest and still unknown to the outside world until their discovery in 1911. Meander over terraces and through temples, palaces and living quarters in this lost Inca city while your guide unlocks the mysteries of Machu Picchu, meaning 'Old Peak.'
Visit what archaeologists refer to as the Sacred District of Machu Picchu, and see Intihuatana, the Temple of the Sun and the Room of the Three Windows. Your guide will explain the classical Inca architectural style of the central buildings, constructed of dry-stone walls. After your tour, you'll have free time to explore the restored archeological site on your own. Steal some great photos of exquisite views at every turn before boarding the train with your small group to Cusco in the afternoon.
Upon arrival, a tour representative will greet you at the train station and transfer you to your preferred hotel. Consider staying a few extra days in Cusco, another UNESCO World Heritage Site. Visit the food stalls, browse for colorful woolen hats at the bustling central market or enjoy a slower pace at a café in the nearby Plaza de Armas.
August 2015
My family 3 teenagers, my husband, and I went on the 5-day Salkantay Trek and Machu Picchu Tour from Cusco. We have been on trips throughout the world and have lived in different cultures. That being said, this trip trumped all of our other vacations/experiences. Our family was finally at a good age to partake in a great adventure - and an adventure we had!! The first day up, I got altitude sickness, which caused us to have to stop and camp beside the glacier the first night, it was beautiful. Sandro, our guide, made sure we were properly equipped extra sleeping bag for the cold night. We awoke every morning with Sandro at our tent door, handing us warm tea. The second day, we made it to the mountain peak and performed the Inca ritual of blowing on 3 coca leaves and building our power stones. This was honestly the highlight of the trip for me. I felt on top of the world, away from all the tourists and one with nature. We then started our trek down to the higher jungle, which held so much beauty and fresh air. An important point is that you don't have to be in top shape to do this trek. Your guide tailors the hike to your group's needs, which is so personal. Day 3 found us camping at a farm with interesting bathrooms and other hikers. Day 4 had us hiking through a coffee farm!! How cool is that. There is a little hut on the trail where the farmer has named the Andean Starbucks, where he was roasting his coffee beans and offering coffee for a small price. Day 5 found us at Machu Picchu! The best part was the hike itself, as we got nightly history lessons from our guide, Sandro. Some things to bring that saved us: snacks for the trail, wet wipes, mosquito repellant, plenty of cash for tips and water along the way, and a well-brimmed hat. If you are a gentleman, forget the baseball cap as your neck will get badly burned. Wear a hat that also covers your neck. Machu Picchu was wonderful, but full of tourists who were more worried about taking selfies.

Trina Tron USA
July 2013
I definitely recommend this trek to anyone coming to Peru and looking for some adventure. This is the best way to get a sense for the country's incredible natural beauty and fascinating culture and history. Everywhere we went we were met with stunning scenery and warm greetings from locals. The hike itself was tough at times but always rewarding with the view from the top. You do need to be reasonably fit but the guides are good about tailoring the pace to your needs. And Machu Picchu on the last day is just the cherry on top! Totally worth doing - it was the highlight of our trip.
Advertisement
Advertisement