Special Offer
Book by May 31, 2016 to travel anytime in 2016, and save 5% off our previously offered price!
Immerse yourself in the impressive Incan architecture of Sacsayhuaman on an exciting 3-hour excursion from Cusco. Explore the ancient fortresses and sacred temples of the archaeological park with a knowledgeable guide to discover legendary landmarks like the Tower of Pucca Pucara. Seek out the source of natural spring water; navigate a mystifying stone labyrinth; and gain fascinating insight into the culture and customs of the Incas.
Highlights
Visit the famous Incan archeological sites which surround Cusco

Learn about the history, culture and heritage of the Inca people

All entrance fees, professional guide and round-trip hotel transportation included

Recent Photos of This Tour
What You Can Expect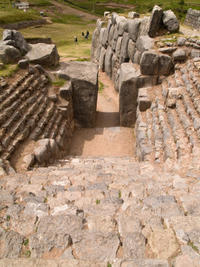 After hotel pickup in Cusco, begin your journey into the heart of the mountains in an air-conditioned minivan. Enjoy a brief stop at Tambomachav, the sacred source of a natural spring formerly worshipped by Incas. Listen to your guide as enthralling explanations of the pool's functions are provided.
Next, venture to the atmospheric ruins of Qengo, a perplexing labyrinth with a sacrificial altar in its center. Marvel at the spiraling staircases and secret channels of a site reputed to have been home to Incan rituals.
Continue to the world-renowned park of Sacsayhuaman to uncover the archaeological mysteries of the ancient site; appreciate the panoramic vistas of Cusco before you embark upon an enriching exploration. Observe the intricate carvings of colossal stones, searching the solid 9-meter (30-foot) blocks for depictions of pumas, snakes and condors, images that represent the three Incan worlds.
Conclude your tour at the majestic Tower of Pucca Pucara, a foreboding fortress whose aqueducts, springs and waterways are sure to impress. Relax during the journey back to your Cusco hotel, where the tour concludes.
September 2015
We had a wonderful experience with out tour guide, Marinés. She was personable, well-informed, interesting and spoke English very well. She arrived on time and took us to the four Inca sights located outside of Cusco. I would definitely recommend her as a guide and recommend Viator.
May 2015
The tour guide, picked me up at my hotel and informed me that no one else will be in our tour
I beamed with happiness and enjoyed his knowledgeable company
May 2014
Fantastic tour. The guide was very informative, and because we arrived at the sites early there were very few people there.
April 2014
Great tour! It was slower paced that the guide was more than happy to take pictures for me--a great way to see the site as a solo traveler!
December 2013
This was very nice, especially enjoyed our guide.
December 2013
Sacsayhuaman and the other 3 places that we visited were truly wonderful. Don't miss this tour. It is a half day well spent.
August 2013
Excellent tour. Very punctual and professional; the Guide was well informed and was able to bring the site to life!
July 2013
The guide went the additional mile; he was excellent!
June 2013
Tour was great. Very informative and the agency well organized. An amazing experience!
May 2013
From pick-up to drop-off the tour was exactly as described and timed (practically to the minute). Felt like a private tour (two of us and three other people) in our own tour van with driver and guide. Guide was informative, able to answer all the questions - good English. Qenqo, Tambomachay, and Pucca Pucara were very interesting, but the highlight - walking beside the massive stone walls of Sacsayhuaman fortress. Of the tours we did in Cusco, this was the most interesting and the best.
Special Offer
$67.99 Save $3.40
Advertisement
Advertisement