Immerse yourself in Peru's captivating culture on a 4-hour walking tour of Cusco.
Accompanied by a knowledgeable guide, you'll p
eruse exotic produce at a local market; pick up tasty delicacies from traditional street food stalls; and uncover ancient Inca legends at the mysterious Temple of the Moon. Numbers limited to 12 people to ensure a small-group experience.
Highlights
Half-day tour of Cusco, a UNESCO World Heritage site, and the nearby Temple of the Moon

Mingle with the locals at San Pedro market and practice your Spanish as you bargain for snacks
Visit the mysterious Temple of the Moon with its curious carvings
Explore Cusco's charming streets and learn the legends of the Inca Empire
Small-group tour allows for a more personalized experience

Recent Photos of This Tour
Cusco Markets and Ruins Small Group Tour
What You Can Expect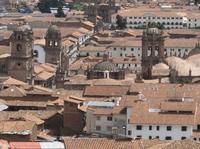 Begin your cultural adventure in the ambient Plaza Regocoijo; greet your group and experienced guide then head to the bustling San Pedro market. Awaken your senses to the exciting smells, sights and sounds of the commercial hub, browsing stalls of colorful fabrics, fresh flowers and exotic fruits. You'll also get to sample some local delicacies from the food vendors.
Next, continue to Plaza de Armas and depart via public transport to the Temple of the Moon, which is located
on Huayna Picchu near Machu Picchu. Venture inside the temple's two caves to see the mysterious carvings and the cracks that let in the
moonlight that illuminates the caves' altars on certain nights.
When the time comes, break for a delicious picnic lunch before strolling back to
Cusco (approx. 30 minutes away)
along Inca trails. On route, hear legends of the Inca Empire from your guide and wander through the bohemian district of San Blas. Your half-day tour then concludes outside t
he Santo Domingo Convent and Qorikancha temple,
where an optional visit is possible.
June 2016
The best tour! Lili was great! I recommend this option , I traveled SOLO and this was a great option.
March 2016
My husband and I took this tour with our guide LeLeana while our 22 year old twin sons took the Cusco City Bike Tour. There is a lot of walking. We got confused about where we were supposed to meet our guide and were 20 min. late to the meeting spot. There was no one there. We saw a guide from another tour agency and she called our tour company--Urban Adventures. In 10 min. Leleana, who had been our tour guide on the Cusco Night Walking Tour showed up. It was a private tour. Just us and Lele. So much fun! We went to the San Pedro Market and bought an Inca Cola, tamale and fruit to eat later. We took a taxi way above Cusco to Sacsayhuaman ruins and walked and learned with Lele. We went to La Vicunita Factoria where we were able to choose from the most beautiful baby alpaca knit goods imaginable. We had our picnic in the grass overlooking Cusco and learned so so much about the history and like of the Inca kings. Lele did a fantastic job! Highly recommend!
September 2015
Our guide Lily met us at the appointed time and was very welcoming and gracious. She shared the history of Cuszo as we walked tot he Market place. What a wonderful experience! She taught us a few phrases in Spanish so we could purchase some fruit and goodies to be eaten later. We learned so much about the cultural practices of the citizens of Cuszo. She then took us to the White Christ which had an awesome panoramic view and we enjoyed our purchases as we watched tradtitional indigenous women pose for pictures with their llamas. The stroll through the ruins was another great experience and very different from the one we took the next day with our regular tour group. So glad we chose this instead of the optional tour with our group!
April 2015
Geovanna was an awesome guide. Not only could she answer all of our questions, she was also so much fun to be with. The market and historical areas we explored were amazing. Thanks Giovanna!!!
Bogdan O United States of ...
November 2014
Awesome tour! Thank you! -Bo
June 2014
I always think that doing a city tour is a great way of getting to know the area, history, and culture of the local people. This tour did not disappoint and my husband and I were the only people on it. The guide Geovana was very knowledgeable and spoke good English. Without her we would have missed so much. She told us about the local history and pointed out different things. We visited the San Pedro market which was bustling with people where local produce and goods could be bought. Our guide bought us fruit that we hadn't eaten before to be eaten later on a hilltop of the Statue of the White Christ overlooking Cusco and they tasted excellent. Then a trip to the local archaeological sites of Saqsayhuaman and Qenko which was very educational. They only thing I would say was that a more precise meeting point should have been arranged as we nearly missed the guide. A tour not to be missed
April 2014
The tour guide Patricia was excellent and she accommodate this trip according to my needs. The market visit was a great experience. She bought a lot of snacks for me to taste them and told me the story behind everything. A well knowledge tour guide.
April 2014
This is the tour everybody should take in Cuzco. The guide was very knowledgeable, friendly and spoke English very well. The main focus was the San Pedro market, where the natives shop for food, household items etc. The best way to learn about the culture and way of life of the local people. Then we explored the most important and impressive Inca structures in Sachsayhuaman and Quenco. A very nice touch was that the guide with our input bought the ingredients for a delicious lunch which we enjoyed on a hilltop overlooking Cusco. The whole experience was very enjoyable, educational and pleasant.
December 2013
GREAT tour and amazing guide. The visit to the Central Market was awesome. Of course, the local ruins were great. Also, the tour was, truly, a private one for me and my friend (even though it was advertised as a small group). Loved it.
May 2013
The trip was excellent. I had my own private tour guide and we visited the market and ruins as planned. It was very informational and worth the money.
Advertisement
Advertisement