Special Offer
Book by May 31, 2016 to travel anytime in 2016, and save 5% off our previously offered price!
Spend a day exploring the jaw-dropping Inca citadel of Machu Picchu during this all-inclusive day trip leaving from Cusco. Discover this renowned mountaintop Inca site with a guide, learning about its construction, history and what daily life was like for its residents. The trip's relaxed, non-strenuous pace is a great option for first-time visitors, families and solo travelers alike, and features three different train ride options. The trip also includes round-trip hotel transport, transfer from Cusco to Machu Picchu (via train and bus) and the site entrance fee.
Highlights
Day trip to Machu Picchu from Cusco

Enjoy a scenic rail tour with two distinct options
Learn the history behind the sacred city with a guided tour
Relax with all entrance fees, train and bus tickets and hotel transportation included
Why Our Insiders Chose This Tour
This tour spends more time at Machu Picchu than any other day trip. All the transportation is included, making it easy to cross this wonder of the world off your bucket list.
Recent Photos of This Tour
Machu Picchu Day Trip from Cusco
What You Can Expect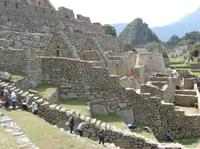 Experience an incredible visit to the world-famous Inca city of Machu Picchu, as you explore its ingenious architecture, history and what daily life was like for residents, during this day trip from Cusco. It's the perfect opportunity for first-time visitors, families and individual travelers to make an in-depth exploration of this amazing archaeological site.

Depart from Cusco in the morning, with pickup from your hotel and a transfer from the city center to your chosen train station. Your departure location and travel experience will depend on the seating option you've selected (see the Itinerary below). Then enjoy a scenic, 2-hour train ride, offering stunning views of the mountainous terrain that makes up the area near Machu Picchu.

Arrive in Aguas Calientes, the small village located at the base of this famous Inca site, and board a bus for the short ride to this sacred citadel. Completed around 1450, when the Inca Empire was at the peak of its power and influence, the site was left vacant within 100 years of its creation, thanks to the conquest of the Inca people by the Spanish. Though the site today remains abandoned, many believe Machu Picchu to be a key center of spiritual energy.

Follow your guide through the main streets of this marvel of ancient engineering. Learn about the site's history and design as you meander through its town square, key religious sites, elaborate network of agricultural terraces and intricately-designed stone staircases. After completing your guided tour, you'll have time to explore on your own, taking some time for photos and to absorb the mystic energy of this one-of-a-kind site.

After spending a few hours at the site, you'll return by bus to the train station in Aguas Calientes and then to your chosen train for the trip back to Cusco.

IMPORTANT: Your passport details are needed for the Machu Picchu Day Trip (Full name and Passport ID). Please provide your passport details in the additional request box, otherwise the tour will not be confirmed.
Itinerary
Expedition option
Those that select the Expedition option will depart from Cusco's Poroy station in a train car upholstered with tasteful indigenous-style fabrics. There's also ample storage for any backpacks you might bring along for your visit. If you get hungry, snacks are available on board (at your own expense).

Vistadome option
Those who upgrade to the Vistadome option will also leave from Poroy station and be able to take advantage of their car's extra-large panoramic windows, affording excellent views of the region's beautiful mountain and river scenery along the way. Tasty snacks, plus hot and cold refreshments are available for purchase along the way.

Executive Class option
For the Executive Class option, receive a transfer from Cusco to Ollantaytambo train station, where you'll board your high-end luxury train for the trip to Machu Picchu. Grab a seat in one of the comfy padded chairs, complete with fold-out tables, and enjoy stunning views from your trains panoramic-size windows. Snacks and beverages are also available on board for purchase.
May 2016
This tour fulfilled our great expectations! Our tour people let us know that we would be picked up at 5:40 from our hotel, then took us to the larger bus other vans were collecting other people from wherever, and bringing them to this collecting point...very efficient. Then we had our two hour bus ride to the train station, where we boarded for our two hour ride to Aguas Calientes...we chose the Vistadome train options...very nice! We had a breakfast on board. Up to our Aguas Calientes arrival, we had a spanish speaking guide...who spoke a tiny bit of English. We missed out on some information he was sharing with the other Spanish-speaking passengers. But we were very much the minority, so no big grumbling there. That guide kept us all together as we caught the shuttle up to Machu Picchu itself, and he made sure we got connected with our English speaking tour guide there. It turned out there were only 3 of us....lucky us! He told us that the day before, he had 18 in his tour....this was quite a slow day. Again...lucky for us: the site was much less crowded than it often is. And the weather was PERFECT!!! Our guide was excellent.
Everything was just as I dreamed it would be. The trip from Cusco was long, but it's through beautiful countryside, so it was not an experience to be endured but rather relished.
The tour operator is Viajo Pacifico or something like that. They provided all of our services: Cusco airport transfers, and the Cusco City Tour. They were always very professional...calling our hotel each evening at 7 pm to confirm our next day's tour details, and each time they picked us up EXACTLY when they said they would be there. I'm very impressed by this company.
April 2016
I highly recommend this tour. The company takes care of all of the little things for you. You will just be handed all of your needed tickets for entry and boarding. I actually had the tour guide all to myself, because I opted for the English tour. She was very knowledgable and so proud to speak about this cultural site. It made my trip even more exciting.

April 2016
Fantastic experience with our guide Rolando. He was very knowledgeable and always ready for questions and explanations. The organizations was also very good. All tickets and reservatios were in time. They even send us a message the day before just to confirm time for the píck up at our Hotel.
I would recommend this tour!
April 2016
April 2016
Brilliant tour, well organised. Had about a 3 hour tour of Machu Picchu settlement with a guide and in a group of about 12 people. Left hotel at 5:20 and returned quite exhausted about 15 hours later, but well worth it.
April 2016
Absolutely unbelievable ! both the scenery and our tour guide Johnny were amazing, very knowledgable and fun to be with :
And absolute YES !
April 2016
A must do. If you don't wanna complete the Inca trail then this is the best way to go. Extremely well organised and a big day in transit. The perfect amount off time is spent at Machu Piccu and the surrounding areas.
April 2016
Was excellent, everything went as planned, perfect day
April 2016
This was an excellent and very organized tour. I had intended to book everything on my own, but it was overwhelming. I decided to go with a tour and was so glad I did. We were met at each place by a friendly staff member and handed over to an excellent guide. He was very knowledgeable and friendly. Will certainly recommend to friends who plan on visiting Machu Picchu.
April 2016
Excellent knowledgable guide
Special Offer
$353.00 Save $17.65
Advertisement
Advertisement