351 Reviews
Location:

Cusco, Peru

Duration:

14 hours

(approx.)
Special Offer
Book with us and save 20% compared to another travel site!
Take an all-inclusive day trip to breathtaking Machu Picchu from Cusco. Visit the world-famous Incan ruins and learn about the city, its history and the people who once lived there. Ideal for first-time visitors, families (non-strenuous hiking) and individual travelers, this once in a lifetime experience is a must-do when visiting Peru!
Highlights
Day trip to Machu Picchu from Cusco

Scenic rail tour with two distinct options

Guided tour of the sacred city

All entrance fees, train and bus tickets and hotel transportation included

Why Our Insiders Chose This Tour
This tour spends more time at Machu Picchu than any other day trip. All the transportation is included, making it easy to cross this wonder of the world off your bucket list!
Recent Photos of This Tour
Machu Picchu Day Trip from Cusco
What You Can Expect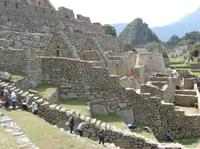 Completed in approximately 1450 at the height of the Incan empire, Machu Picchu was abandoned less than 100 years later following the Spanish conquest of Peru. Today it is considered by many to be the new spiritual center of the world.
From Cusco, you'll be transferred to the railway station to enjoy your 2-hour scenic rail tour to Aguas Calientes. In order to meet various customer needs, you can choose from three different types of options.
The Expedition option was created for adventurous passengers seeking comfort and security without the extra frills. Departing from Poroy train station, located approximately 15 minutes outside of Cusco, your journey to Machu Picchu begins! The seats have been reupholstered with indigenous fabrics, giving them a touch of local flavor. Snacks are available for purchase, as well as additional storage space for backpacks.
The Vistadome option is a comfortable way to journey to Machu Picchu. Departing from Poroy train station, located approximately 15 minutes outside of Cusco, you'll enjoy beautiful panoramic windows to make the most of the spectacular scenery and allow for fantastic photo opportunities. Delicious snacks as well as hot and cold refreshments are served on the way (own expense).
The Executive Class option departs from the Ollantaytambo train station, located approximately 1.5-hours from Cusco and make your way to Machu Picchu in comfort. Enjoy scenic panoramic views from the train, where you'll be seated in comfortable, padded chairs with a fold-out table for your convenience. Snacks and beverages are served on board the train for your enjoyment (own expense).
Upon arrival at Aguas Calientes station, you'll board a small bus and head up to the ruins of the "sacred city", Machu Picchu. Your expert guide will walk with you through the main streets of these amazing ruins. Stroll through town squares and climb delicately carved stone stairways. Esoteric wisdom holds Machu Picchu as the new spiritual center of the world. There will be time to be alone and fully embrace this magnificent wonder of the world, letting this once in a lifetime experience set in.
In the afternoon you'll return to the train station in Aguas Calientes for the trip back to Cusco.

IMPORTANT: Your passport detail is needed for the Machu Picchu Day Trip (Full name and Passport ID). Please provide your passport detail in the additional request box, otherwise the tour is not confirmed.

Note: From January 1 to April 30, 2015, all trains will depart from the Ollantaytambo station. You will be taken on a 1.5-hour bus ride to the station in order to board the train to Machu Picchu.

October 2015
This tour is great. There was someone to pick us up for the hotel and put us one the train. Someone else at the other end to put us on the bus and then our guide met us at MC. our guide was great took his time to explain everything to us. It was a very hot day but very enjoyable. Highly recommeded.
September 2015
The tour was very well orgainzed. We were picked up on time at the Cusco hotel, taken to the train station in a comfortable bus. We boarded the Vistadome that took us thorugh the beautiful Andes range to the station at Cantille Augilera, the Machu Picchu city. We were met by a guide at the station who took us to the bus station, gave us a very nice tour of Machu picchu, and took us back on the bus to Cantille Augilera. We had enough time to walk around the cute hilly town before boarding the Vistadome to ride back to Cusco. We had a gude picking us up at the train station and dropping us back at the hotel on schedule.
September 2015
Amazing tour, everything ran smoothly.
September 2015
Very good guide, walked at a good pace for us, and was very personable, and informative. Would recommend to anyone.
September 2015
I was very impressed with the organisation and communication in the lead up to the tour and excellent service from the various tour guides during the tour. Would highly recommend this for those looking for a day tour from Cusco to Machu Picchu. The only minor detraction from the experience was the pick up from Cusco railway station to the hotel took a little long after a lengthy day. We were the last group to leave the station on the day.
Mari
United States of America
September 2015
Tour was perfect. Everyone was very helpful and friendly, everything was taken care of from beginning to end. I would definitely use it again and recommend it to family and friends already have!
August 2015
WOW! What a fantastic trip!
August 2015
I enjoyed the doomed train ride nearly as much as the tour of Machu Picchu.
August 2015
Machu Picchu is spectacular and without rival. The trip was flawless from start to finish. Every detail was taken care of for us, on time well coordinated. I could not ask for anything different.All the staff were pleasant and competent really 5 star in every way.
July 2015
While there are definitely cheaper ways to get to Macchu Picchu, this is definitely the most comfortable way. Viator uses a local operator to do the tour and this company is extremely competent.
I was picked up from my hotel on time, and got to the VistaDome train on time. When I arrived at the Macchu Picchu stop, the tour price included a bus up to the citadel which is the closest point of drop off for tourists. We hiked about 10 minutes up and were able to see the majestic Macchu Picchu.
Our tour guide was excellent and you could tell he has a passion for this place. He shared much of the history of Macchu Picchu and like a true historian made disclaimers about the different theories that exist for this magical place while also informing us of the theory he thought made the most sense. There were many highlights to our stop here, including the guide using a compass to prove many of his points.
I cannot remember if my guide's name was Juan or Jose but I went on July 4th with the Spanish option guide.
Special Offer
$453.99 Save $94.00
Advertisement
Advertisement