Uncover the fascinating architecture and culture of the ancient Incas during this 8- to 10-hour day trip covering the highlights of Peru's Sacred Valley from Cusco. Check out the market in Pisac, stopping on Sundays to observe its famous mass. You'll also visit the Inca settlement at Ollantaytambo and explore the ruins of its fortress and the Temple of the Sun, a mysterious structure composed of giant 12-foot (3.5-m) stones. Your Sacred Valley tour also includes a guide, lunch, entrance fees and round-trip hotel transport.
Highlights
Full-day tour to the Sacred Valley, Pisac and Ollantaytambo from Cusco

Visit the local market in the picturesque town of Pisac

Enjoy a guided tour of Ollantaytambo and the Temple of the Sun
All entrance fees included

Why Our Insiders Chose This Tour
You see several captivating archeological sites in one packed day. Don't forget to check out the lovely, local crafts at the market in Pisac.
Recent Photos of This Tour
Sacred Valley, Pisac and Ollantaytambo Full-Day Tour from Cusco
What You Can Expect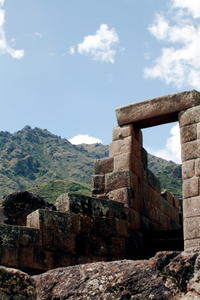 Get up close and personal with the culture of the ancient Inca civilization as you explore the main archaeological sites of the Sacred Valley near the empire's former capital of Cusco. History lovers are sure to delight in this chance to explore this beautiful mountain valley, harboring a wealth of important Inca sites.
Start your day with a morning pickup from your hotel in Cusco, continuing first to the historic city of Pisac. The city was once known as a key trading post, offering a central location for Inca traders to barter for goods. The tradition persists to this day at Pisac's well-known market, offering you the opportunity to browse for a wealth of handcrafted textiles and souvenirs made by the local community.
If you happen to be visiting Pisac on a Sunday, you'll also get to witness the town's famous mass, conducted in both Quechua and Spanish. Observe the town's collection of dignitaries in attendance, and watching as they play the pututo, a traditional musical instrument.
Take a break after finishing your time in Pisac with a tasty lunch of Peruvian specialties, continuing to the Fortress of Ollantaytambo to discover its impressive Temple of the Sun. During the Incan civil war this imposing structure's 12-foot (3.5-m) stones served as a key defensive barrier.
After finishing your exploration of Ollantaytambo, continue back to Cusco, where you'll be dropped off at your hotel.
June 2016
Very interesting tour with an excellent guide. Really great experience.
June 2016
Very informative, friendly people and our tour guide was very informative and kind. Her english was very good and the lunch was very delicious.

June 2016
Fabulous tour! Angel was our guide. He was very knowledgeable about everything ! Any question we had he had an answer. We first stopped at an museum honoring the Llama Alpaca and Vicunas and their role in Peru's history. On location they had all three of these species we could feed alfalfa from over a fence. We got to see how the locals spin the alpaca fur into yarn and then the different ways they dye the yarns. There were locals on site weaving with these yarns. You were able to purchase these products in a gift shop. We then went to The Sacred Valley and the shopping market in Pisac. Headed down the road a bit for lunch in Yucay at a beautiful local hotel. There they had a Buffett lunch which was fantastic! Able to taste many Peruvian dishes. We did have to pay for any beverages as well as tip. Then back onto our small bus to Ollantaytambo. This site was beautiful! We climbed up and learned
about the stones and architecture of this monument. We then headed back to our hotels. Angel was able to continue educating us about the local Peruvian people and their customs. Our group was was only 8 people which made for a wonderful excursion. This tour us a must for any traveling to Cuscso and are able to take advantage of this tour!
June 2016
This was a great tour
We had a perfect day sunny and not too hot
For me the Inca ruins were the highlight
the market was OK but the same as markets everywhere
our guide was excellent very knowledgeable
June 2016
My wife and I really enjoyed this tour of the Sacred Valley. Great driver and a very informative tour guide. Before the tour my thoughts of Inca archaeological sites in Peru was always macho Picchu. But, there are more large archaeological sites to explore in the Sacred Valley just as splendid and interesting as Machu Picchu. If you travel all the way to Peru and you miss seeing these sites, you have really missed a lot the country has to offer.
Expect a lot of walking on the tour, and everything seems to be up hill. The local market in Pisac had a silver factory where you watch jewelry being made starting with raw stones and minerals being cut to shape. And, of course, many merchants selling the usual assortment of tourist trinkets.
The bus stopped at a roadside vendor where you could purchase roasted guinea pig on a stick whole, including head and feet. Thankfully, the included lunch was at an excellent restaurant just a little farther up the road. Great lunch on the river with a llama, alpaca and vicuna grazing in the grass.
I enjoyed this full day trip, and I believe you will also.
May 2016
We had such a great time on this tour! Alvaro was a fantastic guide with tasteful humor. First stop was the camelids farm where we got to pet and feed the animals as well as learn about how their hair is used to make beautiful fabrics. We found so many wonderful treasures in the Pisac market and our tour through Ollantaytambo was a wonderful adventure! If you are going to see Machu Picchu this is a great starter site to visit first. We also had lunch at Tunupa was delicious and the views from the restaurant were stunning! We highly recommend this fun adventure!

May 2016
We had a blast. Our tour guide Abdel? was awesome and very informative. Ollantaytambo was really cool and glad we got to visit. Highly recommended.

May 2016
So much to see and learn on this full-day tour that touches on history as well as modern life in the Sacred Valley. After personally meeting and feeding some friendly alpacas and llamas, we learned how their wool is graded, naturally dyed and woven into incredible works of art, from clothing to tapestries. We met other craftspeople in the Valley - a woman baking bread, a jewelry shop that showed us the silversmithing processes, and many other small vendors offering their handmade wares for sale. We visited several archeological sites too that are beautiful and complex - a must see. The lunch buffet was a great way to try the many local foods. The best part of the tour was our guide Vincente - Knowledgeable and lots of fun. Highly recommend this tour!
April 2016
Alex was a great tour guide.He kept us informed and did a fantastic job of managing the time.The lunch was great too.
March 2016
Excellent tour, very organized and our tour guide Abriel was on the money.
Advertisement
Advertisement