Follow in the footsteps of the ancient Inca people on this 4-day hike to Machu Picchu along the sacred pilgrimage route of the Inca Trail. During the challenging trek to this world-famous citadel and UNESCO World Heritage site, you'll explore ancient ruins, admire majestic mountain views and see diverse plant and animal life. This tour includes transfers to and from the start of the trail, entrance fees, experienced guide and porters, camping equipment and meals during the hike.
Highlights
Guided 4-day trek to Machu Picchu

Hike the famous Inca Trail

Pass Inca ruins and cities and catch breathtaking views of the Andean mountain range

All entrance fees, equipment and transportation included

Book this tour months in advance! Government-issued permits are required, which sell out quickly.
Why Our Insiders Chose This Tour
A once-in-a-lifetime spiritual adventure that offers breathtaking views of Machu Picchu from the entrance on the Inca Trail that most tourists don't get to see. Porters carry your belongings, but you must be prepared for lots of walking and the high elevation.
Recent Photos of This Tour
The Inca Trail: 4-Day Trek to Machu Picchu
What You Can Expect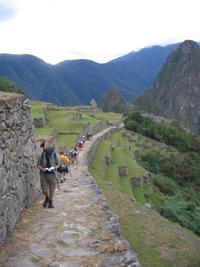 This unforgettable Machu Picchu trek offers a cultural and physical journey through Peru's Urubamba Valley along the renowned Inca Trail, traversing the very same paths once walked by the citizens of this ancient empire. Over the course of your challenging 26-mile (42-km), 4-day hike, you'll experience fascinating ruins, incredible Andean scenery and the unique flora and fauna of Peru, culminating with your arrival at the incredible mountain stronghold of Machu Picchu.
Leading you on your journey is a knowledgeable guide, who will share stories about Inca culture and provide historical context. You'll also be accompanied by porters to help carry tents and sleeping gear, cook meals, and set up camp each night. The ratio of trekkers to guides and porters is kept low, with one guide for every four trekkers and one porter for every two people on the trek.
It is recommended that you book well in advance, as the required permits to visit Machu Picchu are limited to just 500 people per day by the Peruvian government.
Itinerary
Day 1
Distance: 7.45 miles / 12km
Estimated time: 5-6 hours
Maximum altitude: 9,850 feet / 3,000m
Campsite: Huayllabamba

Early in the morning, you'll depart to Piskacuchu, a community located on the 82nd km (51 mile) of the Cusco - Machu Picchu railroad. From this point, you'll cross the bridge, walking along the shore of the Urubamba River as it flows north-west along the Sacred Valley. Following the trail along a flat terrain you'll arrive in Miskay before ascending to the tallest part of the overlook, the Inca city of Patallacta.

You'll continue trekking along the valley created by the Kusichaca River, gradually climbing for about 5 hours until we reach the first campsite at the village of Wayllabamba. All along the way, you'll enjoy spectacular views of the Vilcanota ridge on the opposite side of the Urubamba River where the impressive Veronica peak reigns at 19,100 feet (5832m) above sea level. Also, you'll enjoy the diversity of wild flora and fauna found all along the valley.

Day 2
Distance: 6.83 miles / 11km
Estimated time: 6 - 7hours
Maximum altitude: 13,799 feet / 4,200m
Campsite: Pacaymayo

After breakfast, the adventure continues. Surrounded by vegetation, you'll ascend and be exposed to the different ecological levels of Peru. Upon arrival at Warmiwanusqa, the highest point of the trip at 13,800 feet (4200m), you'll see the majestic peak of the snow-covered mountain Huayanay which stands at 17,225 feet (5250m).

You'll pass domesticated llamas and alpacas grazing on ichu, one of the few plants that grow at this high altitude. Cross an area of cloud forest, home to a variety of birds (like hummingbirds and sparrows) and the Andean bear.

It is highly recommended that on this day, your day pack is well stocked with candy, chocolate and coca leaves that will keep your sugar level high and help with potential altitude sickness. Immediately after the pass, you'll descend into the Pacaymayo valley, where you'll camp with a spectacular view of snow-covered mountains.

Day 3
Distance: 9.93 miles / 16km
Estimated time: 8 hours
Maximum altitude: 12,664 feet / 3,860m
Campsite: Winaymayna

Today, you'll visit the ruins of Runkurakay and enjoy spectacular views of the waterfalls on the snow-covered mountain Palcay. Trekking along, you'll enjoy panoramic views of the Mountain Range of Vilcabamba and its most important peaks, Pumasillo, Sacsarayoc and Panta. From this area, you'll start a slow descent, crossing the ruins of Sayajmarca, which are still covered with vegetation. On the way down, you'll go through a tunnel formed by a soil slide adapted by the Incas. Keep going until you reach the ceremonial center of Phuyupatamarca where you'll stop for lunch. From here, descend to ruins of Winay Wayna and camp near a hostel for to enjoy hot shower.

Day 4
Distance: 2.48 miles / 4km
Estimated time: 2 hours
Maximum altitude: 8,923 feet / 2,720m

Early in the morning, you'll continue the adventure and head to the Sun Gate (Intipunku). Here, enjoy an incomparable view of Machu Picchu which few people get to experience. You are now just 40 minutes away from the city. Descend to Machu Picchu and enjoy a guided visit of the sacred citadel. After, you'll take the bus down to the town of Aguas Calientes where you'll catch the train for the return ride to Cusco.
December 2015
The inca trail done in the first week of November, 2015. Our guide, Alberto spoke English well enough to explain the inca/ruin/MP history.
Porters were always kind and helpful.
Nice delicious meals throughout the trail.
It will be one of the most memorable trips in my life.
Highly recommended!!!
June 2015
May 2015
After thoroughly researching the best way to see and experience Machu Pichu, I chose to backpack for four days on the Inca Trail during the full moon of May. Due to the popularity of this adventure, I booked the trip to Cuzco, Peru in November to be sure that I could get the dates that I wanted.
I also booked with a tour company that provided guides, and other necessary equipment for this trek. I chose to travel solo, so that meant that I would be sharing a tent with a stranger, to avoid problems, I purchased the lightest available tent that protects me from mosquitoes and rain and I also purchased a sleeping bag, an air mattress, air pillow, and shock absorbing poles to help my knees handle walking down deep steps. All the items are light weight and fitted very well in my Dry Pack backpack
The weather can be unpredictable, so I also packed a rain jacket with zippers on the armpits to allow ventilation and rain pants. I wore waterproof hiking boots to keep my feet dry and I took moleskin and hand sanitizer to protect my feet from blistering during the four day hike. Expedition weight underwear kept me warm at night, three extra pairs of padded socks, and pants that can convert to shorts completed my clothing selection.
Although I took two lipstick size flashlights, a better choice is a flashlight that you wear on your head, you will be needing both of your hands especially at night when its time to go to the bathroom.
Remember to bring toilet paper and hand sanitizer. Toilet facilities are somewhat primitive by U. S. standards and consist of a hole in the floor, you must learn to squat and aim a totally new experience for me! I also wore a go pro camera on my wrist to make it easier to capture the scenery and I used my IPad at the campsite to take lots of great photos. You will be needing a small bag to carry your passport and camera as you enter Machu Pichu, the backpack and poles are stored at the entrance.
December 2014
I felt well prepared for this trip in terms of the companies effort to make sure you had everything you needed prior to the hike and their information about each day of the hike given the night before. Each meal was a multi-course event (it all was good!), and snacks were provided. The guide was encouraging and informative throughout the 4 days. The hike itself was a challenge, but the guide stressed the importance of moving at your own pace and always made sure he was the last one in so no one was left behind. He offered tips to battle altitude which proved helpful. The only thing I did not realize was that you have to carry your own sleeping bag. They supply tents, sleeping bags ect, but be aware, although they carry tents and cooking supplies, you must carry your own sleeping bag!
I would highly recommend this experience overall!
November 2014
This was an amazing, well organized tour!
From start to finish, the guides have every detail covered. They were very informative, patient, fun and interesting. They also brought 18 strangers together as friends by the second day.
Ruben, Paco and Jorge were always looking after you, checking on your daily well being and making sure you felt like a part of the group.
The porters were also very good. They were extremely respectful and hardworking. The harmony and respect that existed between the porters and the guides was very evident.
The food each day was wonderful! You should never miss a meal as you will need all the nutrients for your hikes.
Each morning the guides bring you coco tea with a very gentle wake up call while the porters prepare breakfast for you. Then after several hours of hiking, you'll stop at a point in the trail for a hot lunch that your porters have raced ahead to prepare for you. You then resume your hike to find your campsite set up for you and tea service ready prior to dinner. They couldn't make this any more convenient and comfortable!
Things you'll need:
Baby wipes, walking sticks, headlight, sun tan lotion, poncho, thermals, good hiking shoes (break them in at least two months prior), rain jacket, hat, toilet paper, energy bars and a one day water supply (you can buy water along the way), coco candy and/or leaves to chew on (you can buy all of this at the stop before the beginning of the trail in Ollyatatambo). The coco candy helped both with my altitude challenge and kept my throat from drying up with all the dust on the trail.
It's strongly recommended that you hire a porter IN ADVANCE to carry your sleeping bag and personals. Bring an extra bag to carry your camera, lotion, candies, toilet paper and poncho. The hike (especially on day 2 and 3) is very challenging with 100's of steep staircases. It seems counterproductive to not enjoy the scene if your battling with fatigue.
This was the best tour I have taken!

March 2014
Incredible trip with amazing, friendly and knowledgeable guides. The trail is a must-do if you are looking to go to Machu Picchu as you will see things here that those who take the trainride in will miss. Scenic beauty, sleeping above the clouds, and coca tea every morning!
Anonymous
December 2011
Viator made booking the 4 day Inca Trail Trek a snap! A lot of hotels and tour companies in Peru don't take credit cards so you end up having to carry around a lot of cash, which isn't optimal. But being able to take care of the booking ahead of time was great. Also, the 4 day Inca Trail Trek was AMAZING! We were in a small group of 8 people. The porters carried all of our sleeping equipment and cooked us 3 meals a day. The food was delicious and your in the middle of the Andes! The camping gear was quality, sleeping bags with lots of down and sleeping bag liners. Over all 5 star camping. The hike wasn't as scary as I thought it would be. If you are in relatively decent shape you will have no problem. You are able to hike at your own pace through different ecosystems, some harsh and arid, others lush and almost tropical. The 4 day Inca Trail was definitely the highlight of our vacation. Note, if you have knee problems or even if you don't, get trekking poles they make the thousands of steps bearable.
November 2011
This trip was THE HIGHLIGHT of our 3 week trip in Peru. The scenery is unbelievable, the days are tough but everyone in our group of 8 was able to do it (even some people who were really out of shape, albeit with difficulty). The tents and sleeping bags were acceptable. The food was surprisingly very tasty. The porters (I recommend you have them carry your stuff) are amazing!! We made some great friends, got some excellent photos and felt proud of our accomplishment. I recommend it to anyone who is willing to put in a little training time and a few days in Cusco beforehand to acclimate to the elevation. Enjoy!
April 2015
We had an excellent tour. There were a few things I wish we had known, or at least thought about a little more before we booked. Also note I am a 26 year-old active female
First, Viator is a tour broker, so until the actual tour company has been selected, no specific questions can be answered about the tour. For example when we were leaving, getting back, supplies provided, etc...
The trip was excellent, a few lessons learned from our end
1 Hire a porter to carry your bags/stuff . . . all you will want to carry is small backpack with water, especially on the hard days youll be exhausted from the hike, and you wont enjoy it at all if you are carrying a large backpack
2 Altitude sickness is a real thing - get medicine and buy cocoa leaves even if youre a big skier, its different here
3 Our baggage got lost on the airlines . . . I wish we would have carried on the essentials, so that we had the things we really needed, hiking shoes, hiking clothes, toiletries, flash lights, camera, etc
4 If you are traveling by yourself, request your own tent . . . otherwise you will share a tent with someone else that is traveling alone.
5 Skip the train upgrade. It was not worth the extra money.
6 Buy or rent hiking sticks. I did not think I needed these and I was completely wrong. You absolutely need them some of the days
7 Our trip had sleeping bags included in the price. They were in good shape, no need to bring your own
8 TIPS are NOT OPTIONAL. Even though it says they are, they were not, and we were pressured/guilted into giving a tip. That being said, everyone on the tour is not making much and has earned that tip in my opinion They told us that 50-75 sols 15-25 USD per porter/chef was typical. . . when we divided that among our group, everyone ended up tipping at least 30 USD a person and an additional 30-40 USD to the tour guides.
Good luck on your adventure! Have fun!
April 2016
We were very happy with the service provided by the local operator but extremely disappointed with the service, or lack thereof provided by Viator.
I would provide details but there is inadequate characters allowed in this review.
Advertisement
Advertisement