Texas! What image does that word conjure up? Rodeo Bull Riders? Country Music? Sizzlin' Steaks? Two Steppin' Cowgirls? This family friendly fun includes a real cowboy dinner, with real cowboy hospitality, and even a rodeo or bull riding on the weekends! Located in the Historic Fort Worth, Texas Stockyards near downtown, Billy Bob's Texas has become one of the most popular visitor attractions and meeting facilities in the state!
Highlights
Billy Bob's of Texas
Real cowboy dinner, with real cowboy hospitality
Large variety of video games, arcade games and pool tables
Rodeo or bull riding on the weekends!
Recent Photos of This Tour
What You Can Expect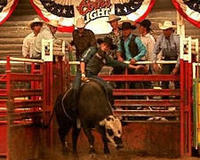 Families of all ages can test their skills on the large variety of video games, arcade games and pool tables. They can even become an instant rodeo legend on their Photo Bull too. The Photo Bull is a Stuffed Replica of a real bucking bull set against an authentic looking backdrop that makes everyone look like a Champion Bull Rider.

Every new entertainer to take the stage at Billy Bob's Texas leaves a concrete impression of his or her handprints which are displayed in the club on the Handprint Wall of Fame. People enjoy seeing how their hands match up to those of the stars, like Garth Brooks, Hank Williams Jr., Alabama, Merle Haggard and others.

Live Bull Riding at Billy Bob's Texas - Friday and Saturday only
Over the past 20 years, more than 25,000 bulls have bucked in Billy Bob's arena and it's not unusual to see top professional bull riders test their skills on the back of a twisting bull. Their list of riders includes World Champions as well as the many up and coming local & regional competitors that are there each week. Bulls generally weigh between 1,800 and 2,000 pounds. When compared to that of most bull riders at 150 pounds this is quite overwhelming.
May 2014
Great fun. Awesome music line up. The hand prints of stars is cool. JC surprising has small hands! The bbq is good but the chopped beef is delish. The seating in venue is family style, big range of people from youth to seniors. Best dance floor I've ever 2 stepped and bars everywhere inside.
June 2012
It was a must see when in Forth Worth area. will go again on my next trip to Texas
September 2015
Food arrangement was confusing, but it was sorted and we had vouchers for 20 each to spend and we could group the vouchers together. The venue is huge venue good atmosphere, we booked tickets for the concert that was on, which was v.good. Worth visiting.
July 2014
Food wasn't the best my the service was amazing!! I went on an off night! Definatly go on a friday or saturday if you want to have fun! It's more of a local hang out but, definately worth seeing!!
October 2011
This was quite expensive for what it was. The bull riding was 15 mins at 9pm. We found it difficult to eat the $20 in food as most main dishes were $7 and sides were $3. If you werent bothered about the photo and shot glasses it was cheaper to pay at the door. The show is 50 mins outside Dallas and not very easy to get to. The town it is in is well worth a visit with a steam train and cattle being walked through the streets by cowboys.
Advertisement
Advertisement