Discover Dallas and its spectacular sights on a 1-, 1.5- or 2-hour Segway tour of the vibrant city. With a knowledgeable guide, visit prominent landmarks like the Dallas Convention Center and the John F Kennedy Memorial Plaza while listening to insightful commentary. Stop your self-balancing Segway to capture photographs of the verdant Victory Park and the grand City Hall, and choose a historical, cultural or executive tour depending on your interests.
Highlights
Segway tour of Dallas
Experience Dallas in a fun, easy, unique way
Enjoy commentary from your friendly guide as you explore Downtown Dallas
Visit City Hall, Dealey Plaza, John F Kennedy Memorial Plaza and more
Choose a 1-hour sightseeing tour or 1.5-hour historical tour
What You Can Expect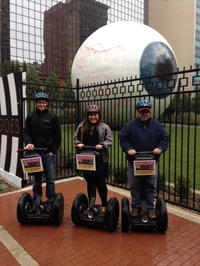 1-Hour Sightseeing Tour
Select a departure time to suit your schedule and greet your guide in Downtown Dallas. Listen to an informative safety briefing before stepping onto your Segway and setting off to explore the sights. Cruise around the vibrant district of Downtown and visit prominent landmarks like Victory Park and Dealey Plaza. Pay your respects at the John F Kennedy Memorial Plaza and capture photographs of the Dallas Convention Center while listening to fascinating commentary from your guide.
1.5-Hour Historical Tour
Arrive at a location in Downtown Dallas at either 12pm or 2pm and greet your expert guide. Receive a short safety briefing, climb onto your Segway and embark on an exploration of Dallas' historical highlights.
Discover the historical heart of the Downtown district and hear fascinating tales surrounding the legends and mysteries of the area. See City Hall and the Grand Dallas Convention Center; glide around Pioneer Plaza and capture photographs of several historical monuments during regular stops.
2-Hour Executive Tour
Depart from Downtown Dallas at 9am and prepare to delve into the prosperous past and bright future of the Texan city. After greeting your professional guide, receive a short safety briefing and then set off to explore on your Segway.
Weave your way through Downtown Dallas to monuments like the JFK Memorial and Dealey Plaza, and capture photographs beside several important historical landmarks. Enjoy copious photo opportunities and listen to illuminating commentary from your guide throughout this tour.
This segway tour is round-trip, so you'll return to your original departure point at the end of your ride.
June 2016
It was a blast! Easier than I thought, I will definitely do this again, and SOON!
June 2016
Tour was awesome! I and #39;ve lived in Dallas area my entire life and still learned a lot.
Our guide was Jordan. He was super knowledgeable and entertaining. Great tour!
June 2016
This was a fantastic way to explore the city on arrival. Our guide Rachael was extremely knowledgeable and made the whole trip very worthwhile. Definitely recommend this one!
June 2016
We had a great time! The tour guide was social and friendly. I always wanted to ride one of those segways. The tour itself was ok, but do you share about a city to visitors from around the world. It was a great little package. I will look forward to my next Segway tour in anaother town. The combination tour and Segway adventure was great value for the price.
May 2016
We really enjoyed our tour of Dallas...sad that even after living here over 15 years, I waited until I had an out of town guest to learn about my own city! Rachel was our guide and she was terrific.
May 2016
Excellent guides. Great experience. Great way to see and learn about Dallas.
Derrickthomas5 United States of ...
May 2016
The tour was fun and informative. I was able see and learn things about downtown Dallas that I wasn't aware of. Our tour guide Jeff was very nice and friendly. I would definitely recommend this tour to others.
April 2016
Dylan was a nice young man , and was very intestine to listen to on our tour. He took us on a great tour of downtown Dallas.
March 2016
Great tour. Lots of fun informative guide.
March 2016
Awesome. Will Do it again. Very informative and Doug is a wealth of knowledge about anything Texas!
Advertisement
Advertisement