Discover the intriguing history of John F. Kennedy on a guided audio tour of the Sixth Floor Museum at Dealey Plaza in Dallas. Explore the exhibits at your own pace with a pre-recorded audio guide and delve into the life, times, legacy and political achievements of one of America's most popular presidents. See personal photographs of the Kennedy family; watch fascinating documentary footage to gain further insight into the political figure's assassination; and learn about the influential actions of a man that shaped the USA profoundly.
Highlights
Sixth Floor Museum at Dealey Plaza
Educational and permanent historic exhibit that examines the life, times, death and legacy of President John F. Kennedy
Museum's exhibition area uses historic films, photographs, artifacts and interpretive displays to document the events of the assassination
Learn more about a man and an event that profoundly shaped the United States
What You Can Expect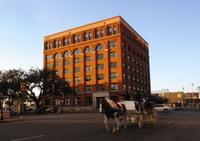 Make your own way to The Sixth Floor Museum at Dealey Plaza to begin your educational tour of the museum dedicated to former American president, John F. Kennedy. Collect your audio guide from reception and pop in your headphones to commence a guided tour of a significant cultural establishment.
Stroll through rooms replete with intimate photographs, well-used artifacts and interpretive displays and enrich your knowledge of the former president's life and legacy with your informative audio guide. See displays that document the events of the assassination and discover how John F. Kennedy shaped the political system in America with his achievements.
Spend as long as you like exploring the museum at your leisure and simply return your audio guide to reception before departing.
June 2016
June 2016
highly recommend, you can go at your own pace
May 2016
Wonderful extensive tour. Learned and experienced so much here. Fantastic!
May 2016
I've wanted to do this for many years,. I wasn't disappointed. Had a great time putting everything into perspective. Seeing and feeling the history was brilliant.
April 2016
Excellent, informative tour. Gives you a great insight into JFK and the circumstances surrounding his death and subsequent investigations.
February 2016
As a visitor to Dallas, this is one tour that should be at the top of your list. History, however negative, was made here.
November 2015
Very interesting, worth seeing by anyone with an interest in history.
October 2015
Very informative, well set up. The shooters window was awesome to look from. Enjoyed every part of it.
October 2015
Saturday afternoons are probably NOT the best time to take this tour. Crowds were heavy even in mid-October. But if you can only go one place in Dallas, this should be the stop. Extremely well-done and engrossing.
September 2015
A must if in Dallas the history regarding president Kennedy's assignation is very interesting.
Advertisement
Advertisement