Explore the wild beauty of the Northern Territory's Kakadu National Park on this 3-day heritage and nature tour from Darwin. Get an up-close encounter with crocodiles and birdlife as you cruise down the Yellow Water billabong and the East Alligator River, and bushwalk through monsoon forests to cascading waterfalls. Learn about the area's indigenous history as you stroll among ancient rock art galleries and visit Arnhem Land with a local Aboriginal guide. Stay overnight inside the park in a hotel shaped like a giant croc!
Highlights
Travel to the edge of Arnhem Land and admire cascading waterfalls on this majestic 3-day tour from Darwin
Enjoy a refreshing bushwalk through towering cliffs until you reach the beauty of Twin Falls Gorge
Walk into the remote and pristine Arnhem Land with a local Aboriginal guide
See ancient Aboriginal rock artwork
Delicious lunch is included every day
Hotel pickup and drop-off from Darwin
Recent Photos of This Tour
What You Can Expect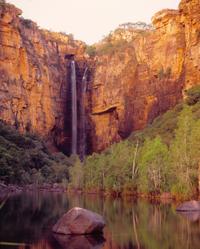 Designated a UNESCO World Heritage site because of its rich cultural history and biodiversity, Kakadu National Park is also the largest park in Australia. After traveling by luxury air-conditioned coach from Darwin, explore park highlights including the ancient Aboriginal rock art at Nourlangie Rock, Warradjan Aboriginal Cultural Centre and the Yellow Water billabong.
Venture off the beaten path on a 4WD tour to isolated Arnhem Land, where you'll learn about the special Aboriginal sites and settlements from a local guide. Explore more of Kakadu's natural highlights as you bushwalk to the base of stunning Jim Jim Falls, explore the Twin Falls Gorge and cruise down the East Alligator River.
For a truly immersive experience, stay overnight in a superior room at the Kakadu Crocodile Hotel — a well-appointed inn right inside the park that's shaped like a giant crocodile! Enjoy fresh lunch each day and round-trip hotel or airport transfers from Darwin.
Please see the Itinerary for details on each day of the tour.
Itinerary
Day 1: Darwin - Kakadu National Park - Yellow Water (L)
Depart Darwin and venture into the vast and diverse landscape of Kakadu National Park. Stop to visit Warradjan Aboriginal Cultural Centre to learn a little about the park, its history, flora, fauna and ancient culture. Continue to Kakadu's most famous wetland area, Yellow Water billabong, for a cruise. Watch for crocodiles and the famous Kakadu birdlife. Following lunch, travel to Nourlangie Rock to view galleries of ancient Aboriginal artworks. As is evident from all the paintings, this has always been an area of great significance to local Aborigines.
Overnight: Mercure Kakadu Crocodile Hotel

Day 2: Twin Falls (L)
Travel by 4WD to the edge of the Arnhem Land escarpment and beautiful Jim Jim Falls, the largest waterfalls in the park. Enjoy a refreshing bushwalk through monsoonal forest surrounded by towering cliffs. Continue along the winding sand track to Twin Falls Gorge where there is time to explore this remote region. Note: Should seasonal conditions not permit visit to Twin Falls, it will be replaced with visit to Maguk (Barramundi Falls).

Day 3: Kakadu National Park - Ubirr - East Alligator River Cruise - Darwin (L)
Travel to Ubirr before joining the Guluyambi Cruise on the East Alligator River. By special permission, take a short walk into Arnhem Land accompanied by an Aboriginal guide and finish your day with a call into Bowali Visitor Centre to see the giant termite mounds.
Overnight: Mercure Kakadu Crocodile Hotel
Important:
The walk to Jim Jim falls is quite strenuous and an excellent level of fitness is required. Good hiking shoes are recommended for this walk.
Swimming is not permitted at Twin Falls.
If seasonal conditions do not permit a visit to Jim Jim or Twin Falls, it will be replaced with alternative touring.
Hotel Pickup List:
06:00 - Adina Waterfront
06:00 - Alatai Apartments
06:00 - Argus Apartments
08:15 - Bark Hut Inn
06:00 -Barramundi Lodge
07:00 - Boomerang Caravan Park
06:15 - Botanic Gardens Apartments
10:00 - Bowali Visitor Centre
07:00 - Coolalinga Caravan Park
06:15 - City Garden Apartments
06:45 - Discovery Holiday Park
06:15 - DoubleTree Hilton Darwin
06:00 - Elkes Backpackers
07:00 - Free Spirit Resort
06:00 - Frogs Hollow Backpackers
06:15 - H Hotel
06:45 - Hidden Valley Caravan Park
06:15 - Hilton Darwin
07:00 - Howard Springs Caravan Park (Hwy)
06:45 - Leprechaun Resort
06:00 - Mantra Pandanas
06:15 - Marrakai Apartments
06:00 - Mediterranean
06:15 - Novotel Atrium
07:00 - Oasis Caravan Park
06:15 - Palms City Resort
06:00 - Palms Motel
06:00 - SkyCity
06:20 - Transit Centre
06:00 - Travelodge Mirambeena Resort
06:00 - Comfort Inn Vitina
06:00 - Vibe Waterfront
06:00 - YHA Globetrotters
July 2014
This was an excellent tour, and I would highly recommend it. There were lots to see, especially if you took the optional joy flight at extra cost. We saw aboriginal art sites, waterfalls and plunge pools and the fabulous Yellow Waters wetlands area. The Croc hotel was fine with the meals adequate. There was one issue in that the Viator website and app suggested that the tour included some canoe paddling. This has not been the case for many years in the particular area and should be corrected. We liked the fact that the three days were actually 3 separate day tours, giving great variety and different people to mix with.
September 2014
The tour delivered everything it stated, and my accommodation was much better than expected. Thank you
Sadly no waterfalls were working in the Jim Jim Falls/ Twin falls day. I was not expecting that. I did have a nice swim tho..

Niv A Israel
July 2014
The tour was fascinating. There were three peaks: Yellow Water, Ubirr, East Alligator River.
The tour to the falls is beautiful. However, the guide suggested that we don't go all the way to Jim Jim Falls since the track is hard, so we stopped about half way. Retrospectively, it was a mistake. Rather than deterring us he should encourage and offer to help us. I am sure we could have made it.
Other than that we don't have any critique. It was great. The guide on the the third day, Robert, was super. The Crocodile Hotel is very good.
December 2013
We were totally satisfied with the tour, the guides were friendly and knowledgeable...really glad we did the trip. Would recommend it and Viator to others
William M USA
July 2010
The trip was great. The tour guides were excellent. The scenery was wonderful.
June 2014
The tour description is a little out of date. There is no canoeing in Kakadu because of salt water crocodiles. The tour is actually the AAT Kings 3 Day Kakadu and Twin Falls Adventure. I travelled in early June but the road to Jim Jim Falls and Twin Falls were both still closed, so we visited Gunlom Falls (Echo Billabong from Crocodile Dundee) instead. There were different people in my tour group every day, either on a 1, 2, 3 or 4 day tour of Kakadu. On the last day before returning to Darwin my group of 26 people had to wait a considerable time for day trippers to get back from a cruise before we could all go back to Darwin with a full bus load.
Advertisement
Advertisement